Post by Graveyardbride on Mar 29, 2016 0:18:13 GMT -5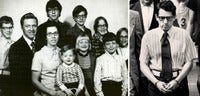 Slaughter on Easter Sunday
March 30, 1975, began like a normal Easter Sunday with Leonard Ruppert, his wife Alma and their eight children (above left) attending an Easter service at Sacred Heart Catholic Church in Fairfield, Ohio. Afterwards, they had lunch at the home of Alma's parents and around 4 o'clock that afternoon, arrived at the home of Charity Ruppert (Leonard's mother) in Hamilton, Ohio, some 35 miles north of Cincinnati. Only one among those in the small house at 635 Minor Avenue that fateful day had any inkling that what was about to happen would become the deadliest shooting in a private residence in American history.
James Urban "Jimmie" Ruppert (above right) was born March 29, 1934. He was small (5'6" and 135 pounds), sickly, and one might say, a failure. Unlike his older brother Leonard, who had a degree in engineering and a good job, Jimmie hadn't even finished high school and to make bad matters worse, his former girlfriend, Alma, married his brother. At 41, James Ruppert was considered a loner and often described as "quiet," modest and unassuming. But he was also regarded as intelligent by those who knew him, even though by 1975, he was unemployed, penniless (having lost his money in the stock market crash of 1973) and a drunkard living with his mother. Nonetheless, so far as anyone knew, he had never been in trouble with the law.
Because he was doing nothing but drinking and lying around, Mrs. Ruppert had threatened to evict him and he had become severely depressed. On his birthday (the day before Easter that year), witnesses saw Jimmie shooting at cans along the Great Miami River. Later, he went to a bar, the 19th Hole Cocktail Lounge, where he talked for a while with Wanda Bishop, an employee, telling her he was frustrated by his mother's demands and threats to evict him and had to do something about the situation. He left the establishment around 11 p.m., but returned later and Mrs. Bishop enquired if he had solved the problem. "No, not yet," he replied. He continued drinking until the bar closed at 2:30 a.m.
Ruppert was awakened from his drunken stupor around 4 p.m., probably by the noise downstairs. Leonard, his wife and their brood of children, ages 4 through 17, had arrived and, despite the fact it was cold that day, eggs were hidden in the front yard for the younger children to hunt. Charity Ruppert decided to make Sloppy Joes for supper because the kids liked them. When Jimmie came downstairs, he engaged in small talk with his brother and looked on as his nieces and nephews ate their eggs and candy. Then he announced he was going target-shooting, went upstairs and when he came down again, he was carrying a .357 magnum, two .22 pistols and an 18-shot rifle. As he passed through the kitchen, he leaned the rifle against the refrigerator when Leonard – with what James considered a "mocking smile" – asked, "How's your Volkswagen, Jimmie?"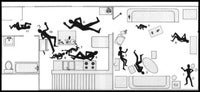 Later, Ruppert told psychiatrists he had suspected for several months that Leonard was attempting to sabotage his Volkswagen. He was convinced his brother had purposely destroyed the carburetor and distributor, did something to the windshield wipers, loosened the bumper and blown holes in the muffler. As a result – so the psychiatrists said – Leonard's innocuous question brought forth a surge of "thoughts, memories, fantasies" about how his brother had been treating him since childhood. In his muddled mind, Ruppert thought he was being mocked and "reflectively" (according to the shrinks) began shooting to make certain Leonard would never hurt him again. He suddenly, and so far as is known, without warning, shot Leonard (No. 6 on the diagram above), who was sitting at the kitchen table. He then turned the gun on his mother (10) and Alma (8). His next victims were his nephew David (9), age 11, and nieces Carol (11) and Teresa (7), 13 and 9, respectively, who also were in the kitchen. Carol had almost reached the back door when she was gunned down. According to Ruppert, he then went into the living room, sat down on the sofa and systematically picked off the other children: Ann (1), 12; Leonard III (2), 17; Michael (3), 16; John (4), 4; and Thomas (5), 15. Presumably, he shot the older boys before the younger children to prevent their rushing and disarming him, or perhaps they were so shocked by what was happening, everything became surreal. His initial shots were quick and "disabling," i.e., intended to bring down his victims. Afterwards, he walked from person to person, administering a shot either to the head or heart to ensure all were dead. He later estimated the shooting lasted no more than 10 minutes.
When it was over, Ruppert remained in the blood-drenched house – in which lay 11 gruesome corpses, some of which had voided, adding the stench of urine and excrement to the already nauseating smell of congealing blood and gun smoke – for at least three hours. How could a normal person commit such a horrendous deed and retain his wits? But not only was Ruppert able to retain his wits, he had the presence of mind to clean up and change clothes before finally calling police and calmly informing the dispatcher, "There's been a shooting here."
When law enforcement officers entered the home, even those who weren't physically sickened by the carnage and foul odor, were horrified as they gazed upon the pale, crimson-smeared cadavers, their lifeless eyes staring, amidst brightly-colored eggs and other treats spilling from children's Easter baskets.
By way of explanation, Ruppert told the officers, "My mother drove me crazy by always combing my hair, talked to me like I was a baby and tried to make me into a homosexual." This statement alone was enough to convince some of the men that Jimmie wasn't in his right mind.
Following the massacre, there was much speculation around Hamilton concerning what led James Ruppert to kill his family. One neighbor said, "Alma had wanted to commit suicide and take one of her children with her. She started the whole thing by harassing Jimmie." Another halfway jokingly proclaimed: "Ruppert went berserk when he learned his mother had made Hamburger Helper for Easter dinner!"
The more sympathetic recalled Ruppert's difficult childhood. He didn't have it easy at home, they observed. His father, who died of emphysema when Jimmie was 12, paid little attention to his sons and when he did, could be somewhat abusive. Charity referred to her youngest son as a "mistake," because she had wanted a girl and Jimmie often complained about how she treated him. No wonder he dropped out of school, ran away at age 16, tried to commit suicide by hanging himself with a sheet and never amounted to anything, they reasoned.
But Jimmie Ruppert's problems went much deeper. Ten years before the shootings, the Hamilton police determined that Ruppert had made an obscene telephone call to an employee at the local library, where he spent a lot of time. When questioned, Ruppert admitted making the call and told police his mother and brother were attempting to discredit him, insisting they had told the FBI that he was a communist and homosexual. Their report, he claimed, had prompted the agency to tap his home telephone, as well as telephones in the bars and restaurants he frequented. His paranoia escalated over the years and by 1975, he believed he was being followed by both private detectives and law enforcement personnel. Perhaps it was these assumptions that triggered his fascination for firearms – he felt he needed to protect himself against "them." His defense attorney appropriated these delusions to prove his client was insane at the time he killed his family.
But there were others who maintained Ruppert's motive was nothing more than pure greed. His mother and brother, they said, had a substantial sum in savings, life insurance, real estate and investments and Jimmie wanted it. Prosecutor John Holcomb believed them and argued that the defendant's actions were part of a master plan "to enter a plea of not guilty by reason of temporary insanity" and "be sent to Lima [the state mental hospital], where he would eventually be declared sane and then walk out with $300,000 [$1.3 million in today's currency] in his pocket." Under Ohio law, Ruppert could not have inherited if found guilty of murder, but if deemed insane at the time of his crimes, he could get it all. Was James Ruppert crazy like a fox?
In an interview, Holcomb revealed there was so much blood in the house that it soaked through the carpet and flooring into the basement. He described Ruppert as "a disgraceful little coward" and said "the man who ruined Easter" should die in prison.
A mistrial was declared in Ruppert's first trial. The second resulted in a three-judge panel's finding him guilty on all 11 counts of murder and he was sentenced to life in prison.
However, defense attorney Hugh D. Holbrook, still convinced his client was insane, appealed the decision and hired expert mental health professionals from all over the country, paying them out of his own pocket. Ruppert was subsequently granted both a new trial and change of venue because Holbrook argued the defendant couldn't get a fair trial in Hamilton. The next trial was held in Findley (Hancock County) and once again, Ruppert pled guilty by reason of insanity. The defense sought to prove he had acted impulsively, rather than deliberately by plan or scheme. But the prosecution had also hired mental health professionals, who contended the murder-for-profit motive was entirely plausible. At trial, two psychiatrists and a psychologist all testified that Ruppert was aware of his actions, knew right from wrong at the time he was slaughtering his family and possessed the ability to resist any aggressive impulses.
But the trial was more than a "battle of the shrinks." Holcomb recounted the horror of what happened that Easter Sunday. "When I walked through that front door, right into the middle of all that carnage, I saw that little 4-year-old boy, with blue bib corduroy overalls on, a long-sleeve blue cotton shirt and lying on the floor at the foot of the couch, stretched out with a bullet hole in his head. In his outstretched right hand, he had partially opened the tin-foil purple wrapper off a chocolate Easter egg. That was a sight that shook me to the depths of my soul, and I have never forgotten it!" the impassioned prosecutor exclaimed.
On July 25, 1982, the three-judge panel did not find Ruppert guilty of 11 counts of first-degree murder, just two – those of his mother and brother. The judges, apparently believing some of what the defense experts said concerning Ruppert's mental deficiencies, decided he was guilty by reason of insanity in the killings of his sister-in-law and eight nieces and nephews. But it really made no difference; he received two life sentences to be served consecutively, as opposed to concurrently, which meant, in theory, he would never be a free man. Unfortunately, when it comes to prison sentences,
life
doesn't always mean
life
, and James Ruppert became eligible for parole in 1995, at which time he requested such. In 2005 he again applied for parole as he did a third time in 2015. His applications were all denied. His next parole hearing will be in 2025, if he lives that long. He turns 82, March 29, 2016.
All 11 members of the Ruppert family are buried at Arlington Memorial Gardens in Mount Healthy, Ohio.
The house at 635 Minor Avenue (above) still stands and looks very much as it did 41 years ago. Following the mass slaughter, people in the neighborhood whispered about "things" moving about in the Ruppert house and lights going on and off in the empty building. The dwelling stood empty for a year before its contents were sold and the curious came from far and wide to purchase items from the infamous house, or just to get a look at the bloodstains. The next family that moved into the home didn't realize it was a "murder house" until they were told by neighbors and didn't stay long.
Over the years, residents have talked of phantom footsteps and awakening in the middle of the night in a cold sweat for no discernable reason. One woman insisted she had seen what she described as a "colorless" man standing outside her son's bedroom door. Others claimed that when everyone was upstairs, they sometimes heard what sounded like children playing on the floor below. And there are still rumors that on Easter Sunday, the place feels "strange" and an unpleasant odor permeates the house where "Uncle Jimmie" killed his family.
Author:
Graveyardbride.
Sources:
John R. Clark,
The Cincinnati Enquirer
; Michael D. Clark,
The Cincinnati Post
; Murderpedia; Maxim Alter, WCPO;
Haunted Cincinnati and Southwest Ohio
by Jeff Morris and Michael A. Morris; and Tatiana Danger, Roadside America.