Post by Joanna on Oct 5, 2015 3:37:45 GMT -5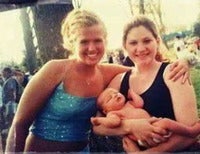 Who Killed Tabi Raines?
Every small town has its secrets and some are more deeply held than others. In the small Indiana hamlet of Tipton, known for its marshy land ideal for agriculture, the rumor mill often runs wild, twisting and manipulating those secrets like the whistling wind bending the branches of the mature oak and maple trees in its scenic city park. This civic congregating spot, normally alive with fellowship, became a scene of macabre horrors in early October 2002 when the body of 16-year-old Tabitha Shuck Raines (above left) was found face up in the Cicero Creek, a single gunshot wound between her eyes. The teenager's body was discovered October 5, behind the ball fields in City Park. Though the investigation was exhaustive, the subsequent prosecution and trials resulted in no murder convictions.
What happened to Tabi Raines?
The truth may never be known. Those secrets have remained safe for more than a decade now. In the days and weeks after the murder, speculation ran rampant with whodunits. There were rumors of drug-fueled rage as a motive for murder. Nowadays, the case simply sits, collecting dust. Those who weren't directly affected by Raines' death have moved on.
Documents obtained by the
Kokomo Tribune
, including depositions by those with information regarding the case, have helped make clear up some of the goings on of the days and weeks following the murder. "Tabi," as she was known to her loved ones, left behind a 6-month-old son, Drake, who turned 13 April 6. He doesn't know for sure what happened to his mother, who would have turned 30 on November 12. Time has been kind to some of the major players in the story, while the last 13 years have been a nightmare for others.
The case.
At the time of her disappearance, it was believed Tabi was last seen alive at 6:30 p.m. on Wednesday, October 2, when she asked her mother-in-law, Roberta Sowders, to watch Drake. Tabi was being summoned by her friend, Amanda Pratt, at a local hospital, where Pratt's grandmother was gravely ill and wasn't expected to live through the night. Sowders told police that Tabi said Pratt's boyfriend, Kyle Neff, was waiting outside for her. Tabi and her husband, Michael Raines, shared an apartment behind Sowders' residence in the 400 block of North East Street. The couples were friends and spent time together, so it wasn't out of the ordinary for Neff to pick up Tabi. But, Tabi never returned. Michael returned home that night after school in Indianapolis, and after work Thursday morning, stopped by Neff's house near US 31 and Indiana 28 to ask if he'd seen Tabi. Neff replied that he had not.
Michael continued to school in Indianapolis because he had to take a test. He was working toward associate degrees in mechanics and business at Lincoln Technical Institute. But increasing apprehension and encouragement from his family prompted him to leave school and return to Tipton, where he filed a missing person's report at 6:10 p.m., just short of 24 hours from the last time Tabi was seen.
Tabi's mother, Buffy Parish, said the search started immediately. "We looked everywhere," Parish said, a weathered voice hiding her pain. Her last name was Tate in 2002 and she's since remarried. "We searched woods, and cornfields and creeks. We looked in the park but never in the creek. Honestly, I do not think she was put there that night [Oct. 2]. That had a little to do with it."
The search continued into the weekend. On the evening of Saturday, October 5, two children fishing off the bank of Cicero Creek spotted what they thought was a human body and notified the authorities a little before 2 p.m. Family members did not see Tabi's lifeless body firsthand, but were able to identify her by the rings and a tattoo they were shown. The fatal bullet was from a gun held six- to 18-inches away from her head, it was revealed at trial.
When Michael first received the news, he said he lost control of his emotions like never before. "At the time I was having issues with my knees, so I had a walking stick," he said. "They didn't know what I was going to do. I just dropped my stick and bolted out of the police station. Without looking I ran right across heavy traffic. It was right there on the main drag. I made it to Richter Chiropractic [about a block away] before I just crumpled in tears. They took me behind the police station and I just sat there sobbing, bawling. I've never been a crier, or one to show that sad emotion much.
On Wednesday, October 9, Tabi's loved ones mourned quietly at Young-Nichols Funeral Home before a closed casket covered in flowers. Lynard Skynard's "Free Bird" and Eric Clapton's "Tears in Heaven" were among the solemn tunes played during the service. "It was [hell]," Parish recalled. "We didn't sleep a lot. People in Tipton were great. They came out in herds to help us pass out fliers, posters – we had them posted everywhere. The community was wonderful when all this happened. Even after when we found her body, they jumped in and helped pay for the funeral and expenses we had there. I think the community comforted us a lot with helping us and being concerned."
Not much was reported to the press about the investigation from the middle of October through the end of 2002. In January of 2003, police were still awaiting results from evidence sent to the state crime lab for testing. Michael felt the investigation centered around the wrong person – himself. He spent seemingly every day at the police station answering questions, even though he was still trying to juggle school, work, being a single father and his grief. "I already had enough bad publicity as it was to be like, 'I'm not cooperating with the police'" he said. "It would've made me look bad, but it ended up getting me kicked out of school. I still don't have that degree, but I'm $20,000 in debt because of it. … The kid from Illinois came and told them his story, and it finally turned the police off of me. If it weren't for him, they'd still be on me."
A new twist.
That kid was 17-year-old Andrew Bush, whose statements to police turned the investigation on its head. On March 20, 2003, Tipton Police Detective Gary Stout and Indiana State Police Detective Tony Frawley, who is now Tipton County sheriff, traveled to Clinton, Illinois, to speak to Bush about an incident he allegedly witnessed at City Park on the night of October 2, 2002. (Stout retired from the city police department in January, at which time he joined the Tipton County Sheriff's Department. However, he was allowed to remain on the case as a detective.) Bush told police he lived in Tipton for a short time with his father before moving back to Illinois to live with his mother. He said he was sitting alone in the Tipton Park pavilion a little before 11 p.m. on October 2 when Tabi walked up. Bush recalled she seemed "antsy."
Much of Bush's story is recounted in a probable cause affidavit dated March 24, 2003. Bush and Tabi shared some vodka that he had and engaged in small talk for a few minutes. Bush said he then witnessed a car driven by Elizabeth Balser enter the park and stop on the west side of the pavilion. Bush also recognized Neff, who got out of the front passenger side of the car. Balser and Bush lived in the same neighborhood during Bush's brief stay in Tipton. He said he met Neff through Balser, but added he hadn't spent much time with him. Neff and Balser then disappeared down the creek bank west of where the vehicle was parked.
Bush and Tabi continued to talk while sharing the vodka for the next five to 10 minutes, at which time Neff and Balser were spotted near a foot bridge at the other side of the park. This time there was a third person, whom Bush identified as Jonathan Yates. Bush said he didn't associate much with Yates, but knew him through mutual friends. Balser yelled and motioned Tabi over to them, and Bush joined Tabi for the trek across the park, roughly 150 yards from the pavilion where they were seated.
Upon reaching the trio, Balser began accusing Tabi of stealing cocaine and demanding to know where it was. Tabi denied knowing anything about missing cocaine, at which time Bush said Balser pulled out a handgun and pistol-whipped Tabi in the side of the head. As the girl crumpled to the ground, Bush said he lunged to her aid, but Neff and Yates grabbed him by the arms to restrain him. Balser then pointed the gun at Bush, yelling, "Shut the fuck up. Don't say a fucking word."
Balser then turned back to Tabi, who had partially gotten back up after being knocked off her feet. Bush said then, Balser pointed the gun at Tabi's forehead and pulled the trigger. (Tabi's body tested positive for both alcohol and cocaine at the time of her death, an autopsy toxicology report stated.) After the teenager fell to the ground, Neff and Yates let go of Bush. Both seemed to be in disbelief concerning what they had just witnessed, Bush told detectives. Balser demanded Neff and Yates help her drag the body away, and as the two moved to do so, Bush said he ran from the park, down the footbridge and eventually all the way to his home across town.
Detectives said at the time that Bush's information corroborated details known only by authorities. He recounted the story to Stout and Tipton County Prosecutor Jay Rich 11 days later while walking through the park. However, Bush also admitted to consuming copious amounts of narcotics that night, in addition to the alcohol. In a deposition, he admitted to taking 120 milligrams of oxycodone, three or four milligrams of Xanax and using marijuana. During Balser's trial, attorney Robert Alden tried to poke holes in Bush's testimony based on this and other details.
Thirteen years later, Alden still remembers the case well. Alden said in a recent interview that Balser had an alibi, and that she couldn't have committed the murder because she was in Kokomo with her mother at Little Daddy's adult entertainment club. He submitted photos taken from ATM surveillance cameras in Kokomo to try to verify Balser's whereabouts. Alden also said the defense obtained phone records which seemed to prove Balser bought marijuana from someone in Kokomo that night. He added one of Balser's friends later acted like she was trying to hook up with Bush, slipped a tape recorder under his pillow and then asked him why he lied about Balser's involvement. "[Bush] said it was because he just didn't like Liz," Alden said. "And, my personal opinion is Neff was guilty. And, I don't think she was killed in the park. They scoured the park with a metal detector and found no shell casings. I hate that there's been no closure for the family because they still don't know who did it."
Bush also told Alden in his deposition that he remained in Tipton, where he was a neighbor of Balser's, for roughly five more weeks before moving back to Illinois. He said he had heard through the grapevine there were people who wanted to hurt him and although he saw Balser around the neighborhood, he never spoke to her again. He never saw Yates or Neff again either.
Police arrested Balser, Neff and Yates the night Bush made his statement in Illinois. The following day at a press conference, authorities announced the charges in the case. Balser was to be charged with murder, criminal confinement and criminal recklessness. Neff and Yates each faced charges of murder, criminal confinement and assisting a criminal.
In April of 2004, Neff made a plea deal with the state. In exchange for his testimony, the state agreed to drop all charges against him, except for aiding, inducing or causing battery, a Class C felony, if he pled guilty and testified against Balser and Yates. Neff would later testify that in exchange for cocaine, he arranged the meeting between Tabi and Balser in the park that night so that Balser could beat up Tabi. He also admitted to providing Balser the gun. He said Balser claimed she just wanted the gun to scare Tabi into telling her where the missing drugs were. Balser then asked Neff and Yates to "watch her back" as she fought Tabi. Neff, who admitted to being on cocaine that day, said he got the gun from his mother Debbie Neff's house. He then met Balser in the Tipton High School parking lot across from the park on his motorcycle, where he gave her the loaded gun. The two then got into Balser's car and drove to the park.
Balser was granted a change of venue and the trial was moved to Hamilton County. It started in June 2004 and after weeks of testimony, in the early morning hours of June 29, the jury returned not guilty verdicts on all counts.
Balser declined to be interviewed for this story. She's currently incarcerated at Howard County Jail on unrelated charges and has a lengthy criminal history, including convictions for driving while intoxicated and possession of marijuana. In 2013, she accepted a plea bargain and pled guilty to a charge of operating a vehicle as a habitual traffic offender. More than two years of the three-year sentence was suspended and she was released from jail before the end of 2013. Then in June 2015, Balser was arrested on a trio of Level 6 felonies, including operating a vehicle as a habitual traffic offender, operating a vehicle while intoxicated with a passenger under the age of 18 and operating a vehicle while intoxicated with a prior conviction. A pretrial conference in that case is slated for October 23.
Charges against Yates were later dropped. He was scheduled for trial in August 2004, but in mid-July, less than a month before he was to be tried, he was set free. Rich said at the time he dropped the charges because he did not think he could get a conviction considering the circumstances. The terms of the dismissal motion allowed the prosecution to re-file charges at a later time. Attempts to contact Yates for this story were unsuccessful. He has no criminal record.
In October 2004, Neff was sentenced to eight years in prison on the aiding, inducing or causing battery charge, but after successful appeals, was released in January 2006, according to the Indiana Offender Database. Neff respectfully declined to be interviewed for the story, but did say the elements of the case to which he testified were the truth and added that Michael had nothing to do with Tabi's death. Neff obtained his commercial driver's license and drove semi-trucks for a number of years before returning to help his mother run the family business, Sherrill's Restaurant. Other than a pair of speeding tickets and other commercial operating infractions, he has stayed out of trouble.
Citing Indiana Code, Rich denied the
Tribune's
public information requests to access records regarding the case and subsequent investigation. "I am reluctant to release records in this case, as it could compromise the integrity of any investigation that could arise in the future surrounding the circumstances of this case, as I would be regarding any major case this office has handled," Rich said in a letter.
The lack of closure still haunts the family. "I trusted the police," Parish said. "I had faith in them. It made me take a whole turnaround in the way I look at our justice system, our police officers. But when you flip it around, it was great to see all the people in the community cared and understood how I was feeling. But, in the same sense, you had people that didn't seem to want the truth to come out. It was hard." She doesn't think the full truth came out in court. "I do not believe Liz is the trigger person. I haven't believed that from Day 1. I talked to Liz since then, and she told me, 'I didn't have anything to do with this,' and I believe her. But I also told her, 'You know what happened,' but she would not elaborate. She knows to keep her mouth shut. You have to kind of expect that. There were a lot of threats made when they were trying to find out – to my family, to people who knew – a lot of things came out. 'You leave town, you shut up or you die too.' They did, they left town."
Where are they now?
Parish said Drake has adjusted quite well. He lives in Sheridan with Sowders, his paternal grandmother, and they talk about his mother quite often. It's tough on the young teenager, who while the case remains unresolved, will never have a shot at true closure. "His anger is because, 'How could somebody be so cold?'" Parish said. "He's told me, 'I can't touch my mom. I can't listen to her laugh. I can't see her smile.' That's what I miss. He hasn't had a bad life. His other grandmother has done a fantastic job with him. He's a good, respectful child. But, of course it hurts. He doesn't have his mother." Parish lacks the closure she seeks, as well, but is better equipped to cope with the void. She speaks often with her advocate, and has had an opportunity to speak with the parents of other murdered children over the years."I feel like I know what happened, but no one will listen. I feel like I know what happened but no one will listen," Parish said. "I've just gone on living life. I fully believe karma will take over and God will deal with this. If I hear something, I report it to my advocate. I can't report it to the police."
Karma seemingly smiled on Parish in March of 2014, when she won $2 million in the Hoosier Lottery Powerball. She picked up the ticket on a Saturday morning in Tipton and forgot to check the numbers. When she went to finally check them at a grocery store, they told her she'd won, but that they couldn't cash the ticket at the store. So she and her daughter Tera raced to Indianapolis to get to the Hoosier Lottery Office before it closed that day. She was then delivered the news. "It was exciting, but almost too exciting," Parish said. "Something like that happens and you think, 'Wow, what do I do?' You don't want to be one of those people that is broke in five years. I pretty much immediately invested it and my husband continues to work. We've just tried to make it to where that money will last us. Poetic justice is how I look at it. That was a gift. I go back to karma. You'll get good if you do good. If you do bad, eventually it's going to catch up with you. And, that's how I look at the people who hurt her. It'll catch up with them."
The fortunes of Michael Raines haven't been as positive. Raines talks about the days and years after his wife Tabitha's murder during an interview at his house in September 2015. He has dealt with anguish over losing his wife and mental illness. He says it's hard to hold down a job. When he does get an interview, the first thing he's usually asked is something he feels they have no business asking. "With today's media, you can go online and look someone up, their history," he said. "Then they start poking with questions because people make assumptions based on what's been printed. I don't hold any secrets that, for a long time, everyone thought I had something to do with it. When I was finally cleared, it was cleared privately. The police never stated that out in public. The general populous still thinks I still had something to do with it." He feels victimized, too, in an offhand way, he says. The way he was treated in Tipton following the murder left him emotionally scarred and bitter. He says the slander and lies ruined him. The night of October 2, 2002, didn't ruin his life, he said, but it ruined his outlook on life. He remembers his wife as a smart, athletic girl who not only had dreams, but also had the world at her fingertips. "She would've been a great mom. I know she would've been a great mom. She had a spirit and energy that I don't have. She would've been a great mom. I know she would've been a great mom," he added. "She had a spirit and energy that I don't have. I don't have that socially-outgoing exuberance, or that smile that just draws people to me. She was that for me. She could've done whatever she wanted. She was smart enough, determined enough."
Raines joined the military in 2003 in an attempt to provide a better life for himself and Drake. He spent six years in the National Guard and did a tour of duty in Iraq in 2008. He left with arm problems and received partial disability and also deals with post-traumatic stress issues. He signed temporary guardianship of Drake over to his mother when he left and has changed it. He tries to get together with his son on the holidays, but recent disagreements within the family have prevented that from being comfortable on recent holidays. "I just know now he's accustomed to a lifestyle I can't provide," he related. "I do good to take care of myself these days. Some people say I make excuses, but others' choices can affect you just as much as your own," he added. "Some things you just don't get over. I just want to be happy. I haven't been happy in a long time. Every time you get close, something happens."
Sources:
Josh Sigler,
The Kokomo Tribune
, October 4, 2015; A Helping Hand; and Find-a-Grave.