Post by Joanna on Oct 29, 2013 22:55:28 GMT -5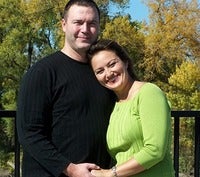 Halloween Murder Mystery: Who Killed the Man in the Hockey Costume?

GRAND FORKS, N.D. – A cowboy, a clown, a lion and a hockey fan walk into a bar. It sounds like the opening of a joke. But the punch line isn't funny. The hockey fan ends up dead in the parking lot outside the bar and his killer fades away into the night.

Six years after 38-year-old Joel Lovelien (pictured above with Heather Eastling) was beaten to death outside the Broken Drum lounge and casino in Grand Forks, his killer is still at large. From the start, solving the crime has been difficult because of the day, or rather night, it occurred – the Saturday before Halloween. The victim, the witnesses and a long list of possible suspects were in disguise and one of the only pieces of physical evidence was a blood-specked part of one of their costumes.

Grand Forks has a population of only 53,000, but North Dakota has more bars per capita than any other state in the nation. On October 27, 2007, a group of around 40 or 50 twentysomethings had chartered a bus for a Saturday night slalom through the city's many watering holes. As police would discover, the riders included a cowboy, a hunter, a lion, a gangster and a faux Paris Hilton, and numerous Jello shots were consumed as the coach rolled through town. When the bus pulled up to the Broken Drum, the revelers spilled out.

Inside the bar, Joel Lovelien, dressed in the bright green jersey of his favorite hockey team, the University of North Dakota's Fighting Sioux, was already celebrating Halloween with his fiancée, Heather Eastling, 31, who was dressed as a mechanic. Lovelien had met the grade school teacher less than a year earlier, but they had already set a wedding date. Lovelien smoked a cigar and played blackjack as the bus outside prepared to transport its riders to the next stop.
Eastling said around 11:30 p.m., Lovelien received a call on his cellphone and went outside to take it. According to Eastling, he soon returned and said, "Hey, somebody got left by the bus. I'm going to go check on him," kissed her on the cheek and went back out to the parking lot.

A few minutes later, another bar patron came running inside, yelling, "Call 9-1-1!"

To Eastling's shock, the person who required emergency help was her fiancée. When she ran outside, she found Lovelien on the pavement. "Joel was laying there with blood all over the cement near his head in the parking lot," she recalled. "We couldn't get a response out of him." Lovelien was rushed to the ER in the same hospital where he worked as a computer technician, but the doctors couldn't save him. They later determined he had been beaten so badly that the bones in his face had broken and he had choked to death on his own blood.

At the Broken Drum, authorities were scrambling to locate possible witnesses and suspects. The party bus had left, but there were about 80 people still at the bar and the police began to piece together a narrative. They obtained descriptions of individuals seen near Lovelien or the bus – a clown, a cowboy, a gangster, a construction worker – and dashed out to search for them before they could take off their costumes and disappear. "If you're going to find the Penguin and the Joker and the rest of them," reasoned Grand Forks Police Chief John Packett, "you've got to find them pretty quick." They had also found a piece of evidence at the murder scene. It was yellow and had a spot of blood on it. It looked like a foot or a paw from a costume.

Soon, the police found the clown at another Grand Forks bar. He was crying and his hands were shaking. The tears of the clown were suspicious. He turned out to be a 22-year-old farmer who told police he was crying because he'd had a fight with his girlfriend. However, he clammed up and demanded a lawyer when investigators took him to the station for questioning.

The police also found the cowboy. But he gave them a false name and birth date and became physically aggressive. They placed him in handcuffs temporarily, but did not arrest him. However, according to the officers present, he did ask an interesting question. He wanted to know if the victim was wearing a green shirt with the initials UND on it – like Lovelien's North Dakota hockey jersey. Had the cowboy witnessed the fight that killed Lovelien?

The next day, police asked the clown and other witnesses to return to police headquarters. Now sober and cooperative, the cowboy and clown told a story that police felt exonerated them and other potential suspects on the bus. While the bus was at the Broken Drum, the party-goers said, two of the passengers got into a fight outside the bar. One, dressed as a hunter, was a friend of theirs. The other was a guy in a crude lion costume consisting of a yellow hoodie. Following the fight, they told the lion he couldn't get back on the bus, but before it pulled away, they saw him speaking to a guy in a green hockey jersey.


Two days after Lovelien's death, Travis Stay (above), a nursing student, walked into the station. He'd heard police were looking for a man in a yellow hoodie who had been at the Broken Drum on Saturday. Stay, 23, who had bruises on his face and cuts on his hands, told officers a man dressed as a hunter had punched him out in the parking lot. He informed detectives he had been wearing a yellow lion costume fashioned from a hoodie that night and that he'd tossed it in the trash.
"Why did you throw it away?" asked Detective Duane Simon.
"Because it was full of blood," the suspect answered.
Stay told NBC News he allowed police to recover his costume and gave them his shoes, which had blood on them – all without a search warrant or a lawyer present – because he was innocent. He said he was so drunk that night he couldn't remember what had happened at the bar, or talking to Lovelien, but he knew he hadn't hurt anyone. Nevertheless, he was arrested and charged with murder. Prosecutors offered him a deal – less than 10 years in prison if he'd plead guilty to manslaughter. He declined, he said, without hesitation.
At trial, prosecutors painted Stay as the bruised and angry loser of a fistfight, who attacked the Good Samaritan who'd come to his aid. They called witnesses who said they had seen Lovelien "talking to the guy in yellow." Jurors also heard about the wild swing he had taken at a complete stranger on his way home.
"Most importantly," said Detective Mike Sholes. "none of the other costumes matched the paw that was left behind at the crime scene."
But jurors saw holes in the state's case, as they later told NBC News. For one thing, Lovelien was 6 foot three and 240 pounds. Stay was about six inches shorter and 80 pounds lighter. The defense also supplied a report from a blood spatter expert who said Lovelien's blood could have ended up on Stay in numerous ways – Stay may even have been trying to help an already wounded Lovelien. And an ER doctor said the cuts on Stay's hands weren't severe enough to have resulted from beating a man to death.
Defense attorneys tried to redirect suspicion on the other costumed characters on the party bus. When Lovelien came out to help Stay, perhaps one or more of those individuals had jumped them both. "I think that they beat us both up," Stay asserted. The defense succeeded in creating doubt. Several jurors told NBC News they wondered why the clown had ended the night in tears. But one of the most telling pieces of evidence, they felt, was the timeline.
The prosecution said the party bus had already left when Lovelien was attacked and that he and Stay were alone together in the parking lot. Surveillance tape from the Broken Drum, however, suggested other possibilities. On the tape, 3½ minutes after Lovelien leaves the bar for the last time, the man in the clown costume can be seen exiting the establishment. This would mean the party bus hadn't yet departed, because everyone agreed the clown left the Broken Drum on the bus. If the bus was still outside, Lovelien, Stay and some of the costumed celebrants from the bus could have been together in the parking lot for at least 3½ minutes. After a nine-day trial, it took the jurors five hours to acquit Travis Stay.
NBC News contacted the cowboy, the construction worker and the gangster. They declined to be interviewed on-camera, but maintained in a phone interview that they had no involvement in Lovelien's death. Prosecutors say none of them is a suspect in Lovelien's death.
Detective Mike Sholes, now retired, still believes the evidence against Stay is strong. "There's not one stitch of physical evidence to suggest anybody else was involved," he insisted.
The Grand Forks police department considers the case closed and prosecutors have allowed evidence to be destroyed.
Heather Eastling said she was "devastated" by the verdict and still doesn't understand the acquittal. "If he's really not guilty, then who is?" she asked. "Somebody knows something."
Travis Stay never became a nurse. Now 29, he's in his last year of law school, inspired to change professions by his experience with the legal system. He's clerking for one of the defense attorneys who won his freedom. He offered a public apology to Lovelien's family, saying he is sorry for drinking too much and "for being a part of the equation that night." But he insists he didn't kill Lovelien. "He was my only friend in the parking lot that night," he added.
Sources:
Tracy Jarrett, NBC News, October 25, 2013, and
Dateline
.
See also
"Creepy Unsolved Halloween Murders and Disappearances."