Post by Graveyardbride on Aug 26, 2015 20:47:17 GMT -5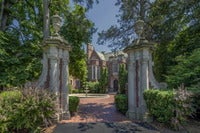 Chicago's Haunted Schweppe Mansion for Sale
Seventy-four years ago today, on August 26, 1941, servants discovered Charles H. Schweppe, 60, dead in bed, the victim of an apparent suicide. He had shot himself in the head. On the dresser lay a note which read: "I've been awake all night. It's terrible."

* * *
Now, the haunted Schweppe mansion (aka "Mayflower Place") is up for sale. Located at 405 North Mayflower Road in Lake Forest, Illinois, the 28-room edifice has 10 bedrooms, 13 baths and sits atop a 90-foot bluff overlooking Lake Michigan. The house was built by John G. Shedd, chairman of Marshall Field, for his daughter, Laura, who married Charles H. Schweppe (heir to the carbonated drink fortune) in 1913. When the Tudor-stype dwelling was completed two years later, it boasted 11 hand-carved marble fireplaces, plaster relief ceilings, linen fold panels in the library, hand-carved millwork and moldings and a magnificent stairway. The grounds encompassed approximately 15 acres and included a huge coach house, limestone fountains and a swimming pool. The Schweppes lived the good life and threw grand parties where they entertained such notables as the prince and princess of Sweden, who danced on the east terrace, and the Duke and Duchess of Windsor.
But the good times came to an end April 21, 1938, when Laura died of a heart attack at the age of 58. At the time of her death, Mrs. Schweppe was worth approximately $10 million – but left her husband a mere $200,000 – with most of her estate going to the Schweppe children, Jean, born in 1914, and Charles Shedd Schwepp in 1917. Legend has it that Charles was so distraught over the fact his wife had left him nothing more than a pittance that he became deeply depressed and began imagining the house was haunted. Following his suicide, family members conceded Charles Schweppe was ill at the time of his death, but declined to say whether his infirmity was physical or mental.
The mansion stood vacant for 46 years following Schweppe's death, which gave rise to tales the vacant house on the hill wasn't necessarily empty. Servants and caretakers continued to clean and maintain the unoccupied dwelling on a regular basis and it wasn't long before someone noticed the window at which Charles Schweppe once stood gazing out toward the driveway never required cleaning. The remaining windows, inside and out, would be covered in dust and grime, but what came to be called "Schweppe's window" was always clear. There were also rumors that the ghosts of both Laura and Charles roamed the mansion's upstairs corridors and bedrooms. A third spirit, that of a former servant, was said to haunt the hallways and kitchen area.
In 1987, Howard and Donna Hoeper purchased the mansion for $5.5 million and restored it beautifully. Then the couple split and in 2009, the house was put up for sale at an asking price of $18 million. Two years later, the old Schweppe residence went into foreclosure and the bank placed it on the market for $15 million. The price was reduced to $12 million, then to $11 million and now, it can be yours for $9.95 million. Although the grounds have been reduced to just 5.3 acres and the area containing the pool was sold off, the sun-filled rooms still look out onto lush landscaping and sparkling Lake Michigan and anyone with the wherewithal to pay almost $10 million for a house could certainly afford to build another swimming pool.
Sources:
TopTenRealEstateDeals; Tim Moran,
Lake Forest-Lake Bluff Patch
, August 22, 2015; Wes Smith,
The Chicago Tribune
, May 10, 1987; Mary E. Morrison,
Chicago Business
, December 8, 2011, and WeirdUSA.