Post by Graveyardbride on Jul 15, 2015 4:40:48 GMT -5
July 14, 1974: Murder on a Sunday Afternoon
Sunday, July 14, 1974, was hot in the Pacific Northwest with temperatures approaching 90° by noon. Those desiring a respite from the heat, or working on their tans, made their way to beaches, lakes and rivers, where they could swim, sail, water-ski, picnic, or just soak up the sun. Droves of sun worshipers descended on Lake Sammamish State Park near Issaquah, east of Seattle, and among them was Janice Graham, a 22-year-old blonde, who was able to nab a picnic table around 11:30, where she sat down to wait for her husband and parents, who were due to arrive at 12:15. After claiming the table, she wandered over to the bandstand and had been standing there a few minutes when she heard a male voice say, "Hello." Lifting her sunglasses, she returned the greeting and sized-up the sandy-haired man with the slight British accent whom she estimated to be around 25 and perhaps 5'8" to 5'10" in height. He asked if she would help him load his sailboat onto his car, explaining he could not do it by himself, gesturing with his left arm, which was secured in a beige sling. She agreed and as they walked toward the parking lot, he looked around at the crowd and remarked, "This is out of sight. There are so many people here." They continued to make small talk and at one point, he stopped to hold his arm, indicating he was in pain. He injured his arm playing racquetball, he told her and asked if she had ever played. During their conversation, Graham revealed she lived in Bellevue and worked at Boeing.
When they reached the parking lot, he guided her to "a newish-looking Volkswagen Bug," which she believed was "metallic brown." But it wasn't what she saw, but rather what she did not see, that gave her pause. "Hey, where's the sailboat?" she inquired. He told her it was at his "folks' house," just up the road in Issaquah. Janice hesitated and asked him for the time. He glanced at the watch on his right arm and said it was 12:20. She quickly made her apologies: "I was supposed to meet my parents at 12:15." Smiling, he said that was "okay," admitting he should have explained the boat wasn't in the parking lot and thanked her for her time. In recalling the encounter later, she emphasized the young man was very pleasant: "He was very polite ... very sincere ... and did not get upset when I told him I could not go with him." Mrs. Graham returned to her table and sometime later, noticed the same man with another young blonde wheeling a bicycle in the direction of the parking lot. She smiled, thinking to herself, "Boy, that guy sure works fast."
At 5'1" and weighing no more than 100 pounds, Janice Ott (above right), 23, appeared younger than her age. She had studied psychology, specializing in the anti-social personality and worked as a probation officer in Seattle. She felt her experience and kind nature meant she could really help those who required special guidance. Married just a little more than a year, Janice was living in Issaquah while her husband James attended medical school in California and some would say theirs wasn't a traditional marriage. Everyone liked the bouncy, effervescent young woman with the expressive grey-green eyes and sunny personality, which had earned her the nickname "Sunshine Girl" in the office. That morning, she pulled on cutoff jeans and a white blouse, tied at the midriff, over her sexy black bikini and left a note for her roommate:
"I'll be at Lake Sammamish sunin' myself. See ya.☺"
It was afternoon when she rolled her yellow ten-speed Tiger bike among the couples, families and lone sunbathers in an effort to find an empty spot on the grass to spread her towel. She sat down, stripped down to her swimsuit, applied cocoa butter and welcomed the heat of the sun on her body. Suddenly, a man was standing above her. "Excuse me," he said. "Could you help me put my sailboat onto my car? I can't do it myself because I broke my arm." She hesitated a moment, then invited the young man to sit down. "Let's talk about it," she replied.
"It's up at my parents' house," he explained, accepting her invitation. She told him she lived in Issaquah and after a few minutes, those sitting and lying nearby heard her say, "Well, okay, but what about my bike?" He indicated that wouldn't be a problem, saying, "It will fit in the trunk." She said she had an interest in sailing, but had never tried it. "Oh, it'll be easy for me to teach you," he offered. Encouraged by his friendliness, she pulled on her jeans and blouse and commented flirtatiously, "I get a ride in a sailboat?" As the two began walking toward the parking lot, she was overheard saying, "I'm Jan. And you?" Her handsome companion replied, "I'm Ted." No one saw Janice Ott alive again.
Jerry Snyder, a 30-year-old DEA (Drug Enforcement Administration) agent from Seattle and his family were at Lake Sam that day. They had also brought their dog, a Doberman pinscher, and as everyone else headed for the water, Snyder, who was in charge of the animal, found a seat around 30 feet from the lake. He looked around and later recalled a young blonde in a black bikini sitting a short distance to his left and remembered having seen the same woman riding a bicycle as he and the family were arriving. He later recalled observing "a white male walking to my right – walking down the beach toward me, and the reason I noticed him [was] that he was looking at all the girls ... he would almost come to a complete stop [and] it appeared to me he was trying to pick up a girl, or trying to find someone who met with his qualifications." Shortly thereafter, he saw the young Casanova approach the girl in the black swimsuit and heard him say, "Excuse me, miss." The lady invited him to sit down and he slowly lowered himself onto the towel, careful of his left arm, which was bandaged and in a sling. Snyder couldn't hear everything they said, but before long, the girl began gathering up her things and pulling on her clothes. He estimated the man was somewhere between 25 and 29 and around 5'10" to 5'11" tall. He had light brown, "collar-length, wavy" hair and was wearing white shorts and a "pullover shirt, beige in color."
Theresa Marie Sharpe, 26, a housewife from Waltham, Mass., was much closer to the location where Janice Ott was lying and she, too, remembered the pretty young woman with long blonde hair. Three days later, she gave a statement, saying: "She was dressed in blue jean Levi cutoffs, real short, similar to hot pants, an off-white midriff blouse with three or four buttons. She took these articles of clothing off and sat down in her swimsuit ... she put on cocoa butter ... Prior to laying [sic] down, she laid her 10-speed bike down in the sand, in front of where she was going to sit. The bike was bright yellow."
At 12:30 p.m., she continued: "A guy came walking up to her. He said something about a sailboat. It sounded like, 'Will you help me with my boat?' or 'Would you like to ride in my boat?' The girl sort of hesitated, but then said, 'Can I bring my bike with me?' He said, 'Okay, sure.' She thought the boat was at the lake, and he said no, it was at his parents' house. She looked like she wasn't going. I couldn't hear what was said then, but then I heard her say, under one stipulation, that I meet your parents. He said, sure. Then she said, 'I don't know how to sail.' He said, 'That's okay, it will be easy to teach you.' She asked him if there was room in the car for the bike. He said it will fit in the trunk. She got up, slipped her blue-jeans and her top on and then she picked up her beach bag ... The two of them then left." Mrs. Sharpe described the man as around 6-foot, 180-185 pounds, brown collar-length wavy hair and tanned. His shirt was white, she said, with some sort of design, white shorts and "his left arm was in a sling." But there was something about the injured arm that bothered her. "I didn't feel his arm was really hurt. I do remember he took his arm from the sling and moved it around."
One of the best descriptions of what transpired between Janice Ott and the man with the injured arm was provided by Sylvia Valint, a 15-year-old girl, who was sitting no more than a couple feet away. Although she underestimated his height, believing him to be no more than 5'6" or 5'7", she recalled he was of medium build with "blondish-brown hair down to his neck, parted on the side" and that he had a "dark tan." His left arm, she recalled, was in a "cast" that "started at [the] wrist and bent around the elbow. He had on white tennis shoes, white socks, white shorts and a white T-shirt." He was a smooth talker and as he approached the girl on the white towel, said "Excuse me, could you help me put my sailboat onto my car because I can't do it myself because I broke my arm." At this point, the woman in the black bikini, said, "Well, sit down and let's talk about it. ... Where's the boat?" and he told her it was at his parent's house in Issaquah and the lady remarked that she lived in Issaquah. According to Valint: "She stood up and put on her clothes. She picked up her bike and said, 'Under one condition, then I get to ride in the sailboat.' He said 'My car's in the parking lot.' She said words like: 'Well, I get to meet your folks then.'" As the two walked toward the parking lot, Valint heard the woman say her name was "Jan" and he said his name was "Ted."
Somewhere around 4 p.m., 16-year-old Sindi Siebenbam was approached by a man asking her to accompany him to his car. "I was heading back from the restrooms when a man who was walking toward me said, 'Excuse me, young lady, could you help me launch my sailboat?' I then asked him what he had done to his arm; he stated that he'd sprained it and he couldn't find anyone to help him." However, she was disturbed by the fact he seemed unusually nervous, gestured with the elbow of his injured arm and actually tugged at her arm as if to guide her in the direction of the parking lot. Looking into his deep-set eyes, his tiny pupils unnerved her and she said firmly: "No, I'm sorry. I've got people waiting." Even then, he still seemed reluctant to take no for an answer and continued trying to convince her to go with him. "The last I saw of him, he was walking toward the restrooms," she later recalled.
Patricia Ann Turner estimated it was close to 4:15 when she encountered the man in white with his arm in a sling. "As I walked to the concession stand, he followed me," she told authorities. "We talked to each other on the sidewalk ... He said, 'I need to ask a really big favor of you.' I looked at him as if I didn't understand. He said, 'I normally wouldn't ask this favor, but my brother is busy and is unable to help.' He sort of pointed in the direction of the parking lot. I said: 'Well, I am sort of in a hurry to go.' He said, 'That's okay.' He just stood there for a few seconds. That's when I walked on to the concession stand. I glanced off into the crowd and saw him walk away."
Close to 4 p.m., Jacqueline Plischke steered her bicycle into Lake Sammamish Park. She was wearing cutoff jeans and a revealing bikini top and as she locked her ride in the "bike parking area," she noticed a young man with his arm in a sling staring at her. In an attempt to ignore him, she made her way to the edge of the lake, but a few minutes later, she saw him coming toward her. "Hello," he said. "I was wondering if you could help me put my sailboat on my car?" She explained she wasn't "very strong," and he said it was better he ask someone who was alone to help. Somewhat unnerved, she told him she was waiting for someone, to which he replied,"Oh, I see" and walked toward the restrooms. Later, she estimated the time of her encounter with the insistent stranger occurred at approximately 4:20 p.m.

* * *
Around 4:40, Denise Naslund (above left), a pretty 5'4" girl with long, thick, dark brown hair, arose from her beach towel and seemed to steady herself before heading in the direction of the bathroom. She didn't say anything to Kenneth Little, her boyfriend, or Nancy Bettema and Bob Sargent, the friends with whom they were spending the day. According to Nancy, Denise had told her earlier that she was still high from the beer, Valium and joint they had smoked with three other friends. "The four of us then ate the food at our picnic area after Denise awoke from a nap," Sargent added."We sat and talked and drank beer. Around 4:15, Ken dozed off. Around 4:40, Denise got up from where we were sitting and walked away without saying anything to me. That was not unusual, because I assumed she was going to the restroom or to find her dog that we had taken to the picnic."
As Denise made her way toward the ladies' room, the man with a sling on his arm was observed walking back and forth near the wood and cinder-block building where the bathroom was located. It just so happened that a Seattle policewoman was visiting the restroom at the same time and she and Denise left together. The last time she saw Denise, the girl had stopped to speak with the man loitering nearby. So far as is known, this was the last time anyone – other than her killer – saw Denise Naslund alive.
When she failed to return, Little became concerned and he and their friends began searching for her. "We looked all afternoon and evening without finding her," he related. As they searched, they thought about what a nice person Denise was and how she was friendly toward everyone and, even when under the effects of drugs and alcohol, would have helped if someone asked her.
It was close to 9 p.m. when Little drove his girlfriend's car into the driveway of Eleanor Rose's home and informed her Denise was missing. Fearing the worst, the older woman called the police. There was no doubt in her mind that something horrible had happened to her daughter because she would never have gone off and left her car, with her purse in the trunk, or her dog. Rose had purchased the car, a tan 1964 Chevrolet Impala, for Denise because she didn't want her hitchhiking or getting into a vehicle with the wrong person. As she waited anxiously for the police, she remembered Denise's talking about how she and her friend Robin Woods enjoyed frequenting different bars in the area and one of the places she'd mentioned was the Flame Tavern, the last place Brenda Ball – one of the missing girls everyone had read about in the papers – was last seen June 1, just six weeks earlier. She passed along this seemingly unrelated snippet of information to the authorities.
When the anguished lady was formally interviewed July 17, she continued to speak of her daughter in the present tense. Denise, she said, was taking a night course in computer programming and working part-time in an office. She had been living with Ken Little, her boyfriend, for nine months, but according to Mrs. Rose, was planning to move back home. "Denise is very loving and would often pick me up a gift for no special occasion and I have always felt very close to her," the distraught mother revealed. "When she walks into my home, it's just like sunshine coming through the door."
Robin Woods, Denise's best friend, also spoke highly of the perky 18-year-old, but admitted: "If she was high on July 14, she would be loose. If the guy was a smooth-talker and good looking, Denise would then help him."
Law enforcement and volunteers combed the area in and around Lake Sammamish State Park, scuba divers searched the bottom of the lake and potential witnesses were interviewed and re-interviewed, local sex offenders and recent parolees were hauled in and questioned, but there were no leads. How could two women simply vanish in front of thousands of witnesses – it was estimated as many as 40,000 people had visited Lake Sam that day in response to an event sponsored by Rainier Beer and a local radio station – in broad daylight? Perhaps the better question would have been: What sort of killer would be bold enough to "hunt" his victims in front of thousands of witnesses in broad daylight?
Just 48 hours after the two young women disappeared, a state highway employee pulled his truck onto an old logging road and to eat lunch. When he lowered the window, he was assailed by the unmistakable smell of putrefaction. Curious, he exited his vehicle and walked a few feet into the brush, where he saw what he thought was the bloated, rotting corpse of a deer. He returned to his truck and found another place to have lunch.
On Monday, July 22, the
Seattle Times
ran a sketch (above) of a man named "Ted," who had been observed by witnesses talking to both the young women who disappeared from Lake Sammamish the previous week. A co-worker of Elizabeth "Liz" Kloepher's showed her the paper, saying, "Do you think this looks like someone you know? ... Doesn't your Ted drive a VW?" She knew the man was joking, but had to admit the sketch did resemble her Ted. However, the newspaper indicated the suspect drove a "metallic" Volkswagen and her Ted's car wasn't metallic. She laughed, but only on the outside. Her mind was jumping from one disturbing incident to another as she recalled Sunday, July 14:
That morning, Ted, who seemed to be nursing a cold, arrived unannounced as she and her daughter were getting ready for church. She mentioned she would probably spend the afternoon lying in the sun, but hadn't decided on which beach or park. He continued to press her, insisting she tell him where she was going, and believing he intended to join her later, she finally chose Carkeek, a 220-acre park on the ocean near Seattle. Later, as she sunned herself and read
All the President's Men
, she constantly glanced up from her book, hoping to see her enigmatic boyfriend walking in her direction, but he never appeared. However, he called shortly after she got home and invited her and her daughter to dinner. She noticed his eyes were puffy and his cold was worse. He claimed he'd spent the day cleaning out his car – something he did often – and helping his landlord. They went to a bowling alley that advertised the biggest burgers in Seattle. Liz had difficulty finishing her burger, but Ted wolfed down two and then insisted they stop for ice cream. Because of his cold, he stayed home from work the following day.
But there was more. The 4th of July kept creeping into her mind, the day they'd taken the rubber raft she'd given Ted down the Yakima River. Her daughter was visiting her grandparents in Utah, so it was just the two of them. The slow, meandering river was so peaceful, but the water was cold as the proverbial witch's tit. Nevertheless, the sun was warm, the beer frosty and both relaxed and daydreamed as they floated lazily along the tree-lined stream. Then about an hour into their trip, as she was sitting on the edge of the raft, without warning, Ted suddenly lunged at her, placed his hands on her shoulders and shoved her into the freezing river. The icy water was so frigid it almost took away her breath, but it wasn't Ted's actions, or the freezing water that terrified her, it was the look in his eyes. "His face had gone blank as though he were not there at all," she remembered. "I had a sense he wasn't seeing me." As she struggled to reenter the raft, he made no move to assist her. His face was a total blank. Three days later, on Sunday, July 7, he arrived in the afternoon and announced he'd been to Lake Sammamish. When she asked what he'd done there, he answered, "Nothing. I walked along the water and thought ...." She couldn't help asking herself: "
What
was he thinking?"
* * *
Finally, relatives, friends and law enforcement officers had to admit Janice Ott and Denise Naslund were gone. July turned into August and not a single lead had developed. Captain Nick Mackie of the King County Sheriff's office appealed to the public for information and the
Seattle Post-Intelligencer
offered a $5,000 reward for information leading to a conviction. Even the most bizarre theories were considered, such as that suggesting the killer might be influenced by the phases of the moon – even though the moon had entered its last quarter July 12, two days prior to the disappearances. King County Sheriff's Detective Robert "Bob" Keppel compiled and reviewed eyewitness accounts of the man seen talking with both Ott and Naslund, but like everything else, they led nowhere. However, one woman's recollection of "racquetball" and a British accent led investigators to speculate "Ted" might be Canadian – the border was just a little more than a hundred miles to the north – and possibly connected to an unsolved string of homicides in British Columbia.
After revealing her continuing fears about Ted to a friend, Liz and the friend decided to call the "Ted Hotline" in order to ascertain whether the Volkswagen was, indeed, metallic and if the man in question wore his wristwatch on his right arm. The friend made the call from a pay telephone and was assured that all reports indicated the car was "metallic." She was so flustered she'd forgotten to ask about the watch. Liz was somewhat relieved, but not entirely.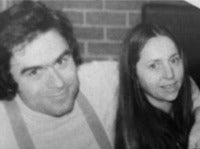 The summer days and nights passed quickly. Liz (above right with Ted) traveled to Salt Lake City to retrieve her daughter and while there, found an apartment for Ted, who was transferring from the University of Puget Sound to the University of Utah to continue his study of law. He was there to meet her at the terminal in Seattle, but when she saw him, she was shocked. All his curls were gone and his hair was super short – the shortest he'd ever worn it since she had known him. He looked like a different person. Soon they had settled into their old routine. Ted spent his final weeks in Seattle finishing up his work with the Budget Office, spending time with his influential friends in the Republican Party and preparing for his move. On Labor Day (Monday, September 2), he left for Utah.
There had been no disappearances of women in and around Seattle since the Lake Sammamish abductions and people were beginning to relax, hoping the horror had come to an end.
Five days after Ted left the Pacific Northwest, two men, Elzie Hammons, 36, and 71-year-old Elza Rankin, were grouse hunting near an old logging road north of the old Sunset Highway, some four miles from Lake Sammamish. Hammons ventured into the woods, where he came upon a human skeleton and hairless skull. He hurriedly returned to the jeep, where Ranking was talking with two teenagers. At first, no one believed him, but all four accompanied him to the site and as Hammons later recalled, "Suddenly no one was laughing." Little was left of the bodies, but one of the teens spotted something Hammons had missed. "We found the clump of black hair," he added. "It looked fresh and shiny ... about two feet long." It was the hair of Denise Naslund. The authorities were immediately notified and collected 400 pieces of evidence. "We'd literally unearthed a graveyard, a killer's lair, where he'd taken and secreted the bodies of his victims," Keppel related. When the bodies were dumped in July, stinging nettles and underbrush would have been thick on the ground, but a vehicle could easily drive back into the brush to within 40 feet of the "grease spots" created by the decomposing bodies. Some blonde hair was discovered at the site, but Janice Ott's skull was missing. Additionally, the remains of a third female skeleton were collected, but, it, too, was missing its skull. (Although law enforcement officers did not realize it at the time, the third set of bones was that of Georgann Hawkins, who went missing from the University of Washington the night of June 12, 1974.)

* * *
Theodore Robert "Ted" Bundy was finally apprehended in Salt Lake City in August 1975 after attempting to evade police and burglary tools were discovered in his car. Carol DaRonch, a woman he abducted November 8, 1974, at a shopping mall near Salt Lake City, and two other women who saw the man believed to have been responsible for the abduction of Debbie Kent in Bountiful, picked him out of a lineup and in March 1976, he was convicted of aggravated kidnaping and sentenced to 1 to 15 years in prison. He was subsequently extradited to Colorado, where he was suspected of murdering Caryn Campbell in January 1975, but escaped twice, once in June 1977 and again in December 1977. Following his second escape, he made his way to Tallahassee, Florida, where he bludgeoned five women, killing two of them, in the early morning hours of January 15, 1978. A month later, on February 12, 1978, he abducted and murdered 12-year-old Kimberly Leach in Lake City, Florida.
During his almost 10 years on Florida's Death Row, Bundy gave numerous interviews. Stephen Michaud and Hugh Ainesworth recorded approximately 150 hours of tapes in which Bundy – without admitting guilt – "speculated" as to what the killer might have done. When asked about Janice Ott and Denise Naslund, he said one of the women would probably have watched the other die. Allegedly, he later admitted to FBI Special Agent Bill Hagmaier that he kept the first victim alive and one girl had been forced to look on as he killed the other. Unfortunately, he never revealed the location where the women were held and assaulted, or whether the murders took place indoors or outside in a secluded wooded area.
In the early morning hours of January 24, 1989, Eleanor Rose had invited a reporter to her Seattle home. Driving up to the house, the first thing one noticed was the 1964 Chevrolet Impala, unused and rusting in the yard. Inside, everywhere one looked, there were reminders of Denise. Even after the passage of almost 11 years, the young woman's bedroom remained as it was when Denise was alive, with her guitar, skates and stuffed tiger lying about as though she had just left the room and would return at any moment. In the livingroom, a photograph of Denise was overshadowed by a bouquet of pink carnations and a single red rose. Unexpected and completely out of place, lay a collection of scrapbooks of the crimes of Ted Bundy. "I have three obsessions," Eleanor Rose had written in the first album. "One, to restore capital punishment. Two, to live to see ... the man who did this to you, and to me, hung or electrocuted. Three, to get your remains back." (When the King County Medical Examiner's office relocated, the remains of both Denise Naslund and Janice Ott were misplaced and have never been found. The women's parents sued and the county settled with a $112,000 payment to each family.) Through the years, Mrs. Rose had suffered from depression, pneumonia, ulcers and other digestive problems, and at age 50, appeared old and gaunt. "I've been worried I wouldn't outlive Bundy," she confessed. "I've dedicated my life to memories and to Bundy."
Then, just a few minutes after 4 a.m., the phone rang. "It's over with," announced an official at Florida State Prison. Finally, Ted Bundy, age 42, had met his maker in Florida's electric chair. At least one of Eleanor Rose's wishes had been granted. She died January 1, 2000.
Author:
Graveyardbride.
Sources:
Ted Bundy: The Killer Next Door
by Steven Winn and David Merrill;
The Deliberate Stranger
by Richard W. Larsen;
The Bundy Murders: A Comprehensive History
by Kevin M. Sullivan;
The Phantom Prince
by Elizabeth Kendall;
Defending the Devil: My Story as Ted Bundy's Last Lawyer
by Polly Nelson;
The Los Angeles Times
, January 25, 1989; Pete Axtheim and Michael Ryan,
People
, February 6, 1989;
The Only Living Witness
by Stephen G. Michaud and Hugh Aynesworth; Dirk Johnson,
The New York Times
, February 13, 1989;
The Riverman: Ted Bundy and I Hunt for the Green River Killer
by Robert D. Keppel, Ph.D.; and Personal Files.
See also
"January 31, 1974: The Disappearance of Lynda Healy":
whatliesbeyond.boards.net/thread/1074/january-1974-disappearance-lynda-healy
"November 8, 1974: Encounter with a Killer":
whatliesbeyond.boards.net/thread/520/november-8-1974-encounter-killer