Post by Joanna on Oct 26, 2013 23:50:42 GMT -5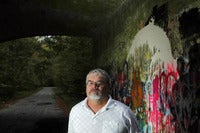 Haunted road leads to ghosts and murder

YORKTOWN, Va. – It was a night like any other for Frank Green (above). As a career deputy with the York-Poquoson Sheriff's Office, he'd heard the rumors that Crawford Road was haunted. The road – spelled both "Crawford" and "Crawfford" on local maps – travels beneath the Colonial Parkway overpass. Supposedly, if someone turned their car engine off underneath the bridge and waited, a ghost would appear.

Like hundreds of other nights while on duty, Green parked under the bridge and waited. And like every other time, he came up empty-handed. "I've just not had any luck down there," said Green, who served with the sheriff's office for almost 25 years and is currently president of the York County Historical Society.
As a deputy sheriff, his patrol beat took him down Crawford Road two or three times most evenings. "It's a creepy old road," he admitted, "particularly in the middle of the night, but I've never seen a ghost."

As with any good ghost tale, there are multiple versions of the story explaining the road's haunted nature. Talk began in the 1970s about the place being haunted, Green recalled. The accounts don't seem to have a beginning though. They've just been spread among local residents and via ghost hunting websites like The Haunted Commonwealth and unexplainedmysteries. The place has a reputation. As noted on the Haunted Commonwealth site, "There have been more stories told about what happens around Crawford Road in Yorktown, Virginia than any other road in Virginia."

According to one version, a bride didn't want to marry the man to whom she was engaged and jumped from the bridge, hanging herself. According to the Crawford Road lore, the bride can be seen jumping from the graffiti-covered structure. Another account holds that slaves were hanged from the bridge, although the overpass is too new for that to be true.

Thrill seekers have reported their cars shutting off while driving under the overpass. Others claim that turning your car off is the only way to hear and see the ghosts, or hear the ghost babies crying.

While the road is unquestionably spooky, the ghost tales have their skeptics, including L. B. Taylor Jr. Taylor has penned 25 books on the ghosts of Virginia and said he investigated rumors about Crawford Road years ago. "I think it's more of an urban legend than an actual haunting," he asserted. "I think it's teenagers that have wild imaginations. They just go down there half-scared to start with."

For local law enforcement, dealing with ghost hunters has been a safety concern. "We've encountered people from Richmond to Virginia Beach that read about Crawford Road and come to see what it's all about," said Lt. Richard Moore with the York-Poquoson Sheriff's Office. Moore recalled one incident where teens hanged a mannequin from the bridge to scare another group of teens. "We're constantly going out there on patrol," he continued, "And we're constantly running into people that are stopped on the road looking for ghosts."

Though these ghost tales might be unfounded, it doesn't mean Crawford Road isn't without a few dark secrets of its own, including some high-profile murders. On January 29, 1990, James "Jimmy" Johnson and his wife Joyce drove to the Omni Hotel in Newport News to meet a man who was interested in purchasing their silver Mercedes-Benz. Wearing a wool coat, yellow shirt and red tie, the man introduced himself as J. C. Jiles. He agreed to pay $45,000 for the car, but wanted to make sure that his wife liked it. The next day, Johnson drove alone to meet the man and it was the last time Johnson was seen alive. His body was found in a wooded area off Crawford Road with a bullet wound in his chest. His wrists were handcuffed and his legs taped together.
The case went unsolved for three years, until the story was featured on the television show America's Most Wanted. Police received 64 tips after the program aired, one of which led them to a man named Juannito Edwards. He was arrested and charged with the murder of Johnson and of a Newport News woman named Tanya Marcia Lane. Lane had testified in a murder case against Edwards' brother in New York and he apparently wanted revenge. Her body was found less than half-a-mile from where Johnson's had been dumped on February 2, 1991. In 1993, Edwards was sentenced to two life terms plus 22 years for the kidnaping, robbery and murder of Johnson.

In another case, Langley Airman Eric Nesbitt was robbed by Daryl Atkins and William Jones at a Hampton convenience store. Dissatisfied with the amount of money in his wallet, they drove Nesbitt to an ATM and forced him to withdraw $200. Atkins and Williams then took Nesbitt to Crawford Road near Tower Lane and shot him eight times. Atkins was convicted and sentenced to death and Jones got life in prison plus three years. The murder case made national headlines when it went to the U.S. Supreme Court in Atkins v. Virginia. A test revealed that Atkins had an IQ of 59 and the court ruled that executing a mentally-disabled person violates the Eighth Amendment ban on cruel and unusual punishment.

Having recovered more than one body from the area, Green, the former deputy, has a word of warning for those in search of the paranormal. "If you come down here looking for ghosts, you might become a ghost," he said. "It's got its own body count."

Source: Richard Griset, The Daily Press, October 26, 2013.