Post by Joanna on Apr 17, 2015 21:01:54 GMT -5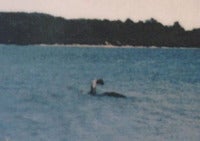 'Champ': American 'Nessie'
That something lurks in the depths of Lake Champlain has been the source of debate for more than a century. Sightings of the mysterious creature affectionately known as "Champ," date to pre-colonial times and are still occurring today.
Lake Champlain is huge, almost 125 miles long, it borders two states, Vermont and New York. It is very deep and very old and for hundreds of years, people have reported seeing something out in the lake that isn't supposed to be there. "I had my doubts too, it's almost like Santa Claus, is it real or is it not real? When I finally saw it for myself, it totally, it just amazed me," Katy Elizabeth says. She is the founder of a research group called "Champ Search" and has written two books on the subject:
Water Horse of Lake Champlain
and
Water Horse of Lake Champlain II
. Her initial skepticism has now transitioned into a dedicated quest to prove Champ's existence. She has spent years on the lake, logging some convincing evidence, including both video and audio data. She believes the creature is a prehistoric remnant called Tanystropheus. "A Tanystropheus," she explains, "had a long neck, it was a lizard like animal, the neck was longer than it's body and tail combined, so it was a very bizarre looking creature, had webbed feet."
There have been many photos of Champ, but one of the most convincing (above) was taken in 1977 by Sandra Mansi, a Vermont resident. The original is now located at the Echo Lake Aquarium in Burlington and treated with almost iconic reverence. Although there remains speculation as to what it shows, the photo has been deemed authentic. Linda Bowden of the Echo Lake Aquarium describes what happened. "Sandra Mansi was advised to have that photo authenticated and so she did. She sent it to the University Of Arizona, their photo department, and had them take a look at it, now this is back in the 70s, early 80s, she took that photograph in 1977, so when the photograph came back, they said it was a photograph that had not been touched up in any way, and of course, that was way before you can do the Photoshopping you can do today."
Mansi described the experience as life-changing and other eyewitnesses echo this sentiment. Christine Heberts' family has owned a boat house on the lake for decades and her two sightings more than 25 years ago remain as clear to her as if it had happened yesterday. "I could see something coming, there was no ripple in the water, it was just magnificent. It got here under the light and of course the ramp was here so it didn't know what to do, because the ramp was in the way, it turned around, it looked just like a dinosaur. My mother was with me a couple weeks later and we were in that window again and the same thing happened, same thing, only this one wasn't green and it wasn't as big, it was brown, and it was smaller."
Christine's experience tallies with the belief of many that there is more than one animal living in the lake. Their existence has provided more than just a mystery for people to debate, Champ has also been an economic boost to struggling local economies like Port Henry N.Y. The town even greets people with a large sign documenting area sightings dating to the 1800s. Matt Brassard, Port Henry's Deputy Mayor, says, "It's national, it's worldwide. You know, you have the one in Scotland and this one, so it brings quite a few people through the village, it really does."
The enigma of Champ's existence will continue until proof is found. Those who have seen the creature are certain something lives within Champlain's deep dark waters. "When they start smirking, that's when I say, I don't care if you believe me or not," Hebert relates. "It doesn't matter. I know what I saw and you can't take it away from me."
"Until you see it for yourself," Elizabeth adds, "you're not going to believe it, there's no way! It's been a life-changing thing, it really has."
Source:
WGRZ News, October 25, 2014.