Post by Joanna on Apr 14, 2015 0:19:18 GMT -5
Was 1977 Abduction of 5-Year-Old the First of Three Murders?
It's a case that has haunted investigators for more than three decades. Five-year-old Stephanie Boller (above) left her Beaver Falls home around 1 p.m. on Saturday, January 8, 1977, to visit the home of a friend. Unfortunately, upon arrival, her friend's mother asked the little girl to return home because three of her children were sick with the flu, after which the woman watched as the fair-haired child, wearing a green winter coat and boats, walked in the direction of her house. Robin Sell, Stephanie's mother, later told police she was away from home that day from 3 to 7 p.m. and when she returned and couldn't find her daughter, she reported her missing. Neighbors were questioned, but no one had seen the child and a massive search party was formed to scour the neighborhood.
Then-coroner Harper Simpson was also a member of an Army Reserve unit that mobilized to assist in the search. "So our whole unit went up to Mount Washington and moved through there with everyone else searching, prying open trunks of abandoned vehicles, going in abandoned buildings, going through cellars, and everything, looking for this little 5-year-old girl," he recalled.
For months, police pursued leads, but none led anywhere. Then, on November 6 of that year, men walking through Bradys Run Park in search of cans and bottles spotted what appeared to be human remains. Police determined the men had found Stephanie. She had been hit on the head and apparently died from a skull fracture.
Police Officer Dick Pegg was one of the first to respond to the park. "And at that time, Officer Jones and I remained (at the scene) overnight, and we remember it was cold, just like the day it was when she went missing," he remembered.
Police don't believe Stephanie was killed in the park and because so many months passed between her disappearance and the discovery of her body, there was no physical evidence on which to rely. "That's what made it frustrating because we had nothing other than she came up missing on 12th Avenue and then they find her remains. It was a very difficult case," former Beaver Falls Police Chief Harry Pease said. He had been a sergeant at the time the child went missing. "It bothered all of us a great deal, all of us, I think," he added.
Pegg has never forgotten the case either – he still carries photos and newspaper articles about Stephanie – and continues to hope the case will one day be resolved. "There are several cases that stick with you forever and this is one of them," he declared. "It was – I think what was stark about it was she was such a little girl. Even to this day, when I look at my daughter, who's well into her 40s, I think what would Stephanie be doing, what was her contribution. This case has been with me always since the beginning."
* * *
Woman at the Bus Stop.
Around 8:30 on the morning of November 23, 1977, a woman stood alone at a Port Authority Transit stop in Wilkinsburg, Penn., waiting for the bus that would take her to her job in downtown Pittsburgh. The 24-year-old had grown up in Wilkinsburg and she and her husband were remodeling a home they had purchased on nearby Rebecca Avenue. The bus stop was close by on Ardmore Boulevard. As she waited in the chilly November air, a motorist pulled his car off the street, partially into an alley and onto the paved area of an auto repair garage – right next to her. "To the best of my recollection," the woman recalled during a 2011 interview, "... he made a suggestion I did not appreciate." Something about the man instinctually heightened the woman's sense of danger. When she threatened to call the police, he made a U-turn on Ardmore and headed back toward the Parkway East. In 1977, there weren't any cell phones, so she would have had to walk to a nearby business, home or perhaps to Johnston Elementary School across the street to make the call. The man left and she did not report the incident to police. Nevertheless, she wrote down the red-and-white Ohio license plate number and noted the man was driving a blue car. "I didn't think about it anymore," she admitted.
Beth Lynn Barr.
At approximately 2:15 p.m. that same day, Beth Lynn Barr, 6, left Johnston Elementary School on Franklin Avenue, which dismissed an hour early because of the Thanksgiving holiday. She crossed the street with classmates and began the two-fifths-of-a-mile walk to her Princeton Boulevard home alone, making her way up Ardmore in the direction of the WTAE-TV station – past the bus stop where the man had approached the woman hours before. Beth turned left onto Marlboro Avenue, then immediately right onto Traymore Avenue. At this point, according to a witness, a man carried a schoolgirl fitting Beth's description to a dull blue sedan with red-and-white license plates. This was the last time anyone saw the child. Beth's father, Charles, was a Wilkinsburg police officer and when his daughter didn't come home after school, the police force sprang into action.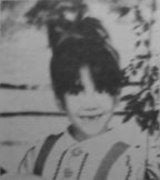 That evening, Wilkinsburg police knocked on the woman's Rebecca Avenue door as they canvassed the neighborhoods around the school. She shared the information about the man who had approached her that morning. Her description of the man and car closely matched that of the witness who saw Beth (above) being carried to a car. Police described the suspect as a white male in his 40s, 5'10" to 5'11" and of medium build with medium brown, curly hair. He was wearing a grey suit and square, blue-tinted sunglasses. "He would have reminded me of someone with an office job," the first witness said, adding that he was possibly wearing a necktie. She also remembered "he was not an attractive person." Later, the lady admitted she was surprised the police didn't seem particularly interested in her encounter. "I never heard anymore about it," she said, noting more than a year had passed before police contacted her again.
Police thought they had found the car involved at Conley's Motor Inn (now the site of a Home Depot) on Business Route 22 in Wilkins Township. The vehicle belonged to a car rental agency located in the motel and, according to records, had not been signed out on the day of, or near, Beth's abduction. A search of the blue car with red-and-white Ohio plates turned up nothing. Wilkins police and other local law enforcement agencies assisted Wilkinsburg officers in combing woods behind Conley's, but there were no clues. Nothing turned up during the search of various houses and woods in Wilkinsburg.
On December 10, 1977, there seemed to be a break in the case. Police arrested a McCandless Township salesman in connection with the kidnaping, but charges were dropped when it was established he had been in Johnstown that day. Both the salesman and his brother agreed to submit to polygraph tests. Lt. Robert Thomas, then officer in charge of the Wilkinsburg Police Department, said in 1979 that he wasn't positive the brothers ever took the tests or, if so, what the results showed.
A psychic was called in soon after the abduction and some seven to nine others recounted "visions" they had concerning Beth Barr's whereabouts, some of which included "water" and "grave markers."
In March 1979, Joseph Leonard of Monroeville stumbled upon a partially exposed skeleton as he walked through the woods off Johnston Road in Monroeville, across from the portion of Restland Memorial Cemetery where the duck pond is located. There was no doubt the remains were those of Beth Barr. Though brush, dirt and leaves covered her bones, she remained dressed in the red pants outfit, blue tennis shoes and plaid coat she had worn to school that fateful day in November 1977. Thomas delivered the sad news to Donna and Charlie Barr and their son James at their Princeton Boulevard home exactly 16 months to the day and within the same hour that Beth disappeared.
The mounded grave appeared more "piled" than shoveled, former Monroeville Detective Willis Greenaway said at the time. He noted that according to the crime lab, bodies sometimes surface following freeze-thaw conditions.
Autopsy revealed the little girl had been stabbed several times in the chest. Then Assistant Chief Deputy Coroner Anthony Pankowski indicated the condition of the skeleton was consistent with the child's being dead since the time of her disappearance. He also said there was no way to determine if she had been sexually molested, though the lab intended to run tests on her clothing.
Some newspapers reported the area adjacent to Restland Cemetery had been searched following the child's disappearance, however, police officials at the time claimed the area had never been searched.
The woman waiting for the bus that morning said police tracked her down at work and interviewed her a second time, which she believed was around the time Beth's body was discovered. "I said to them, 'What ever happened?'" They explained the car had been traced to the rental agency, which is about three miles driving distance from where Beth Barr's body was eventually located. When the woman asked about the car, she was informed the rental agency manager said it did not leave the premises that day. "I found that absolutely astounding," she said. "Obviously, they found the car. But the investigation never went anywhere. Frankly, that was the last I ever heard from them."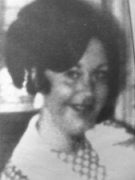 Barbara Jean Lewis.
Through the years, the woman who had the presence of mind to write down the plate number has thought about the little girl who never made it home. A few years ago, she and an old friend discussed how they had once gone to see "Walkin' Rosie," the apparition of a woman said to leave her tomb at night and walk about Restland Memorial Cemetery. The friend recalled that Beth's body had been found adjacent to the cemetery – and that her killer had never been found. The same friend mentioned a cold case story about Beth's murder that appeared in Gateway Star Newspapers in 2003. The witness looked it up online and found herself mentioned as the "woman at the bus stop." But as she read the article, something bothered her. The story noted that the day Beth Barr was abducted, three newspapers in the former Dardanell Publications weekly chain – the
Penn Hills Progress
,
Churchill Area Progress
and
Wilkinsburg Gazette
– all ran a story about the one-year anniversary of the strangulation murder of 30-year-old Barbara Jean Lewis (above) of Penn Hills, a woman whose body was discovered in a trash bin in the Blackridge Civic Association parking lot in Churchill. Ms. Lewis's belongings had been found in a wooded area off Princeton Boulevard in Wilkinsburg, the street where the Barr family lived. And then came the sentence that hit a little too close to home: the one that indicated Lewis, too, had been waiting at a bus stop on Long Road in Penn Hills on the morning of November 19, 1976 – the day she was murdered! "There were just too many coincidences," the witness reasoned. "There's got to be a connection."
In fact, there has been some speculation that the killing of Barbara Lewis was the last in a string of what are believed to be serial murders in western Pennsylvania between 1976 and 1977. And just a few weeks before Beth Barr disappeared, two boys walking in the woods at Bradys Run Park found the skeletal remains of Stephanie Ann Boller of Beaver Falls, an apparent homicide victim – and there were similarities in the cases.
Some investigators believe Beth Barr's abductor was likely a pedophile and there might not have been a connection to the incident at the bus stop earlier in the day. In retrospect, the woman feels very fortunate she was standing on the passenger side of the car that day, 37 years ago. She prefers not to think about what might have happened if she'd been on the driver's side. "That could have made a world of difference," she observed.
In retrospect, the bus stop witness thinks Wilkinsburg police "botched the case" by holding on to it so long before turning it over to Allegheny County police detectives and refusing help from more experienced Pittsburgh police detectives, and she isn't alone. A man, who identified himself as the son of a former Turtle Creek policeman, also contacted Zandy Dudiak after reading an account of Beth Barr's murder. According to the gentleman, his father was at Keller's Hardware Store in Turtle Creek around the time of the little girl's abduction, when a man walked in and bought a shovel and a few other items that raised the policeman's suspicions. The son remembered his father called Wilkinsburg police with the information, but no one ever checked out the lead. Had the man who kidnaped Beth continued along Ardmore Boulevard, it is not out of the question that he might have been in Turtle Creek, taking the back roads to Monroeville.
Eight months after Beth Barr was laid to rest at Woodlawn Cemetery in Wilkinsburg, the witness and her husband relocated to a distant city. "I always wonder why I moved away from Wilkinsburg," she pondered. She might have answered that question several years ago when she began to feel "not so safe" in the city where she had lived more than 20 years. That's the reason she and her family moved again. "It's a shame," she reflected, referring to the fact Beth Barr's killer has never been found. "I still don't believe it's a lost cause. Someone's going to come forward."

___________

Almost 40 years after the death of Barbara Lewis, many residents in Penn Hills still remember her name, but local police still can't name her killer. Lewis worked as a secretary in downtown Pittsburgh and when she didn't show up for work November 19, 1976, her coworkers alerted the authorities. Her body was found several blocks from her usual bus stop in a dumpster behind Blackridge Civic Association on Long Road. She had been strangled and some of her undergarments were on inside out. Her purse and coat were found in the woods.

Years later, the death of the seemingly ordinary Penn Hills resident is still a mystery. "Once cases go cold, they mostly just lay there and get colder," Penn Hills police Chief Howard Burton remarked. In the aftermath of her death, Burton remembered stopping cars on Long Road to see if commuters saw anything involving the young woman. "Penn Hills was a bedroom community with 70,000 blue-collar workers at the time," he continued. "Something like that [the murder] was unheard of." According to Burton, not many tips have come in to the department since her death.

Penn Hills native Zandy Dudiak, a former reporter and editor for Gateway Newspapers, recalled being able to see the spot where the body was found from her bedroom window and riding the bus with Barbara Lewis's sister. "It was a scary time. There were a lot of murders around [Western Pennsylvania] in the 1970s," she said. "I remember being terrified driving home from college some nights."

Dudiak has written about the murder and several other cold cases during her career. Now a communications coordinator with Mercy Health Systems, Dudiak is writing about another cold case, the death of Beth Lynn Barr, on her blog One Day in November, whokilledbethbarr.wordpress.com. She draws parallels between the deaths of Lewis and Bar. "I have no idea if they're connected," she admitted, "but there's a number of coincidences there that will make you think twice." The two homicides took place almost exactly one year apart, both Lewis and Barr were heading to bus stops when they went missing and the coat Lewis was wearing, as well as her purse, were found close to the Barr home. Beth Barr disappeared while walking home from school on the day before Thanksgiving in 1977. Her body was found 16 months later in a shallow grave near Restland Memorial Park in Monroeville.

Allegheny County police handled the Lewis investigation and Burton conceded he isn't familiar with the specifics of Barr's death, but unlike Dudiak, he doesn't think the cases are related.

Crime author John Cameron speculated that both Barr and Lewis may have been killed by the same man, Edward Wayne Edwards, the subject of his book, It's Me. Cameron noted that Edwards was released from probation in Western Pennsylvania around the time Barr and Lewis were killed. The former parole board analyst got to know Edwards while working for the Montana Board of Pardons and Parole in Deer Lodge Prison. Edwards was convicted in the slayings of three people, one of them a boy who lived with Edwards and his wife. He was sentenced to life in prison and died in 2011. Although there was a 25-year difference in the ages of Lewis and Barr and the method of killing and modus operandi don't match, Cameron doesn't think this should rule out Edwards as a suspect. "He killed just to kill," the author insisted.

Sources:
Megan Lavey-Heaton, PennLive, April 6, 2015; Kelsey Shea, TribLIVE, January 7, 2014; and Zandy Dudiak,
The Patch
, November 23, 2011.