Post by Graveyardbride on Feb 3, 2015 1:52:11 GMT -5
February 3, 1959: The Day the Music Died
Anyone familiar with the history of rock and roll knows the story of Buddy Holly: A charismatic and wildly talented songwriter/performer, Holly achieved enormous success while just barely into his 20s. After breaking with his band, The Crickets, Holly set out on a disastrous national tour (the Winter Dance Party) with other rock luminaries, in order to support his new wife and unborn child. After a performance at the Surf Ballroom February 3, 1959, he chartered a plane to take him, "The Big Bopper"(J. P. Richardson) and Ritchie Valens to the next gig. Tragically, the plane crashed, killing all three and the pilot.
Three days before on January 31, 1959, it was late when the rickety old bus left the Duluth Armory and headed into the frigid night. Those on board – members of the Winter Dance Party Tour – were tired, in need of a shower and on top of all that, they were freezing because there was no heat on the bus. Waylon Jennings later wrote: "It was so cold on the bus that we'd have to wear all our clothes, coats and everything. ... I couldn't believe how cold it was."
Monday, February 2 was supposed to be an off-day for the tour and some had already checked into a hotel in Hurley, Iowa, for a few hours' sleep. But then they were advised of a last-minute booking in Clear Lake and the reluctant musicians and their manager re-boarded the bus for the 355-mile-trip in temperatures of -15° to -20° Fahrenheit and the wind chill factor made it feel like 30-below.
Premonitions.
Shortly before embarking on the Winter Dance Party Tour, both Buddy Holly and his wife of five months, Maria Elena, were simultaneously disturbed by violent and eerily prophetic dreams. Maria Elena dreamed of a fireball descending to earth in the middle of a field followed by an explosion that left a great gaping hole in the ground. When she awakened her husband, he related he had also just had a strange dream in which he, his wife, and his brother were on a plane. For some reason, his brother persuaded Holly to leave Maria Elena on top of a building with the intention of returning for her. Reportedly, Holly was wracked with guilt for having left her behind in the dream. Maria Elena was supposed to accompany her husband on the Winter Dance Party tour, but he convinced her to stay behind because of her morning sickness.
Warnings.
While Holly was touring England in 1958, he received an ominous message from Joe Meek, a British recording engineer and producer. On a night in January of that year, Meek had attended a tarot card reading. The message delivered that night was "February third, Buddy Holly dies." Holly thanked Meek for the warning, but did not seem concerned because February 3rd had already passed. Buddy Holly would die February 3rd of the following year (1959).
The Winter Dance Party
was plagued by numerous problems. The tour buses continually broke down, the heaters refused to work, and by the time the left Hurley for Clear Lake, both The Big Bopper and Ritchie Valens had developed flu-like symptoms. Holly's drummer, Carl Bunch, had to leave the tour after he suffered severe frostbite to his feet.
The Big Bopper
(Jiles Perry "J.P." Richardson) was on the Winter Dance Party tour, enjoying the success of his single, "Chantilly Lace." Richardson, who had the flu, persuaded Waylon Jennings (member of Holly's backup band) to give up his seat on Holly's rented plane. The Big Bopper was the oldest person on the plane. He was 28.
Waylon Jennings
gave up his seat to Richardson, who was running a fever and had trouble fitting his stocky frame comfortably into the bus seats. When Holly learned that Jennings wasn't going to fly, he said, "Well, I hope your old bus freezes up." Jennings responded, "Well, I hope your plane crashes." This friendly banter between friends would haunt Jennings for the remainder of his life.
Ritchie Valens
("La Bamba," "Oh Donna") was also a member of the Winter Dance Party. He convinced Tommy Allsup, another member of Holly's band, to flip a coin for the third seat on the chartered plane. Valens, like The Big Bopper, was sick. He called "heads" and won, commenting that it was the first time he had ever won anything. Valens was only 17 at the time of the crash. (Years later, Tommy Allsup would open a club named The Head's Up Saloon to commemorate this life-saving coin toss.)
Flight to Oblivion.
The show at the The Surf Ballroom in Clear Lake ended at midnight and Holly had decided to charter a plane from nearby Mason City to their next gig in Moorhead, Iowa. He, Valens and Richardson boarded their plane, a three-passenger Beechcraft Bonanza B3794N, at approximately 1 a.m. The pilot, 21-year-old Roger Peterson had worked 17 hours Monday, February 2, but was nonetheless assigned to fly the musicians to their destination. The small plane hit a blizzard shortly after takeoff and crashed into a cornfield, killing the pilot and all three passengers.
Pilot error was blamed for the crash because visibility was low due to inclement weather and Peterson should have relied on instruments, something a more experienced pilot would have known to do. The official report by the Civil Aeronautics Board's found: "This accident, like so many before it, was caused by the pilot's decision to undertake a flight in which the likelihood of encountering instrument conditions existed, in the mistaken belief that he could cope with en route instrument weather conditions, without having the necessary familiarization with the instruments in the aircraft and without having properly certification to fly solely by instruments."
From the Coroner's Report of February 4, 1959:
The body of Charles H. Holley was clothed in an outer jacket of yellow leather-like material in which four seams in the back were split almost full length. The skull was split medially in the forehead and this extended into the vertex region. Approximately half the brain tissue was absent. There was bleeding from both ears and the face showed multiple lacerations. The consistency of the chest was soft due to extensive crushing injury to the bony structure. The left forearm was fractured a third of the way up from the wrist and the right elbow was fractured. Both thighs and legs showed multiple fractures. There was a small laceration on the scrotum.
Buddy's brother Larry and his brother-in-law, J. E. Weir, flew to Mason City, Iowa, to claim Buddy's remains. Weir went into the funeral home to identify the body because Larry was devastated. When he came out, he threw up in some bushes. He then turned to Larry and said, "You don't want to see Buddy like that."
The plane struck the ground with such force that debris from the crash was scattered over a 300-yard radius. Buddy Holly's distinctive black glasses were missing and presumed lost forever. But when the spring thaw came, both the glasses and the Big Bopper's watch – which had been buried in the snow – were found and turned over to the Cerro Gordo County Sheriff's office April 7, 1959. The items were placed in a manila envelope and filed away. Twenty-one years would pass before Sheriff Jerry Allen happened to find and open the envelope in 1980. Buddy's glasses were returned to his widow and are now on display at the Buddy Holly Center in Lubbock.
Exhumation of The Big Bopper.
A handgun belonging to Buddy Holly was found at the crash site and for many years, rumors persisted that a gunshot had been fired inside the plane, hitting the pilot, and that, perhaps, J.P. Richardson (The Big Bopper), whose body was found 40 feet from the wreckage, was trying to get help. In March 2007, Richardson's body was exhumed at the request of his son, Jay Richardson. Bill Bass, M.D., a forensic anthropologist at the University of Tennessee, examined the remains in Beaumont, Texas. X-rays revealed Richardson had "fractures from head to toe. Massive fractures . . . [He] died immediately."
Mrs. Buddy Holly.
Buddy Holly married Maria Elena Santiago, a Puerto Rican woman three years his senior, whom he had known a very short time, August 15, 1958, in Lubbock, Texas. After they returned to New York, the newlyweds moved into Apartment 4-H of the Brevoort at 11 Fifth Avenue. Both were "night people" and would sometimes walk about Greenwich Village in raincoats – so people wouldn't see they were in their nightclothes – and stop in various clubs. In the mornings, Buddy would don dark glasses so he wouldn't be recognized and the two would walk to nearby Washington Square Park, where he would play his Gibson guitar and occasionally give pointers to aspiring young musicians, telling them, "Look at anything you see here in the park and then write about that – that's how you compose."
According to Maria Elena Holly, she was pregnant and upon learning of the plane crash while watching television, suffered a miscarriage. She did not attend her husband's funeral, has never visited his grave and later married Joe Diaz and gave birth to three children, but she has profited from Buddy's death, going so far as to sue her late husband's parents for the return of some of their son's possessions, including his Fender Stratocaster guitar. In various interviews, family members have said they do not believe Buddy's marriage to Maria Elena would have lasted. "I really feel like [Maria] was a bounce-back marriage," Larry Holley, Buddy's brother, said. "I think his true love was Echo McGuire." He added that neither he nor their mother believed Buddy would have remained married to Maria Elena for very long.
It wasn't until October 2008, almost a half-century after his death that Maria Elena finally visited the Brevoort, where she and her husband lived for just four months before his tragic end. In a
Rolling Stone
interview, Mrs. Holly admitted, "I didn't think I could take it. I was weepy, but a friend took me in and announced to the doorman: 'This is Mrs. Buddy Holly.'" She claimed she "felt Buddy's presence there" and after visualizing him, thought she heard his voice say, "Finally, you came for me." This, she insisted, was unexpected. "I hadn't realized that Buddy had been waiting there for 50 years," adding, "And I've brought him home with me now."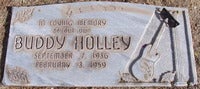 The Buddy Holly Curse
It began with
Joe Meek
, the man who warned Holly he would die February 3. Following the 1959 tragedy, Meek became obsessed with Buddy Holly and eight years later to the day – on February 3, 1967, – Meek, 37, shot and killed his landlady, then turned the shotgun on himself.
In the 1977 film,
The Buddy Holly Story
,
Gary Busey
was nominated for an Oscar for his portrayal of Holly in the screenplay was written by
Robert Gittler
. After completing the film, Busey was involved in a near fatal motorcycle accident, and Gittler committed suicide shortly before the film's release.
Elvis
, the undisputed King of Rock 'n' Roll, was probably the most popular musician of all time. In October 1955, Buddy Holly & the Crickets opened for The King in Lubbock, Texas. (Interesting aside: After Holly's fatal plane crash, Presley sent a flower arrangement to be displayed at the wake of The Big Bopper.) On August 16, 1977, Elvis Presley died at the age of 42.
The release of
The Buddy Holly Story
renewed interest in Holly's life and music. On September 16, 1977, T-Rex ("Bang a Gong (Get It On)," "Hot Love") founder
Marc Bolan
was killed in a car crash. Reportedly found among the debris was a pin that said "Every day is a Holly day." Bolan was 29.
Keith Moon
, eccentric drummer for The Who ("Baba O'Reilly," "Pinball Wizard"), was staying at Harry Nilsson's London flat. On September 7, 1978, after attending the premier of
The Buddy Holly Story
, Moon returned to the same room in the flat where Mama Cass died. Moon died of a fatal overdose of a prescription anti-alcohol drug. He was 32.
Johnny O'Keefe
, the Australian King of Rock & Roll, was the first Australian to chart with the hit, "I'm the Wild One." He appeared on the Lee Gordon Tour in 1958 with Buddy Holly. In June 1960, O'Keefe crashed his Plymouth Belvedere and suffered severe head and facial lacerations as well as a concussion. In 1961 and '62, he was admitted to the hospital for what became a continuing cycle of nervous breakdowns. In 1978, O'Keefe suffered a fatal heart attack caused by an accidental overdose of prescription medication. He was 43.
The Beatles
were Buddy Holly fans. Their name was a play on The Crickets, and it is rumored Buddy Holly originally wanted to name The Crickets, The
Beetles
. The Fab Four recorded Holly's "Words of Love" and "That'll Be the Day." On December 8, 1980,
John Lennon
and wife Yoko Ono were returning home to the Dakota Apartments in New York City when deranged fan, Mark David Chapman, shot the ex-Beatle to death. Lennon was 40. While still with The Beatles, Lennon was asked how he expected to die. He quipped: "I'll probably be popped off by some loony."
Bill Haley
had two of Rock & Roll's earliest hits, with "Rocket 88" and "[We're Gonna] Rock Around the Clock." In 1955, Buddy Holly (with Bob Montgomery and Larry Welborn) opened for Bill Haley and the Comets in Lubbock, Texas. In 1981, Bill Haley suffered a fatal heart attack at the age of 55.
Ricky Nelson
("Hello Mary Lou," "Travelin' Man") had once met Buddy Holly. (Nelson's hit, "Poor Little Fool" was written by Sharon Sheeley, Eddie Cochran's girlfriend, who was involved in the car crash that took Cochran's life.) Supposedly, Nelson's last recording was Buddy Holly's "True Love Ways." On December 30, 1985, Nelson was performing in Guntersville, Alabama. He played Holly's "Rave On" as his encore and his last words to the audience were, "Rave on for me!" The next morning, he boarded his reconditioned DC-3, which was previously owned by fellow rocker Jerry Lee Lewis and made an emergency landing after the pilot detected smoke in the cockpit. All survived the landing, but the craft then burst into flames, killing Nelson, his fiancée, and his band (the pilot and co-pilot survived). He was 45.
On February 3, 1990, the 31st anniversary of Buddy Holly's fatal crash,
Del Shannon
("Runaway," "Hats Off to Larry") performed at the Surf Ballroom in Clear Lake, Iowa (the location of Holly's last performance). The Crickets acted as Shannon's backup band. Five days later, Shannon shot himself with a .22 caliber rifle. He was 55.
Steve Marriott
was the guitarist and singer for The Small Faces ("Itchycoo Park," "Tin Soldier") and later, Humble Pie ("Black Coffee," "Shine On"). The song, "Heartbeat," was originally recorded by Buddy Holly in 1958. Holly's version reached number 30 on the UK Singles Chart twice; in January 1959 and in 1960 as a reissue. (It also charted, although not significantly, on the Billboard Hot 100.) Marriott was a big Holly fan and cited the artist as a musical influence. In 1969, Humble Pie released its album,
Town and Country
, which contained a cover of "Heartbeat." On April 19, 1991, after a return flight from the United States, Marriott had dinner with his wife at a friend's house, but returned home alone in the early morning hours. He was found on the floor next to his bed, dead of smoke inhalation and investigation revealed he had fallen asleep with a lit cigarette. He was 44. There was Valium, cocaine and alcohol in his system.
Kurt Cobain.
Nirvana's break-through album,
Nevermind
, included the single "In Bloom." The video for the song, shot in black and white, shows the group dressed like early rock heartthrobs performing on a variety show (similar to
The Ed Sullivan Show
). The host (Doug Llewelyn) describes the band as "thoroughly all right and decent fellas." Cobain sports thick, black-framed glasses, a sports jacket and slacks, clearly in imitation of Buddy Holly. The chronically depressed Cobain explained the uncharacteristically light-hearted tone of the video was the result of his being "so tired for the last year of people taking us so seriously . . . I wanted to fuck off and show them that we have a humorous side to us." The video won Best Alternative Video at the 1993 MTV Video Music Awards. The following year, on April 8, 1994, Cobain's body was found in a room above his garage, a shotgun pointed toward his head. He had been missing for several days and it was determined he had taken his own life three days prior to the discovery of his body by an electrician.
As stated in John Lennon's entry above, The Beatles were Buddy Holly fans and their name was a play on The Crickets. In 1999, an obsessed fan broke into the home of Beatle
George Harrison
, stabbing him in the chest. Harrison survived, but succumbed to cancer two years later at age 58.
Author:
Graveyardbride.
Sources:
Walk on the Dark Side; Rock n' Roll Myths, Legends & Curses; Cerro Gordo County Coroner's Office;
The Day the Music Died: The Last Tour of Buddy Holly, The "Big Bopper" and Richie Valens
by Larry Lehmer, and "The Last Days of Buddy Holly" by Jonathan Cott,
Rolling Stone
, February 2009.