Post by Joanna on Jan 20, 2015 1:11:27 GMT -5
Arrest in 30-year-old Kennedy Sisters murder
HOUSTON – On Monday, March 5, 1984, the bodies of Lillie Kennedy (above left), 23, and her sister Yleen Kennedy (right), 33, were discovered by their father, who stopped by their house on East 12th Street after the women, who were supposed to drive him to the doctor, failed to show up. Lillie, had been shot to death. But unlike her sister's quick death, detectives believe Yleen suffered greatly before she died. Autopsy revealed Yleen had not only been shot, but also stabbed, bludgeoned and raped.
The home had been ransacked and some of those interviewed in 1984 thought jewelry was missing. Yleen ran a small business selling antique clothing and, according to investigators, was known to have large amounts of antique jewelry in the house. Detectives believed robbery was the motive for the murders and that a man carrying a duffel bag, seen by a neighbor around the time of the murders, may have been involved. According to investigators, the neighbor, thinking the man could be a burglar, confronted him. However, the stranger told the neighbor his wife had just kicked him out of the house, which was believable, and he was allowed to proceed. The mystery man disappeared.
But in 2009, investigators with Houston's Homicide Division's Cold Case Unit took another look at the evidence collected at the scene, including that from the sexual assault of Yleen Kennedy. A DNA profile was developed and entered into the Combined DNA Index System or CODIS, a national database. But no matches were found and investigators had nothing to help point them to the killer.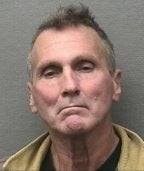 Then late last year, a tipster alerted police that Edmond B. Degan (above) might be a possible suspect in the case and he was discovered living in the Houston area. When investigators requested a DNA sample, Degan voluntarily consented. When it was entered in the CODIS database, a high probability of a match was found with evidence taken from the scene of the Kennedy murders. Now, DNA has linked Degan to the killings and he has been charged with the capital murder of Yleen and Lillie Kennedy.
On Wednesday, Degan was arrested as he was driving near his home in the 3700 block of Locke Lane and was charged in the case. Degan told investigators he had worked in a wholesale used-clothing business at the time of the slayings and knew Yleen Kennedy through the used-clothing retail business she operated. He had seen her about a week before the killings.
Investigators said they were uncertain about what Degan had been doing during for the past years, though they said he had spent time in state prison and jail for unrelated convictions. When he was arrested, he was working in construction.
On Thursday, prosecutors told a judge during a probable cause hearing that last year, a man came forward and told police he saw Degan shortly after those murders. "This client told investigators that this defendant returned home with a bundle, asking for a hammer. He then began to beat a revolver into pieces and throw it in a ditch behind a house," a Harris County prosecutor told the judge. "He then lit a fire and burned numerous items in a fire pit, including ladies' wallets and small papers," the prosecutor said.
The tombstones of Yleen Faye Kennedy and Lillie Dale Kennedy (above) at Gieger Cemetery in Hallettsville read "murdered" because their mother, Rose Kennedy, didn't want people to think the two sisters who died on the same day had been killed in a motor vehicle accident.
Sources:
Robert Arnold, KPRC News; Dale Lezon,
The Houston Chronicle
, January 16, 2015; and Angelica Leicht, HoustonPress, October 31, 2014.