Post by Joanna on Jan 11, 2015 16:55:48 GMT -5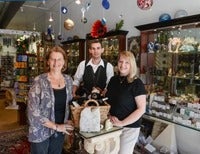 Pixie Dust in Sarasota
SARASOTA, Fla. – Hindu gods, Jesus statues and Buddha icons sit alongside fairies and Pagan goddesses on the shelves of Pixie Dust Metaphysical Boutique in downtown Sarasota. Johnna White (above right) opened the shop in November 2012 in hopes of creating an uplifting and calming space for people to find their inner peace. "We really have something for everyone," White says. "Spirituality tends to be a way to inner peace. Pixie Dust is a way to find that path." Her shop offers spiritual guidance through intuitive and psychic readings, relaxation therapy, aura cleansings and past life regressions. "I've made Pixie Dust to be a different type of place," she adds. "I consider it a place of love for everyone of all different types of spirituality."
Spirituality came to White naturally. She grew up the daughter of a dowser, or "water witch," in rural Kansas where a lack of city plumbing made her community dependent on wells. When somebody needed a well, her father would search for water using a willow branch that would pull toward the ground where water was present. "Watching that, you start wondering a lot about the end scene," she relates. "I just became fascinated with all those things you can't explain."
White started playing with a pendulum and trying to read a crystal ball when she was a kid. Since then she's become a Master in Reiki, or energy work, and is also a certified hypnotist, ordained minister and rune and tarot card reader. She also studied Wiccan witchcraft and psychic reading in Salem, Mass. "It gave me a lot of different perspectives," she says.
Kim Esser discovered Pixie Dust while shopping downtown. The 57-year-old mother of three was drawn to the shop's feel-good atmosphere, and has since attended sessions with a medium that she says have enabled her to receive messages from her deceased mother. "She came to me and got some messages through that nobody would have known," Esser claims. The medium described her mother's taste for jewelry and told Esser her mother wanted her to start wearing a ring she had given her.
Five full-time psychic and intuitive readers also bring different techniques to Pixie Dust. Lee Greenbaum (above left) practices the "The Work of Byron Katie," a technique meant to help clients identify and questions stressful thoughts. "My experience of people coming into the store," Greenbaum contends. "There's laughter. There are tears. There's a movement into awareness. People just feel good about being here."
Source:
Jessical Floum,
The Herald-Tribune
, January 9, 2015.