Post by Joanna on Dec 29, 2014 21:29:29 GMT -5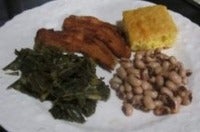 Strange New Year's Traditions
HOUSTON – There's something about the new year that brings out people's superstitions. In the South, we bake up a big pot of black-eyed peas, hog jowl and collard greens, but do you know why?
From securing a long life, to wealth and happiness, take a look at the lucky charms people use to try and bring about good fortune and see if you know some of the origins of these yearly traditions in the gallery above.
Black-eyed peas.
The traditional Southern staple is said to bring fortune in the new year – the peas resemble coins. Greens like collards and turnips symbolize wealth because their color is green – like American money.
Pork.
Pork's flavor and fat makes for a rich life in the new year. In the American South, hog jowl eaten, when eaten with black-eyed peas, is supposed to bring good luck in the year to come. Pork is also thought to bring luck in Italy, where it is eaten in the form of sausage on New Year's Day; and in the Philippines, where a whole pig is roasted for the New Year's celebration.
The 'first footer.'
The first guest to come through the door after midnight, or on New Year's Day, brings luck to the family. This person gives or receives items representing prosperity, such as a wine cork and coins. This tradition, practiced in Scotland and England, favors a dark-haired first footer; blonds or redheads are considered unlucky.
Red underwear.
In some European countries, it's what's below the surface that matters. People wear red underwear – red being symbolic of love – for good luck. In Turkey, red lingerie sales peak during the last week of the year.
Doughnuts.
Any round-shaped dessert (pastries, cakes, cheesecake, flan) can symbolize coming full circle, like
loukoumades
, traditional Greek doughnuts.
Polkadots
. Circles are symbols of prosperity, so some will outfit themselves in stylish, spotted clothing.
Grapes.
At midnight on December 31, people in Spain and Mexico traditionally eat 12 grapes in a row – one for each month of the new year.

Noodles
are a traditional New Year's dish in many parts of Asia because their length symbolizes long life.
Fish.
Because fish swim forward and in schools, some eat them at New Year's as a symbol of moving forward and abundance.

Pomegranates
represent fertility in the Mediterranean, where they are eaten in hopes of a productive new year.
Stale bread.
According to one Irish tradition, wait until your bread from Christmas gets hard and stale and then bang it on the walls on New Year's Day to get rid of any negative spirits.
Firecrackers.
The noise and light from fireworks and sparklers is meant to scare away evil spirits.
Kissing
loved ones is intended to foster good relations in the year ahead.
Jumpin', jumpin.'
At midnight, children in the Philippines jump up and down in order to grow taller in the coming year.
Suitcase.
According to an Ecuadorian tradition, walking around the block with a suitcase on New Year's Day will bring about the journey of one's dreams.
A clean house.
To have a "clean slate" for the new year, some clean every last nook and cranny or even paint their homes on or before January 1st. There is also a belief that the coming year is based on what happens on the first day, so if your house isn't clean on New Year's Day, it won't be clean the rest of the year.
Babies
born January 1 are believed to be lucky.
Source:
Francisca Ortega,
The Chronicle
, December 29, 2014.