Post by Joanna on Dec 12, 2014 19:00:55 GMT -5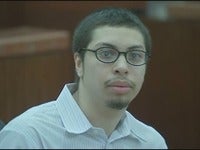 Man guilty in savage satanic murder of 15-year-old girl
HOUSTON, Tex. – A jury found an 18-year-old man guilty of capital murder Thursday in the horrific murder of a 15-year-old girl. José Reyes (above), who was 17 when he kidnaped, raped and murdered 15-year-old Corriann Cervantes, will spend the rest of his life in prison..
"And I just want to see justice for her. And I loved her very much," said Cory Cervantes, the victim's father.
Evidence showed Cervantes was tortured during the savage attack last February that ended with an upside-down crucifix carved on her body. The family endured days of gruesome testimony and crime scene photos. "To believe that that kind of evil exists in this world in this day and age is just, how can somebody do that to another human being?" said Jennifer Hall, a family friend.
Prosecutors said it all happened after a night of drinking and smoking marijuana. They said Reyes, who believed he'd sold his soul to the devil, convinced his friend, Victor Alas, that he could do the same if they killed the girl.
Several witnesses testified Reyes admitted – and even bragged about – the murder. A prosecutor also read an excerpt from a jail house letter written by Reyes in October. He wrote: "I was sick-minded stabbing that bitch 60 times. It's all good. It's what the devil asked for."
The defense rested without calling any witnesses. During closing arguments, Reyes' lawyers said the night started with consensual sex and asked jurors to consider murder instead of capital murder. They also admitted the victim was sexually assaulted again after she was dead.
It took jurors only an hour and fifteen minutes to reach the verdict. Reyes showed no emotion when the verdict was read.
After the verdict, the victim's aunt, Michelle Abernathy, took the stand to read a written statement to the killer. She placed part of the blame on Reyes' parents, who sat through the trial, as well as anyone who heard anything but failed to call police to the apartment complex where the crime happened. "José Reyes, you are more dead than anybody else in this room," Abernathy said.
Alas, who was 16 when Cervantes was murdered, will be tried separately.
For additional details of murder, see link below:
whatliesbeyond.boards.net/thread/1150/deal-devil-prompted-murder-texas
Source:
Doug Miller, KHOU News, December 12, 2014.