Post by Graveyardbride on Aug 17, 2014 0:58:48 GMT -5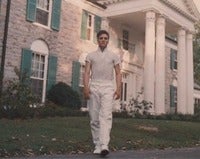 The Ghost of Elvis
On Tuesday, August 16, 1977, Elvis, the King of Rock 'n' Roll, was rushed to the hospital where he was pronounced dead at 3:30 p.m. He was 42-years-old.
Elvis has been dead 37 years and while no one denies his music lives on, many claim Elvis himself is also still with us. Over the years, there have been numerous reports of a man who bears a striking resemblance to a young Elvis looking down from an upstairs window at Graceland, his Memphis mansion, and some have even snapped his picture. Others have seen him standing near his grave behind the mansion and he has also been spotted hurrying up the cordoned-off grand staircase.
On the night of Saturday, December 20, 1980, at least five different people claimed they had picked up a young man who looked very much like Elvis and given him a ride to the gates of Graceland. The hitchhiker in question wore an army uniform and people driving along Elvis Presley Boulevard in Memphis have seen a similar young man. Others swear they have observed a young soldier passing through the Music Gates – even when they are closed.
Tourists at Graceland often question guides about the young man dressed as Elvis, whom they assume is a Presley relative working at the mansion. They describe a man who looks exactly as Elvis did in his youth and want to know his name. Visitors have also reported hearing voices and music emanating form the second floor, which is closed to visitors and staff alike.
* * *

Elvis Aron Presley was born in a tiny shotgun-style house in Tupelo Mississippi, January 8, 1935. He had an older brother – an identical twin called Jesse Garon – who was stillborn 35 minutes before Elvis. Inspired by the gospel songs he heard in church, Elvis loved to sing and in 1954, signed with the legendary Sun Records label in Memphis. With a sound and style combining diverse influences, he ushered in a new era of American music and popular culture and by 1956, had become an international sensation. He made history on television, starred in 33 films and performed live in concert and also managed to honorably serve his country from 1958-1960. Elvis received 14 Grammy nominations, won three Grammys and in 1970, the Jaycees named him one of the 10 Outstanding Young Men in the Nation. His talent, good looks, sensuality, charisma and good humor endeared him to millions, as did the humility and generosity he demonstrated throughout his life. Known the world over by his first name, Elvis is regarded as one of the most important figures of 20th century popular culture.

But by the 1970s, The King was grossly overweight and suffering from numerous health issues, including back pain, digestive problems, glaucoma and chronic constipation. He was hospitalized several times between 1973 and the date of his death for throat ailments, pleurisy and hypertension. Although Elvis did not drink alcohol and vehemently opposed illicit drug use, he was not averse to taking prescription medications for pain relief or other purposes. As his physical ailments worsened and his weight increased, he became increasingly dependent on prescription drugs. On the morning of his death, he took three packets of pills – that were prescribed to be taken twice-daily – but he had built up a tremendous tolerance to pain killers and other medications and a dose that would have killed an ordinary person, hardly affected him at all. In other words, the drugs aren't what killed him.

On the last day of his life, in addition to constipation and other problems, Elvis also had a toothache. After playing racquetball in the wee hours of the morning, he and then girlfriend Ginger Alden finally went to bed around 5 a.m., which wasn't unusual because Elvis had definitely become a "night person." Unable to sleep, around 9:30, he told Ginger he was going into the bathroom to read. She awakened around 1:30, noticed Elvis wasn't in bed and fell back to sleep. She awakened again around 2:20 and knocked on the bathroom door. There was no answer and when she entered, she found Elvis – his body cold and blue – lying on the thick shag carpet in a pool of vomit, his gold pajamas around his ankles, indicating he had fallen from the toilet. Ms. Alden initially thought he had fallen and hit his head. She called for help and at 4 o'clock that afternoon, Vernon Presley, standing on the front steps of Graceland, announced to a throng of reporters: "My son is dead."

The coroner recorded the official cause of death as cardiac arrhythmia, but the autopsy would reveal his chronic constipation was worse than anyone, even his physicians, could have imagined. A normal person's colon is 2- to 3-inches in diameter and 4- to 5-feet long. The King's colon was double that size – 5- to 6-inches in diameter and 8- to 9-feet in length – and it was full of hardened, light-colored fecal matter. One of the men assisting at the autopsy said, "We found stool in his colon which had been there for four or five months because of the poor motility of the bowel." Later, Dr. George Nichopoulos confirmed Elvis suffered from an inherited condition called bowel paralysis which made evacuation difficult. "He would get embarrassed," Dr. Nick revealed. "He'd have accidents on stage. He'd have to change clothes and come back because of the way we were trying to treat his constipation." In the 1970s, the accepted treatment for his condition was colostomy, but Elvis wouldn't consider this because it would have meant wearing a colostomy bag for the remainder of his life. "If they had done the colostomy then, he'd probably still be here," Nichopoulos said several years later.

Nevertheless, Dr. Nick was investigated by the Tennessee Board of Medicine and in December 1979, was charged with "illegally and indiscriminately" prescribing medication during the 20 months preceding the untimely death of Elvis. In 1980, he was indicted on 14 counts of over-prescribing drugs to Elvis Presley, Jerry Lee Lewis, and 12 other patients, but the jury found him not guilty on all counts. In 1994, coroner Joseph Davis, M.D., reopened the Elvis Presley autopsy and concluded: "There is nothing in any of the data that supports a death from drugs. In fact, everything points to a sudden, violent heart attack."
Elvis doesn't confine his haunting to Graceland. At the Las Vegas Hilton where he often stayed and performed in the early 1970s, people have seen what they believe is his spirit, in a rhinestone-studded white outfit, hurrying in the direction of the stage. Some, who believed the man to be an Elvis impersonator, have spoken to him at which point, he fades away before their eyes. The apparition has also been observed driving a vintage red Cadillac near the hotel and, again, witnesses assume he is an impersonator until the car drives through a concrete retaining wall. Interestingly, in the 1970s, there was a private driveway to the hotel where the concrete wall is now located. According to a Las Vegas psychic, Elvis is earthbound because he has unfinished business and only when he completes what he has remained here to accomplish will his spirit be able to pass over to the other side. Every year near his birthday and the date of his death, the Las Vegas sightings increase.

Elvis also appears on the boardwalk along the south bank of the St. Johns River in Jacksonville, Florida, near what is now the Crown Plaza Hotel. He performed in Jacksonville several times and always stayed in a suite on the top floor of the hotel, which was specially decorated to accommodate The King. There is always a misting rain when the spectral Elvis is observed walking along the river in the vicinity of the hotel. He is dressed in a high-collared, rhinestone-spangled white jumpsuit and cape and those who have encountered the apparition claim that even though everything else is wet, Elvis does not have a hair out of place.

But for those wanting to catch a glimpse of the ectoplasmic Elvis, Graceland is definitely his primary haunt. Former employees tell strange tales about doors opening and closing of their own accord, toilets flushing in the upstairs bathrooms and voices emanating from empty rooms. What are called "shadow people" have also been observed at Graceland and many believe Elvis isn't the only spirit stalking the mansion. Some insist his mother, Gladys (above), and possibly Vernon as well, also walk at Graceland.

One of the most famous Elvis sightings occurred in 1988 when a group of people touring Graceland claimed a young man looking very much like Elvis walked up behind them and asked: "What are you doing in my home?" The sighting was confirmed by all nine individuals present and most believed they had encountered an Elvis impersonator because the young man seemed so "real." Others, however, claimed they were able to see "through" the man as he spoke, but dismissed it as a trick of the light.

People have also spotted Elvis in the kitchen eating a cheeseburger and others swear they have seen both Elvis and his mother walking together on the lawn of Graceland. In almost all the reported sightings, the phantoms appear remarkably lifelike and it is only after they vanish into thin air that people realize they have seen a ghost.

However, with the exception of the ghost of Elvis staring down from his bedroom window and phantom voices and music that seem to be coming from the rooms above, all the sightings reported by employees and visitors at Graceland are confined to the grounds and first floor because the second floor has been closed since 1977. A few minutes of the 1981 documentary, This Is Elvis, was filmed on the second floor of Graceland and there are a few poor images of Elvis's bedroom, bath and upstairs office on the internet; otherwise, most people have never seen the inner sanctum where Elvis spent his last hours. Even employees who have worked at the mansion for more than 20 years have never been allowed up the stairs.

Thirty-seven years later, The King's bedroom and private bath are almost exactly as they were when the singer breathed his last. When he wasn't on tour, Elvis sometimes spent days behind the double padded, soundproof doors of his gaudily-decorated bedroom, where the temperature was always a cool 68 degrees. Some of his clothing has been removed from the gigantic dresser to the right of the 6-foot-square bed, but other items remain as they were. The sheets on the bed where he and Ginger Alden lay that morning were straightened and the bed made, but after almost four decades, the same unwashed sheets are still there. In the bathroom, where he went to read, fluffy red towels hang from rings ready for someone to emerge from the oversized round tile shower. The vanity is still cluttered with personal items including a tube of Crest toothpaste, a bottle of Brut cologne, hair dye, laxatives, enema supplies, cotton balls, combs, brushes, hair gel, lotion, makeup containers and books.

Over the years, few have set foot in this time capsule. There are reports that, on occasion, Lisa Marie Presley has allowed a few close friends – and husbands – to view her father's private rooms. When she was married to Nicolas Cage, he claims to have lain on the bathroom floor in the same position in which Elvis was discovered. Why he did this, no one knows.

Lisa Marie (currently married to Michael Lockwood) emphasizes that while Graceland, which was voted Best Iconic American Attraction, is open to the public, it is still a private home. While she has never confirmed the house is haunted, she admits: "It's got a very special energy there, when you go. It's like a time capsule: nothing's been changed or moved since 1977. It's like a time warp and the energy is still very much there. You can feel it. It's from the essence of that time period. It's a very special place."
Author: Graveyardbride.
Sources: The King and Dr. Nick by George Nichopoulos and Rose Clayton Phillips; This Is Elvis; USA Today; "Elvis Presley's Physical and Mental Decline" by Susan Doll, Ph.D.' Thomas Byers, What Killed 'em' and "Phantoms of the Florida Theatre."