Post by Graveyardbride on Aug 14, 2014 18:39:58 GMT -5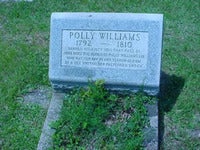 August 14, 1810: 'Cut off in her youthful bloom'
Behold with pity, you that pass by;
Here doth the bones of Polly Williams lie;
Who was cut off in her youthful bloom;
By a vile wretch, her pretended groom.

In mid-August of 1810, four children of the Isaac Brownfield family were picking blackberries when they came upon the mangled body of a young woman at the foot of White Rocks, a precipice three miles east of what is now Fairchance, Pennsylvania. According to some versions of the legend, the lady was still clutching a sprig of laurel bush she had grabbed in an attempt to break her fall.
No one in the immediate area was able to identify the young woman, who appeared to be in her late teens, and it was initially assumed she was traveling and had somehow slipped and fallen to her death. However, a closer examination of the body revealed a severe head wound and her arms were bruised in a manner suggesting she had been grabbed and held by a pair of strong, manly hands during a struggle. According to some accounts, there were also bruises and abrasions on her fingers indicating someone had stomped them as she held onto the edge of the rocks before plummeting to the ground below. Following examination, the lady was laid to rest in the cemetery adjacent to Little White Rock's Methodist Church and a few days later, the coroner's jury convened at Georges Township, Penn., and ruled the woman had been "murdered by some person unknown."
Meanwhile, word had spread that an unidentified female had been found dead at the bottom of White Rocks and Major Jacob Moss of New Salem, Penn., immediately suspected the body might be that of his 18-year-old niece, Polly Williams. He made his way to Georges Township, where an order of exhumation was issued and Moss positively identified the now badly decomposed corpse as that of his niece. He informed the authorities that Polly had left home to marry Philip Rogers and Rogers was subsequently arrested on suspicion of murder.
The story of Polly Williams has survived primarily because of the folk ballads it inspired and it is believed the words on her tombstone come from a now long-forgotten song. The most popular of the ballads, "Polly Williams" fits the "murdered-girl" pattern, in which an innocent young woman is seduced by a scoundrel who promises to marry her, but instead lures her to a secluded location and kills her. This is a popular theme in American folk music and a powerful narrative in which facts are often distorted to better fit the format.
According to the story, Polly Williams (whose actual name may have been Mary Williams), was a beautiful young woman from New Salem, who attracted the attentions of Philip Rogers, a rich neighbor and nephew of a Revolutionary War hero of the same name, in nearby Georges Township. In 1809, 17-year-old Polly was described as a "singularly beautiful" young woman with deep blue eyes and golden curls. Rogers was 24, thick-set and described as "manly and agreeable, with a winning manner and a smooth beguiling tongue." Smitten by the comely young lady, Rogers began courting Polly and promised to marry her, but, for one reason or another, the wedding was postponed several times. Rogers' parents opposed the marriage, feeling their son could do better and in hindsight, it is doubtful the cad ever intended to marry Polly and promised her marriage as a means of having his way with her. An older or more experienced woman would likely have realized Rogers was, in modern parlance, stringing her along, but the unsophisticated Polly loved and trusted the man she believed would make her his wife. Some accounts suggest she was pregnant at the time of her death, but this detail is omitted in other versions of the tale.
When Polly's father and other members of her family left New Salem to find work, Polly moved in with her uncle, Major Moss, where she earned her keep by doing general housework. At some point during the summer of 1810, Rogers informed Polly he had arranged with a squire who lived on the slope of Chestnut Ridge to marry them and around August 12 or 13, an elated Polly set out to walk the 14-miles to meet her fiancé in Woldbridgetown. According to some accounts, Polly had confided to family members she feared Philip Rogers meant to kill her (an indication she was pregnant) and her aunt begged her to break her engagement and remain at home where she was safe.
Whatever the circumstances, on Sunday, August 12, a man and woman were reportedly seen on the cliffs at White Rocks and it was later assumed they were Polly and Philip Rogers. If so, this was the last time anyone other than Rogers saw her alive. Polly was killed two days later. It is unknown where she stayed or what she and Rogers did between Sunday – when they were observed at White Rocks – and Polly's death on Tuesday, the 14th.
In 1893, during a move to a new courthouse, Fayette County employees discovered the transcripts of Philip Roger's murder trial 77 years earlier. The indictment read as follows:
The Grand Inquest that is now for the body of the county of Fayette, upon their oath solemnly affirm and do present that Philip Rogers, late of the county aforesaid, not having the fear of God before his eyes but being mad and aided by the devil on the 14th day of August, 1810, with force and arms at the county aforesaid in and upon Mary Williams, in the peace of God and the commonwealth of Pennsylvania, in there and then having feloniously, willfully and of his malice aforethought, did make an assault and that the said Philip Rogers, a certain stone of no value, which he, the said Philip Rogers, in both his hands then and there, had and held in and upon the back of the head and side of the face of her, the said Mary Williams, then and there feloniously, willfully and of his malice aforethought did strike and the said Philip Rogers with the stone aforesaid, do as aforesaid, had and held the aforesaid Mary Williams, in and upon the back of the head, the side of the face of her, the said Mary Williams, several mortal wounds, of the length of three inches and of the depth of one inch of which said mortal wounds the said Mary Williams then and there instantly died.
Following their son's arrest, the Rogers family spared no expense and hired Senator James Ross of Pittsburgh to defend their son against the charges. At the trial, which began November 22, 1810, Rogers admitted meeting Polly the night of her death and admitted to quarreling with her, but denied hitting her or pushing her over the cliff. He said they had separated, implying she lost her way and fell from the top of the rocks. Although the public believed Rogers was guilty as sin and the judge himself remarked the evidence against the defendant was "very strong," it wasn't enough for the jury to find him guilty beyond a reasonable doubt and he was acquitted.
The people of the community, however, were outraged and following his acquittal, there were threats against man's life, making it impossible for him to remain in Fayette County. He also lost the inheritance he expected from his Revolutionary War uncle, who left his estate to another nephew instead. Rogers relocated to Green County where he worked as a mason, married and raised a family. He died at age 74, never admitting to the murder of Polly Williams.
With the passage of more than 200 years and few tangible records, no one knows what actually happened. Sam P. Bayard, a collector of folk songs believes Polly's name was actually "Mary Williams," as indicated in the court documents, but "Polly" was substituted by the person composing the ballad. "The victim's name was not Polly Williams," he said, "but for some reason, the composers of the song chose this conventional name and it is this name which is always used by those who tell the story."
One account, passed down by word of mouth, concerns an incident at a husking bee at which a man named Jeff Traulie called for the song "Polly Williams." Reportedly, a sudden hush fell over the crowd and Traulie shouted again: "Sing 'Polly Williams!'"
"Now, Jeff, we can't sing that," someone called out. "You know Rogers is comin' tonight. What if he got here and heard it?"
"He ought to hear it," Traulie retorted. "But you know he won't be here till the work's nearly all done, anyway. He don't like work that well. If he did come in, I'd hold him an' make him listen."
Now almost everyone in the barn was chanting: "Sing it. Sing it."
Always eager to please, the fiddler and other musicians struck up a familiar tune and a few of those in attendance began to sing the well-known ballad:
Come all ye good people, wherever you be;
Come listen a while to my sad tragedy.
It is of a young lady that was worthy of praise –
At the age of eighteen she ended her days.

As nothing happened, the volume, which had been a little weak at first, picked up on the second verse:
Long time she'd been courted, as I have heard say,
And her lover to delude her took many away.
For soon as he found that her love he had gained,
Her company he slighted; her love he disdained.

And then to destroy her he contrived a plan;
To this mountain conveyed her, as I understand ....
In mid-verse the singers went suddenly mute as a rather stocky, nattily-dressed young man stepped into the glare of the lanterns behind the musicians. The fiddler glanced up in surprise, but seeing nothing, picked up again where the singers had stopped. But this time, only the newcomer was singing. He sang the words clearly in a smooth, rather pleasing baritone:
Oh, the innocent creature his mind did not know,
And in the hopes to be married, with the traitor did go.
By this time even the fiddler was aware of what was happening, but it was too late to stop and he continued playing, albeit rather lamely, as the singer continued:
And when to this mountain he did her convey,
Oh, he left her fair body for the varmints o' prey.
She was cruelly treated and shamefully used,
By this cruel tyrant; who could him excuse?

Which caused old and young to weep and to cry,
And to find out this traitor they each one did try.
He was apprehended, his cause to bewail;
Straightway he was conducted to Uniontown jail.
The singer seemed to be enjoying himself immensely as he went on to the next verse:
There by judge and jury he was proven out clear,
And now he takes Polly Clayton and calls her his dear.
Only, instead of the fictitious "Polly Clayton," the singer used the name of a local girl to whom he was paying court. He smiled as he continued:
But like a deceiver, he'll live in despair
Till the day of strict judgment, when all must appear.

Oh, the judge and the jury, they all will be there,
And with one accord, the truth will declare.
Oh, the impartial judge, he will pass the decree,
And the cruel tyrant condemned will be.

Come all ye good people who saw this object,
Don't add or diminish, deceive or correct.
This honored young lady was found in her gore,
And her flesh by the traitor all mangled and tore.

Oh, it's every temptation is the future of some more,
And of all such false lovers, I would have you beware.
Oh, beware of false lovers, who court in deceit,
Lest like Polly Williams, it will prove your sad fate.

To be brought by a lover to shame and disgrace,
And to lose your sweet life in some wilderness place.
They will hug you and kiss you and call you their own,
And when your back is turned, they will leave you to mourn.

When the song ended, one could have heard a pin drop in the cavernous barn. There was no applause as everyone glanced furtively from side to side as though embarrassed. Finally, Phillip Rogers declared, "That's a good song. It ought to be sung oftener." He then turned and nonchalantly walked out into the night, leaving the revelers dumbfounded.
At some time prior to 1860, an anonymous gentleman purchased a marker for the grave of Polly Williams, but by the 1890s, the stone had been completely chipped away by souvenir seekers and the grave was subsequently marked by a wooden plank. In 1927, the Polly Williams Sunday School Class of the Little White Rock's Methodist Church raised money for a replacement stone. This stone met the same fate, and in September 1972, the class purchased and erected a third stone. All three bore the same tragic inscription.
Shortly after the War Between the States, a young veteran named Ashbel F. Hill, a Masontown physician, chronicled the story of Polly Williams in his novel
The White Rocks
. The story became a classic and in 1910, a struggling Fayette County newspaper became one of the most popular in the state when it serialized the tale.
It has been more than 200 years since Polly Williams ended up at the bottom of the cliff at White Rocks and over the years, the precipice from which she was thrown, fell, or perhaps jumped, attained the name "Lover's Leap." It is said that when the highest points on White Rocks Trail are shrouded in fog, the spirit of a beautiful young woman in long, flowing skirts and a bonnet is sometimes observed in the mist. Is Polly Williams still waiting for the man she thought would take her for his bride?
Author:
Graveyardbride.
Sources:
The White Rocks
by Ashbel F. Hill,
Do You Remember When ... In Fayette County, Pennsylvania
by Victoria Dutko Leonelli,
The Pittsburgh Press
(1948),
Southwestern Pennsylvania in Song
and Story by Frank Cowan, and David Crow.