Post by Joanna on Jun 26, 2014 0:42:55 GMT -5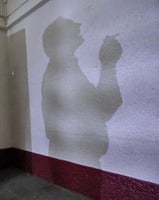 Ghost of Chopper Read haunting Pentridge Prison
COBURG, Victoria, Australia – Some say the ghost of Mark "Chopper" Read is haunting the prison where he spent some time. At least, there's an apparition that looks just like him hanging around his old cell.
In the depths of the now uninhabited prison, a large figure has been watching groups of late night visitors who saunter through the dark corridors of D-Division. It watches silently, sometimes arms crossed leaning against a wall, sometimes smoking a cigarette. But it always disappears into Cell 16.
One night, just a few weeks ago, a spinechilling roar echoed down the bluestone walls.
"Get out!,"
it bellowed, forcing the group to take a headcount in case someone was playing a prank.
"Get the fuck out!,"
the booming voice roared again from the caged-off end of the prison just outside Cell 16.
Those taking the Lantern Ghost Tours were hurried outside and the managers called police. Officers checked every cell – particularly number 16, the old home of former underworld identity Chopper Read. But nobody was there. At least, no living
body
was there. "It was one of the scariest moments of my life." tour guide Jeremy Kewley said.
Just nine months ago, colorful former criminal and author Mark Brandon "Chopper" Read died of liver cancer.
His manager of six years, Andrew Parisi, said freaking people out from beyond the grave would be right up Chopper's alley. "I don't know what happens when you die," Parisi said. "[But] he did have a wicked sense of humor. If that sort of thing was to happen, it would totally be his thing to have a field day."
Parisi recalled walking Chopper through Pentridge for media interviews after the prison closed in 1997. As they walked down the corridors, the former criminal spoke of feeling homesick for the place he called home for 17 years. "To him, it was almost like returning to school," Parisi said.
Chopper spent just a few months living in D-Division's Cell 16. The cell was at the farthest end and purposely the farthest away from his enemy, a career criminal. Cell 16 was, and still is, in a cluster of cells caged in by steel bars, either to protect those inside from out, or those outside from in.
The story goes that Chopper was allowed outside his cell to walk about the cage. He would lean against the wall, smoke cigarettes and watch whoever roamed the prison corridors.
And the apparition stalking the old prison always disappears into cell 16.
Source:
Ashley Argoon,
The Herald Sun
, June 25, 2014.