Post by Graveyardbride on Jun 7, 2014 2:19:06 GMT -5
June 6, 1996: Guilty or Railroaded?
The early morning hours of Thursday, June 6, 1996, were quiet at the police department in Rowlett, Texas, a lakefront community just 20 minutes from downtown Dallas. Then at 2:31, Doris Trammel answered what she assumed would be another routine call and a hysterical woman at the other end screamed: "Somebody broke into the house ... They just stabbed me and my children ... My little boys are dying! Oh my God! My babies are dying!" Almost as shocking as the woman's words was the address she provided: 5801 Eagle Drive (above). The house was in a posh development called Darlrock Heights, an upper middle-class neighborhood where people didn't break into homes and stab women and children.
In the meantime, Darin Routier (pronounced
Roo-tear
), awakened by his wife's screams, hurried downstairs to the family room, where just hours before, Darlie and her sons had been watching television. As he entered the room, he was shocked to find his wife and two boys covered in blood. He first attempted to save Devon, age 6, who wasn't breathing. Barbara Davis later described those first moments in her book,
Precious Angels
: "Torn between two sons, the horrified father momentarily panicked, then made the decision to begin cardiopulmonary resuscitation on the son who was not breathing. Darin placed his hand over Devon's nose and breathed into the child's mouth. Blood sprayed back onto the father's face." Damon, age 5, with deep gashes in his chest, struggled for air.
Within minutes, the house filled with paramedics and police. The paramedics went to work trying to save the children as police searched the home for the intruder whom Darlie said had run in the direction of the attached garage. Officer David Waddell and Sergeant Matthew Walling noticed a bloody knife on the kitchen counter with Darlie's purse and jewelry lying nearby, a slash in the screen of a garage window, and blood on the floor. EMTs were unable to save either of the two children. The knife thrusts left deep gashes in the boys' chests and backs and punctured their lungs. Gasping for air, they both suffered horrible deaths. Mrs. Routier's wounds, more superficial and non-life-threatening, were temporarily patched up while she described the horrific events that unfolded just an hour earlier. Still in her blood-soaked nightgown, the shaken woman stood on the porch as she related to police what she remembered about the attack on herself and her children. She said an intruder had entered their home and "mounted" her as she slept. When she awakened, she screamed and attempted to fight him off. He then fled toward the garage and this was when she noticed her two sons were covered in blood. She claimed to have heard nothing while the boys were being attacked. She described the intruder as medium-to-tall in height and wearing a black T-shirt, black jeans and a baseball cap. Darlie and Darin Routier were then transported to the hospital and the Rowlett police commenced their investigation.
Darlie and Darin.
Darlie Peck and Darin Routier were high school sweethearts who married in August 1988 after Darlie finished high school. By 1989, they had their first son, Devon Rush, and in 1991, Damon Christian, their second son, was born. As their family grew, so did Darin's computer-related business and the family moved to the affluent Dalrock Heights Addition in Rowlett, Texas. Life was going well for the Routiers and they celebrated their successes by surrounding themselves with expensive items such as a new Jaguar, a cabin cruiser, lush furnishings, jewelry and clothing. After a few years of the high life, Darin's business began to falter and with it came financial problems. Rumors spread that the Routiers' relationship was in trouble and there was talk of extramarital affairs. Darlie, obsessed with her appearance, had oversized breast implants – which her husband admitted was his idea – and dressed provocatively, but reportedly had little patience when it came to her children. Despite the rumors, on October 18, 1995, the couple had a third son, Drake, after which Darlie experienced postpartum depression. Desperate to lose the weight she had gained during pregnancy, she began taking diet pills, which failed to help and allegedly exacerbated her mood swings. She confided suicidal thoughts to Darin and the two began talking and reviewing their future. Things appeared "fixable," but the future brought tragedy – one they had not contemplated in their wildest imaginings and which no one could have predicted.
Graveyard Party.
Devon Routier would have turned 7 on June 14 and Darlie and her family, not wanting the child to miss his birthday party, arranged and participated in a bizarre cemetery celebration. The strange "party" was attended by Darlie and Darin Routier, their infant son Drake, Darlie's mother and 16-year-old-sister Dana, and a few invited personal friends. Local television station KXAS was on hand to record the strange event. Darlie told Joe Munoz, a reporter, the family had planned a whopping birthday party prior to Devon's death and she saw no reason why he should be deprived of it just because he was dead. To many of the NBC media crew on hand at Rest Haven Memorial Park that morning, it seemed like one of three things: either a bad PR attempt of Darlie's, a sincere but naive show of goodwill – though in very poor taste – or simple, plain, unmitigated lunacy. Neither the Routiers nor the TV crew was aware that Jimmy Patterson's investigators were recording the party from a concealed camcorder, or that a microphone had been planted nearby to catch any remarks of a confessional nature. A pastor opened the 45-minute ceremony at the grave, not yet marked by a headstone. His sincere attempts to sanctify the moment, however, were overshadowed by what happened when he finished his eulogy. As horrified onlookers watched, Darlie, wearing extremely short shorts, began spraying a can of Silly String across the recently padded earth, laughing, chewing bubble gum and singing Happy Birthday. "I love you, Devon and Damon!" she cried.
To justify her actions, she told Munoz: "If you knew [my sons], you'd know that they are up there in heaven having the biggest birthday party we could ever imagine. And though our hearts are breaking, they wouldn't want us to be unhappy. But they'll be a part of us always." Responding to questions about her boys' mystery killer, she said, "The only thing that keeps me going is the hope that they will find that person. I have faith in God. I believe He will direct the police to that man."
Arrest and Trial.
Eleven days after the cemetery party, Darlie Routier was arrested and charged with the murder of her children. The evidence seemed stacked against her and when her trial began, the prosecution emphasized the key issues:
• Coroner Janice Townsend-Parchman testified the children's wounds were savage and deep, but described Darlie's as hesitation wounds, possibly self-inflicted, and her huge breast implants were intact.
• Paramedic Larry Byford said Darlie never asked about the condition of her children when she was in the ambulance on the way to the hospital.
• Charles Hamilton, a fingerprint expert who examined the scene, said the only prints found were those of Darlie and her children.
•
Tom Bevel
, a blood expert,* testified the blood on Darlie's nightshirt belonged to her sons. It had been sprayed on her and he suggested this could have happened as she raised her arms upward in a stabbing motion.
• Nurses at the hospital testified that Darlie did not appear grief-stricken over the loss of her sons. They claimed she seemed more concerned about telling everyone she had picked up the knife from the kitchen floor, which would explain why her prints were on the handle.
• Blood had been found underneath the vacuum cleaner, indicating the appliance had been placed there after the crime was committed.
• Charles Linch, a trace-evidence expert, said it was impossible for an intruder to have left the scene without leaving a trail of blood and there was no blood found outside the Routier home.
• FBI Special Agent Al Brantley testified the window screen that was cut was removable and could easily have been removed by an intruder. He also confirmed Darlie's relatively expensive jewelry had not been taken, discounting robbery as a motive. As for the attempted rape, Agent Brantley said killing the children made no sense when a rapist could have used her sons as leverage to force her to submit. And finally, he addressed the savagery of the stabbing of the boys, saying that in his opinion, it was a personal attack exhibiting extreme anger, not the work of a stranger.
It was the contention of the state that Darlie Routier, born January 4, 1970, and just 26-years-old at the time of the murders, killed her sons because of the family's financial difficulties. She was a full-time homemaker, but her husband, a small business owner, earned a relatively high income. The family lived in a two-story home in a middle-class neighborhood and owned an SUV, a Jaguar and a boat. Darlie wore expensive clothes and had a jewelry box full of what passed for expensive jewelry among those of her socioeconomic level. Prosecutors described Routier as a pampered, materialistic woman with substantial debt, plummeting credit ratings and little money in the bank, a woman who feared that her middle-class lifestyle was coming to an end. Against advice of counsel, Darlie took the stand in her own defense. She was asked why she told different versions of the story to different police officers. She was asked why the dog, which was known to bark at strangers, didn't bark when the intruder entered the home. She was asked why someone attempted to clean the kitchen following the attacks – remnants of blood were discovered despite attempts to wipe or wash them away. To most of these questions, Darlie claimed she either did not remember or did not know. The jury found Darlie Routier guilty of the murder of 5-year-old Damon Routier and she was sentenced to death.
Questions.
The prosecution's case against Darlie was circumstantial and dependent on the testimony of experts who theorized concerning the evidence collected or viewed at the crime scene. However, the prosecution did what it set out to do, which was to convince the jury to find Mrs. Routier guilty of murder.
But was all the evidence presented to the jury? And if not, why not?


On the morning following the murders of Devon and Damon, police received a 911 call from a man named Reggie Salter who reported a suspicious man that fit Darlie's description of the intruder. Lead investigator James Ray "Jimmy" Patterson chose not to follow up this lead.
Neighbors, including Karen Neal, reported seeing an unknown black car sitting in front of the Routier home a week before the murders. Other neighbors reported seeing a similar car on the night the boys were killed. Again, Officer Patterson chose not to investigate these leads.
Had Patterson already decided to build a case against Darlie? Or was it because the intruder fit the description of his own son, Chadwick Ray "Chad" Patterson, who drove a black car matching the description of the "unknown car" reported by neighbors?

At the time of the murders, Chad Patterson, who had an extensive criminal record, was awaiting trial for the drive-by shooting of a girl for which he was later convicted.
Why wouldn't a police officer check out a 911 call made within hours of a murder when the caller described a person who fit the description of the suspect? And why wouldn't a police officer check out the odd black car that had been observed by numerous people in the neighborhood where a brutal murder had occurred?

Chad Patterson himself later told Jeff Crilley of Channel 4 News that he was at home the morning and days following the Routier murders and his father received numerous calls and leads, but failed to investigate them.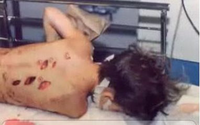 It gets weirder.
Chad Patterson was friendly with the secretary of Darlie's lawyer, Douglas Mulder, and while the case was progressing, he [Chad] called her regularly for "inside information." This could explain how so many pretrial defense motions were so effectively thwarted by the prosecution. Paralegals, secretaries and other employees of law firms have access to sensitive information and can do irreparable damage if so inclined – and Mulder's secretary was obviously so inclined. This activity was discovered by Darlie's mother while she was in Mulder's office and once confirmed, Mulder fired the woman, but by that time, the damage had been done. In addition to having an untrustworthy employee who was providing confidential information to a police officer's son, Mulder had an apparent conflict of interest because he had an arrangement with Darin Routier and other family members not to pursue any defense that could implicate Darin. Mulder also allegedly prevented the completion of forensic examinations by key experts for the defense.
Web sites that proclaim Darlie Routier's innocence list a significant number of issues and facts that have come to light since the trial that, if true, would appear to provide enough evidence for a new trial. In addition to Douglas Mulder's secretary and Officer Patterson's failure to investigate substantive leads; pertinent information, for whatever reason, was withheld from the jury. For example, the jury did not hear about bloody fingerprints found inside the house and on the garage door – fingerprints that did not belong to Darlie, Darin, the children, police officers, or anyone else with access to the Routier home. This contradicts trial testimony that no fingerprints were found outside the home.
Who left the bloody, unidentified fingerprint on a living room table? Who left the bloody fingerprint on the garage door? And while on the subject of blood, whose blood was on Darlie's nightshirt and how did it get there? Whose blood was on Darin Routier's jeans? And what about that bloody sock discovered 75 yards from the house? Whose was it and how did it get there?

Unexplained, unidentified blood wasn't the only thing left to the imagination. A pubic hair allegedly found in the living room was never identified.
Whose was it?
Then there was the debris on the knife recovered in the kitchen.
Was this the result of sloppy police work? Or did the debris get on the knife when someone used it to cut the screen – the screen which investigators insisted was cut from the inside, but was later proven in court to have been cut from the outside?

There were allegations the police did not protect the evidence collected, which rendered it questionable. During the trial, investigators invoked their Fifth Amendment rights against self-incrimination during cross-examination, preventing a rebuttal of certain aspects of their testimony by the defense.
What had these investigators done that could be considered incriminating?
Upon arrival at the scene, at least one of the first responders allegedly saw a man outside the house, but Darin was inside trying to save his children.
Was there a man outside? And if it wasn't Darin, who was it?
Then there were Darlie's injuries, which police decided were self-inflicted. The surgeon who operated on Darlie said the cut to her neck came within 2mm of the carotid artery. The necklace she was wearing was damaged during the attack and it likely prevented the knife's going deeper into the flesh. However, the jury was not apprised of the seriousness of her wounds. The jury was not shown photographs of Darlie's cuts and bruises taken at the hospital the night of the murders and at least one juror later admitted he would never have voted to convict if he had seen the photos. There are claims the testimony by the hospital nurses was coached and rehearsed in mock trials by the prosecution.
If the nurses were simply reciting what they recalled, why did they require coaching?


Even the incriminating graveyard birthday party film viewed by the jury has been called into question. While the film does, indeed, show Darlie dancing around the graves of her sons, the jury did not see the videotape surreptitiously recorded by police that showed Darlie sobbing uncontrollably over the graves. Doug Mulder had the film in his possession, so why didn't he show it to the jury?

As for the prosecution's contention that Darlie, a "pampered and materialistic woman," killed her sons because of financial difficulties, the couple had only $10,000 in life insurance on the children and their funerals cost $14,000.
Why would Darlie kill two children for nothing, when she would have collected hundreds of thousands had she killed her husband? Additionally, why kill the older boys and not her third son Drake, who, as a baby, was much more of a burden?

But things didn't end with the jury verdict and death sentence. Following the trial, it was discovered that Darin Routier had planned an insurance scam in which someone would break into the house and steal Darlie's jewelry and other items. Apparently, he was about to execute his plan when the murders occurred, which begs the question:
Was the break-in the night of June 6, 1996, simply an insurance scam gone awry?


Because there are so many questions that were not answered during her trial, even some who once considered Darlie Routier guilty are now having second thoughts and many believe the woman was railroaded by the police and prosecution.
Over the years, the prosecution has reportedly refused to provide access to any evidence in its custody in the Routier case.
Why is it not readily available to all interested parties? What does the prosecution have to hide?
For example, Darlie remembers a rape examination after arriving at the hospital. But for years, the State insisted there was no rape exam. Long after the trial and many appeals, the district attorney was finally required to produce a previously unknown evidence list generated at one time and on that list there is a rape kit!
Why was a rape kit included on the DA's evidence list if there was no such kit?

Eighteen Years Later.
At present, Darlie Routier remains on death row in Gatesville, Texas. Since her conviction, she and her family have learned a lot about the legal system. They have presented a far different picture than was originally reported by the press. Even
Precious Angels
author Barbara Davis changed her mind about the case and added a chapter to her book disputing the prosecutor's case. Darin Routier divorced Darlie in 2011, but still maintains his wife is innocent. He is now a motivational speaker for Journey of Hope, an organization comprised of family members of murder victims. Drake Routier, now 18-years-old, was taken from Darin by the state of Texas and brought up by his paternal grandparents. He visits his mother on death row. On January 29, 2014, Chief Judge Frederick Biery of the US District Court, Western District of Texas, granted a request for further DNA tests on a bloody fingerprint found in the house, a bloody sock and Darlie Routier's nightgown.
Author:
Graveyardbride.
Sources:
The State of Texas v. Darlie Lynn Routier
;
Precious Angels: A True Story of Two Slain Children and a Mother Convicted of Murder
by Barbara Davis;
Hush Little Babies: The True Story of a Mother Who Murdered Her Own Children
by Don Davis; KXAS-TV; Charles Montaldo, Crime&Punishment; Skip Hollandsworth,
Texas Monthly
; and ABC News.
*See
"Blood Spatter Analysis Little More than Junk Science."