Post by Graveyardbride on Sept 18, 2013 6:10:19 GMT -5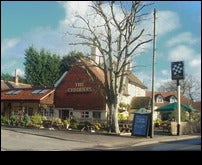 Haunted Bromley: Pub Ghosts
I think it's fair to say that nothing beats a good ghost story whether we believe in such specters or not, writes Neil Arnold. It seems that for every tale of a haunted house, there just so happens to be a haunted pub also. Is this because the drunken revellers are merely seeing the spirits in the glass or the possibility that old, creaky pubs like to boast a ghost in order to bring in the visitors?
Bromley is said to have a number of ghost-infested pubs, one such ale-house being Ye Olde Whyte Lion at Locksbottom. The name alone suggests an ancient dwelling, and you'd be correct considering this inn dates back to the 1600s. It has long been thought to be haunted by an old lady although recent stuff have not heard of this particular wraith. Even so, the pub once boasted a skull for decoration, and this morbid item was thought to belong to the skeletal remains of a female whose remains were unearthed many years ago by a former landlord. Maybe it's the ghost of this unsettled apparition who is responsible for the slamming doors and those unearthly footsteps.
Another haunted pub in Bromley is the Beech Tree, situated on the London Road. Former members of staff were of the opinion that the ghost was a former customer/landlord whose ashes used to sit behind the bar. According to rumour, a former landlandy put the ashes in the pub garden and all manner of paranormal activity began to take place. When the ashes were put back the strangeness ceased.
Elsewhere in Bromley there is The Chequers (pictured above) at Bickley. This pub, and its reputed ghost, have appeared in numerous books pertaining to the paranormal over the years. The ghost could well be that of notorious highwayman Dick Turpin, who, according to some has haunted the 16th century pub despite the fact that he has to be one of the busiest ghosts in Britain. A few decades ago, a barmaid claimed to have seen the ghost of Turpin, although this ghost is in good company for the pub is said to harbour several more spooks including a French police officer and a spectral female whose footsteps are heard on occasion. Elsewhere in the pub there is said to prowl a mischievous poltergeist which in the past has accosted customers.
Penge has a couple haunted pubs, including the Hollywood East where in the past people have reported items moving of their own accord and unnatural cold spots. The Swan at West Wickham is also said be haunted, as is The Bo Peep at Chelsfield, which boasts the spirit of little girl known as "Screaming Angie."
These and other spectral tales are recounted in Arnold's book
Haunted Bromley
, which is available from Amazon for £9.99 ($16.71 US).
Source:
NewsShopper, September 16, 2013.