Post by Graveyardbride on May 10, 2014 12:37:11 GMT -5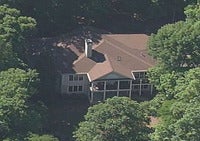 Decapitation, Disappearance Baffle Georgia Community, Law Enforcement

Nothing adds up. Russell and Shirley Dermond, married 68 years, had no known enemies. They had no questionable financial dealings. And there was no sign of forced entry into their home (above) in Reynolds Plantation, a gated community that overlooks Lake Oconee on the outskirts of Eatonton, Georgia, southeast of Atlanta. They were wealthy, but it appears nothing was stolen from their residence. The only thing missing is Shirley Dermond, 87, and, in a twist that has shocked this community, her 88-year-old husband's decapitated head. "Quite candidly, this is the most baffling case we've ever worked," longtime Putnam County Sheriff Howard Sills said Wednesday. Three days into their investigation, Sills acknowledged his deputies had no leads in either Russell Dermond's slaying or in the search for his missing wife.
Putnam deputies first learned of the case around 10 a.m. Tuesday. Some of the Dermonds' neighbors had gone to check on the couple after the two failed to attend a Kentucky Derby party Saturday night or respond to phone calls. Russell Dermond, who once owned several fast-food chains, was last seen the previous Thursday at a nearby drugstore. He retired about 20 years ago, when the couple moved from Atlanta to Lake Oconee. Sills said the concerned neighbors found the Dermonds' front door unlocked Tuesday morning. Nothing seemed amiss until one of them entered the garage, where Russell Dermond's decapitated body was discovered. It's assumed Dermond was killed there, but Sills said he believes Dermond was dead before his head was severed. It's the only part of the house stained by blood. "It was the cleanest home I've ever been in," Sills said. "It was almost like nobody lived there." The perpetrators left precious little behind. No substantial clues. No ransom note.

Putnam deputies are working with the FBI and two local police departments to try to locate Shirley Dermond. "I don't have a car, or cell phone, nothing to track her," Sills said. While hopeful she'll be found alive, the sheriff acknowledged he's not optimistic.

Neighbors don't know what to think. "I don't think people are afraid as much as they are concerned for her," Kathy Scott said Wednesday.

Law enforcement canvassed the Great Water community, where the Dermonds lived. It's the most exclusive part of Reynolds Plantation, filled with homes valued in the millions. Even outside the community's gates, Putnam County is generally considered safe. Sills said the last murder happened eight years ago. There's never been so much as a burglary reported inside Reynolds Plantation, he advised. Accessing the Dermonds' home is difficult enough. Visitors entering Reynolds Plantation have to get by security guards who must receive verbal confirmation from residents before allowing anyone inside. "The perpetrator could have come in by boat," Sills said. "They could have come in by … helicopter."

On Tuesday, agents from the Department of Natural Resources dragged the lake near the Dermonds' home and found a Christmas tree and lawn chair, according to Sills.

"It makes you wonder: Is there's someone in this (community) who could've done this," neighbor Lillian Butterworth told The Journal-Constitution.

Right now, everyone is a suspect, Sills said.

Each of the couple's three adult children – a daughter and two sons, all of whom live outside the state – have been interviewed by Sills in person. "I put them through the mill" with questions, he said, adding they've been fully cooperative. "There is nothing to indicate that their children are involved in this." A third son died in 2000 while trying to buy drugs in Atlanta, but investigators do not believe this has anything to do with their case.

With little to work on, investigators continue to pound the pavement, looking for anyone – or anything – that might help solve the mystery. Sills said he's confident of only one thing: "For whatever reason, these people were singled out."

Sources: Christina Boone, The Atlanta Journal-Constitution, May 10, 2014; and Putnam County Sheriff's Office.

See also "Dermond Murder House for Sale": whatliesbeyond.boards.net/thread/2949/dermond-murder-house-sale