Post by Graveyardbride on Mar 18, 2014 12:36:08 GMT -5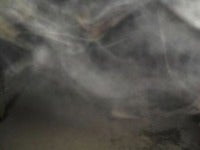 Paranormal investigators snap 'undeniable' evidence of Cassiobury Park ghost
WATFORD, Hertfordshire, England – Paranormal investigators had to hold their breath to snap this spooky shot of midnight mist, which they say is "undeniable" evidence that spirits haunt Cassiobury Park.
Jamie Burnell, lead investigator of Watford Paranormal group, was one of nine people ghost-hunting in the park between 9.30 p.m. and 3 a.m. on Saturday night. The 33-year-old said the park is haunted by the ghost of Lord Arthur Capel, who was a Royalist during the Civil War and met his end when he was beheaded in 1649. According to Burnell, legend has it Lord Capel's heart was removed after his death, placed in a silver casket and eventually hidden in Cassiobury Park.
Paranormal groups meet every year around March 9 trying to spot the headless spirit of Lord Capel, as this is the anniversary of the sightings.
"People don't realise the rich history of Cassiobury Park," Burnell continued, "and they don't understand the negative side of the place. When I went to the park four years ago I took a medium with me and she said there were murders, rapes and sacrifices that took place in there. It's a very strange place after dark."
Speaking of the photo, Mr Burnell said: "The more I look at it the more I believe the spirit entities were trying to show themselves. There are so many faces that I can make out, it's almost undeniable proof. There are faces on their sides and I can see almost a full body apparition. The more I look at it the more I see into it."
Burnell added that a member of his group, Alexander Ray, had to keep holding his breath when he took photos because they did not want to compromise the picture at all. The group did not see the mist appear before them and it was only when they looked back at the photo that they saw the haze. The picture was taken at Lady Lock, by the canal and the mist was said to have lasted just three or four seconds.
The event was organised by Will Elliot of the Independent Paranormal Research group in Watford.
Members also had a "spirit box" which scans radio frequencies and is used to detect voices. "We usually get some sort of indication on the spirit box and there is usually some sort of interaction between us and the spirits," Burnell said, "but it was very tranquil and very quiet and peaceful when we captured this image."
Source:
Kathryn Snowdon,
The Waterford Observer
, March 12, 2014.