Post by Graveyardbride on May 20, 2020 7:14:09 GMT -5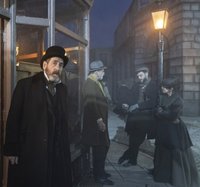 Dead Still: Memorial Photography Mystery Streaming on Acorn TV
Set in late Victorian Ireland,
Dead Still
features a "memorial photographer" who investigates the murders of the recently departed and the six-part series is streaming on Acorn TV.
The show, starring Michael Smiley as photographer Brock Blennerhasset, is directed by Craig David Wallace of the popular Canadian series
Murdoch Mysteries
and according to writer John Martin, "
Dead Still
is similarly rooted in that world of Victorian crime fiction. ...
Dead Still
is a bit of a stew of those murder mystery influences, elements of Irish mythology, folklore and history and a lot of Victorian death culture."
Like
Murdoch Mysteries
,
Dead Still
is woven around actual historical events, but no actual historical figures are introduced in the initial series.
In addition to Smiley, regulars in the Irish-Canadian co-production are Kerr Logan (
Game of Thrones
), Eileen O'Higgins (
Mary Queen of Scots
) and Aidan O'Hare (
Jackie
).
The first series was filmed in Dublin and on various country estates, which Smiley describes as "lovely country homes that were built in the 1800s," some of which, he declared were "creepy."
Brock Blennerhasset, his character, is a master of his craft and paid handsomely for his services. Members of his family are appalled by his occupation, turning him into something of a socially awkward loner. But his solitude doesn't last long for he is soon joined by his young niece Nancy (O'Higgins), an aspiring actress. Two soon become three when he hires an assistant: Conall Mallory (Logan), a gravedigger with a keen interest in photography.
When people begin dying of unnatural causes, i.e., they are being systematically murdered and "posed" as though by a photographer, police believe a serial killer is operating in and around Dublin and Blennerhasset himself becomes a suspect. This, of course, leads to a variety of capers.
"With its fascinating setting, gallows humor, inventive storylines and stellar cast,
Dead Still
will offer a fresh take on the genre and is sure to interest fans of international dramas," explained Catherine Mackin, managing director of Acorn Enterprises.
Watch the trailer.
Sources:
Michael Starr,
The New York Post
, May 19, 2020, and Acorn TV.
See also
"Postmortem Photography: 'Secure the shadow, ere the substance fades.'"