Post by Joanna on Feb 4, 2014 22:48:19 GMT -5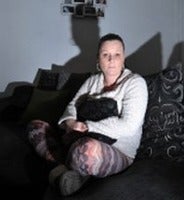 Mother-of two swaps home with her friend because she believes the house is haunted
A mother-of-two has swapped council homes with her friend because she claims the ghost of her grandmother is haunting the house.
Lisa Way (above), 38, and her cousin Kirsty Purcigo, 27, traded houses on the same Cardiff street after Ms Way said she was seeing eerie hands, arms and legs floating around her home.
She has asked her local council to find her another house that is free from spiritual beings but was told she would have to join a waiting list.
When the local council said believing a house to be haunted wouldn't speed up her wait, Miss Way's cousin, who lives opposite her and needed an extra bedroom, said she was happy to swap.
Now the two women are living in each other's former homes with their families, and Miss Purcigo says she has seen no more ghostly apparitions.
However, despite calling in a vicar to perform an exorcism, Miss Way – who believes she has a special talent for sensing supernatural spirits that no-one else can see – says the spirits continued to haunt her and have even followed her over the road to her new place.
Miss Way first noticed what she believed was a supernatural presence in her house in the suburb of Ely in September 2011.
The mother of two teenage daughters said she saw faces at the windows and limbs floating in her mid-terrace home.
She said at the time: 'I saw a white light flash by the door. We started taking pictures with our camera phones and the strangest things started showing up: arms coming round the doors, legs coming down the stairs.
'I spoke to the council and said we can't stay here, but they don't have a policy for dealing with haunted houses.
'They gave me a business card for a pastor, who blessed the house, but it only made things worse.'
She spoke to Cardiff Council in 2011, and was told she could either put in an application for a housing transfer, and wait til her turn came up, or find someone will to do a home-swap with her.
A spokesman told MailOnline: 'There were two options: a transfer, or an exchange on a home-swap website.
'But saying you believe your house is haunted will not weight your transfer application any more than anyone else's, I'm afraid.'
He added: 'We take the welfare of our tenants very seriously. In this case, Ms Way was advised of two options open to her in October 2011 – to submit a transfer application or apply for an exchange of properties under the home swap scheme.'
In February last year Miss Way told the council she wanted to put in for both options, and then her cousin said she needed another bedroom, so they agreed to do a swap.
Miss Purcigo, who also has two small children and lives with her partner, Jonathan Ridgeon, said the house had been quiet since she moved in, with no ghostly apparitions.
She said the television occasionally turned itself on, but she didn't believe there was 'anything there.
She said: 'Even my daughter's not bothered. She knows about it, she was over here as well when we saw the arm on the stairs, but she loved it. And my youngest is one so doesn't know anyway.'
She said her partner couldn't feel anything unusual about the house, either.
Meanwhile Miss Way believes the ghosts have followed her over the road. She says her grandmother is now haunting her new home, and has decided to embrace her gift of being able to see spirits.
She said: 'My nan's over here with me, but we're not scared any more. Even if they do follow me I don't care.
'I realised I have a gift for seeing dead people. I've got used to the fact that I'm always going to see and feel them.'
Source:
Harriett Arkell,
The Daily Mail
, February 4, 2014.