Post by Graveyardbride on Nov 9, 2019 2:10:50 GMT -5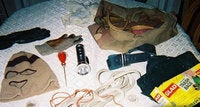 Zak Bagans Purchases Bundy 'Kit,' Investigates 'Ritual House'
Zak Bagans is obsessed with Ted Bundy. Last year, he paid $50,000 for the eyeglasses the serial killer sometimes wore as part of his disguise when trolling for victims. Now he has purchased Bundy's "murder kit," which consists of a ski mask, belt, red-handled icepick, orange wire, flashlight, clothesline, tan gym bag, gloves and Glad trash bags. The items were found in Bundy's car when he was stopped by a Salt Lake City police officer on the night of August 15, 1975.
Former Salt Lake County Sheriff's Department Detective Jerry Thompson, who died May 21, 2019, was one of the lead detectives in the Bundy investigation and in possession of the murder kit. It was his wife, Jean Thompson, who sold it to Bagans.
The items will be added to other Bundy memorabilia, as well as that of other killers, at
The Haunted Museum
Bagans owns in Las Vegas. Of course he claims the entire kit is spooky and the mask is "oozing with evil and bad energy," an indication it won't be long before he stages another "shut down" because of the "extreme evil" emanating from Bundy's mask. Last year, he closed the
"Devil's Rocking Chair"
exhibit from
The Devil in Connecticut
House after several people allegedly became seriously disturbed.
Another item of interest in the never-ending Bagans saga is his investigation of what he calls the "Ted Bundy Ritual House," where he claims the notorious killer took 17-year-old
Debra Kent
on the night of November 8, 1974, after abducting her in the Viewmont High School parking lot in Bountiful, Utah.
In an interview with Brady Langmann of
Esquire Magazine
, Bagans said after abducting the teenager, "a lot of people speculate that Ted Bundy may have taken Debra Kent to this abandoned house. Because even Ted Bundy admitted that he did have Debra Kent for a period of time before she was murdered. So there is speculation that he may have taken Debra Kent to this abandoned house that was already known for doing devil rituals, so we investigate that. We don't ever state factually he took her there, but it is a possibility."
The reporter then asked about the "entity" Bundy blamed for his heinous acts.
"I believe in possession, I've dealt with that, I've been part of multiple exorcisms," Bagans boasted. "With these different serial killers, and Ted Bundy stating that he has heard voices and that there was this presence over him at the time of these killings, we can't ignore the fact that he may have practiced some form of devil worshiping that brought this demon onto him and attached itself to him. And he's having to fulfill these demons' orders. And we just don't know the level of possession that – even if he did have it – we can't argue with the fact that he did state that he did hear voices and have this entity around him. So, in finding the house a hundred yards away from where he abducted Debra Kent – the legend is that he took her there. Once I walk inside this house, it was entering into a whole other domain. It was nothing but a portal to Hell."
Although Bundy did speak of an "entity," he never alluded to hearing "voices" and there is no evidence he was involved in devil worship.
According to Bagans, he learned of the house (above) from an individual who lives in Utah. "Then we were able to find a woman who apparently was nearly abducted [by Ted Bundy] right around the house. So, we do know that Ted Bundy was around that area. The evidence that we were able to uncover was that, yes, this house was a known house for devil worship, going back decades. The effects the house had on us were … obvious. So it's an interesting thing to theorize, that he may have taken Debra to this house. And if he did, did he use her in some way or another in somebody's rituals? It's all theoretical at this point, but we did find a house that is literally a gateway to Hell.
The "woman" to whom Bagans is referring is Rhonda Stapley, who allegedly got into Bundy's Volkswagen near Liberty Park in Salt Lake City, a distance of approximately 15 miles from the house in question.
"The information that I was given is that this house has been used for these rituals," he explained. "And obviously upon entering you can see it's graffitied everywhere with devil-worshiping and Satanic symbols. So, if that's the case, we went in there and were able to measure the center of that devil circle on a concrete surface. There's no electricity to the house, and yet we're receiving extremely high electromagnetic field readings on the center of the circle, which we could not explain whatsoever. So there is some type of open portal there, in my belief, based upon scientific readings, and evidence we collected, things that we all felt. I mean, I lost Billy, he just lost himself in there. As soon as we felt that energy from the center of that circle, I had to kneel down for a moment. I could feel it, so I do believe there is a very dark portal, or gateway at the house. And, even that little kid in the very beginning ...."
"Oh my God, yeah," Langmann interjected.
Bagans was on a roll: "I mean, a little kid taking this huge piece of tree and laying it there, and what would appear to be urinating on it or something? And then we went over there, just unannounced, and I asked the mother if I could talk to her kid. Thankfully, she let me, and I mean, did you hear what the kid was saying?"
"That was straight out of a horror movie, like even his tone," the reporter remarked, encouraging the demon-obsessed spook-hunter to continue.
"I was expecting him to just be like, 'Yeah, I took a tree over there, I wanted to mess with you guys,' you know?" Bagans said. "But then he just got talking about all these spirits there. I'm just like, 'Oh my God, did we just hear that?' I mean I've run into that before, but it was straight demonic. I mean, it was grave evil – there was a history of the house that we can't go into. But it's obvious what is being called to that house. People are going to a doorway to Hell, okay? That's a fact. So, when you go there, you have no essence of time out on the outside world. It was just as dark as you can imagine, very foreboding – you're just waiting for something bad to happen. But, to me, that's like, really cool. Not because of devil worship or anything, but if you want to feel something and you're a skeptic, that's the place for ya."
"Who do you think was at that house?" Langmann asked. "The episode seems to suggest that it was just various demons and possible devil worshipers, but do you think the spirit of Debra Kent was at that house?"
"I don't know, you know? I can't say fact or anything on that," the
Ghost Adventures
star conceded. "I would hope that she isn't trapped there. I know we captured some voices. We got some voices, it could be. I mean that would be an awful thing to know that she would be trapped there in this web of demons, so I would really hope not, but we did capture some interesting voices.
"Was there any part of you that thought some remnant of Bundy's spirit would be at that house when you went there?" the reporter enquired.
"Yes. But I couldn't tell you exactly it was Ted Bundy, but there was an evil presence there," Bagans insisted. "At times it felt like I could feel him there, but at the same time, we're trying to contact him. All I know is that we encountered just pure evil. I mean, we encountered demons, and that's what he was, so it was hard to state: Oh, this was definitely Ted."
"Stay safe, man!" Langmann urged. "I'm worried for you."
Despite the ghost-hunter's wild assertions, the 1897 Anson Call house at 1201 N. 200 West in Bountiful was occupied by two families – one in each of the duplex apartments – when Ted Bundy abducted Debra Kent on the night of November 8, 1974. Cindy Cadman, one of the residents at the time, admitted the house is possibly haunted, but dismissed the TV show as "ridiculous." She and her family had never even heard of Ted Bundy until he was arrested the following year and there were never any devil-worshipers in the home. "Nothing like that ever happened here," she insisted. Rolean Peterson, one of the residents in the other apartment, also denied any such activities.
In fact, both the Petersons and Cadmans were devout Mormons, not the sort of people who worshiped the devil or invited serial killers to stop by late at night with the bodies of their latest victims. "People have said that Ted Bundy took women over here and killed them in this house at the time that Debi Kent got taken," Cadman explained. "We were living here. Two families were living here and never saw anything like that happen. The only reason they tied it to Ted Bundy was because Viewmont High School (above) was right across the street."
Unfortunately, on July 4, 1997, the masonry structure caught fire and was badly damaged. Like many abandoned old houses, through the years, it has acquired a "reputation," but, Cadman added, "If they're going to tell a story, they need to get their facts straight."
The
Ghost Adventures
Halloween Special this year featured the house on which the movie
The Conjuring
is based. Following filming at the allegedly haunted premises, Bagans claimed he became very ill. Though he admitted to having been tired out from traveling extensively, after completing the investigation, he allegedly had feelings he'd never experienced before. Aaron Goodwin, one of his faithful sidekicks, also reported feeling ill during the investigation.
Sources:
Brady Langmann,
Esquire
, October 26, 2019; TV Shows, November 2, 2019; Ginna Roe, KUTV, October 25, 2019; Alan Edwards,
The Deseret News
, July 5, 1997; and
The Deliberate Stranger
by Richard Larsen.