Post by JoannaB on Sept 7, 2019 23:12:23 GMT -5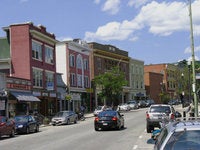 Mysterious Boom Shakes Northern New York
Some people heard a boom, some a bang, some a series of explosions. Imagine the noise of a dump truck being dropped from 100 feet in the air onto pavement was one citizen's description of the horrendous boom that shook buildings throughout the region.
Many said it sounded like it was coming from inside their building or somewhere on their block. But it wasn't just local, it was heard across a huge swath of northern New York. In response to an
Enterprise
Facebook post, people confirming hearing the huge boom as far west as Cranberry Lake, as far north as Malone, as far east as AuSable Forks and as far south as Eagle Bay, as well as throughout the Tri-Lakes villages. The boom shook Saranac Lake (above) at 10:13 a.m. Some also reported hearing a second boom later, around 1 p.m.
The cause of the noise remained a mystery as of Friday afternoon. According to the U.S. Geological Survey's online global tracker, there was no record of any earthquake within 2,000 miles of the Adirondacks.
Several commenting on the
Enterprise
Facebook site said they had seen military fighter jets flying overhead and suspected a jet's sonic boom. But three different agencies denied it was caused by any of their aircraft. An official with the Vermont Air National Guard said the Guard's fighters were removed last spring. A spokesperson at Fort Drum near Watertown indicated the army base had helicopters, not fixed-wing planes. Lt. Col. Judson Stiglich with the New York Air National Guard's 174th Attack Wing, based at Hancock Field in Syracuse, said, "It likely wasn't us, because today's a non-fly day for us ... and typically the aircraft we fly don't make those kind of noises."
Could it have been a meteor? It's difficult to say. A boom heard throughout central New York on Labor Day was attributed to a meteor. The amateur American Meteor Society and NASA meteor specialist Bill Cooke claimed Monday's noise was likely a sonic boom from a "fireball," the term for a small meteor that burns upon entering the Earth's atmosphere.
Numerous people reported seeing Monday's central New York fireball as a sudden, bright streak in the sky, but so far, the Enterprise has been unable to find any such sightings in the North Country on Friday.
Mike Hankey of the American Meteor Society noted that more than 20 people reported witnessing Monday's fireball, if that's what it was, on the society's website, while no one reported anything related to Friday's boom. This has led Hankey to suspect Friday's boom came from a military plane.
Source:
Peter Crowley,
The Adirondack Daily Enterprise
, September 6, 2019.