Post by Joanna on Mar 3, 2019 2:35:04 GMT -5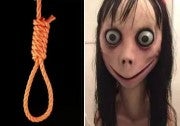 The 'Momo Challenge' Panic
Last week, NBC's
Today
show and other media outlets aired reports of a purported character called "Momo" that would supposedly be edited into children's online content or contact them through messenger apps and encourage them to swallow pills, stab others or even commit suicide. As a consequence, parents, schools, local TV/radio stations and newspapers, and even some law enforcement agencies commenced spreading rumors that children were in imminent danger.
Parents in Manchester, N.H., and other school systems around the country received emails on the topic. "While we know of no cases where local students have been involved, I want to encourage parents and guardians to talk to your children about safe practices while using social media and to be vigilant as you monitor your child's social media activity," Manchester Superintendent Matt Geary wrote in an email to parents.
Of course, there were no verified sightings of the Momo Challenge memes and, in fact, "Momo" is actually nothing more than a sculpture called "Mother Bird" created by Keisuke Aisawa for the Japanese SFX studio Link Factory.
Nevertheless, YouTube and other online platforms sought to dispel the viral panic. "We've seen no recent evidence of videos promoting the Momo Challenge on YouTube," the company wrote on Twitter Wednesday, February 27. "Videos encouraging harmful and dangerous challenges are against our policies."
Writing in
The Atlantic
, Taylor Lorenz explained the Momo Challenge is part of a genre of hoaxes that rely on parental anxiety about their children's use of technology to spread incomprehensible cultural ideas, from the Satanic Panic over backmasked secret messages in heavy metal lyrics to the "eating Tide Pods" hoax to the fictional deaths linked to the "Cinnamon Challenge."
According to those who claim to know about such things, internet hoaxes focused on kids tap into parents' fears that children must be protected online and elsewhere. In addition to anxiety about "screen time" in general, there are certainly a great deal of problematic videos and it's difficult for parents to police everything children do online. "All moral panics feed on some degree of reality, but then they get blown out of proportion," said Steve Jones, a professor of communications at the University of Illinois at Chicago. These hoaxes echo panics from decades past, such as the false belief in the 1980s that teenagers were hearing Satanic messages in song lyrics. "Once the internet is involved in the mix, things get speeded up and they get more widespread," he asserted.
The Momo Challenge appears to have been overblown, but University of Connecticut communications professor Kirstie Farrar, who teaches courses on mass media and children, said parents need to understand that it's impossible for any digital platform to vet all content delivered to children online. "Anything that encourages parents to be more mindful over what their children are watching on social media, YouTube, etc. is not necessarily bad," she explained. YouTube encourages viewers to flag any content that's inappropriate or potentially harmful, but the company has previously faced criticism for bits of such content that has slipped through the cracks, she continued. "This is why it's so important for parents to be mindful of what their kids are watching and doing in these environments."
Sources:
Christopher McDermott,
The Manchester (N.H.) Journal-Inquirer
, March 2, 2019; Cory Doctorow, BoingBoing, March 1, 2019; and The Associated Press.