Post by Joanna on Aug 21, 2018 14:10:02 GMT -5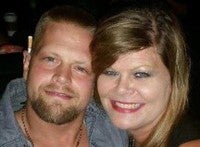 Indiana Cannibal Deemed Competent to Stand Trial - PETA Suggests Vegan Diet
Joseph Oberhansley (above), 35, of Jeffersonville, Indiana, has been deemed competent to stand trial. He is accused of raping, killing and eating parts of his ex-girlfriend's body.
Prosecutors say Oberhansley broke into the home of Tammy Jo Blanton (above right) in September 2014 and stabbed her to death. Following his arrest shortly thereafter, he was committed to Logansport State Hospital after a judge ruled he wasn't competent to stand trial. Now a state psychiatrist has pronounced him competent. "This matter has been going on for four years now and it's high time that the victim's family saw justice done," Clark County Prosecuting Attorney Jeremy Mull told the
Courier Journal
.
However, despite the opinion of the state psychiatrist that he is now competent to stand trial, Oberhansley's defense attorneys may still question his competency, which would then trigger a hearing after which a judge would make the final decision.
During the hearing, Oberhansley said he needs to fire his attorneys. "They're trying to control my thoughts," he told Judge Vicki Carmichael. "They're trying to control my mind." She told him he needed to work with his attorneys. As he did during his police interview in 2014, Oberhansley blamed two other men for killing Blanton. "I'm just so tired of dealing with all this stuff and being locked in this cage," he declared. "I just want to be executed."
Also during the hearing, Mull asked the judge to set a trial date within the next six months, but the defense requested an additional month before scheduling the trial. Mull said the defense attorneys wanted to speak with Oberhansley to decide if they will contest the competency opinion.
Oberhansley is charged with murder, burglary and rape and could face the death penalty if convicted.
A legal determination on Oberhansley's competency has been in question for more than a year after his attorneys requested an evaluation in February 2017. In their motion, attorneys Westerfeld and Bart Betteau noted a "complete breakdown" in communication with Oberhansley, who appeared "suspicious, paranoid, uncommunicative and agitated" during their interactions.
In October 2017, after hearing from a court-appointed psychiatrist and two psychologists, Carmichael ruled the defendant wasn't competent to stand trial and ordered him into the care of the Indiana Division of Mental Health and Addiction.
Mull received a report last month from a psychiatrist at the state hospital. "We're proceeding forward under the understanding and the assumption that he is competent to stand trial and participate in these proceedings based upon the medical expert's certification," he advised.
The next hearing in the case is set for Friday, September 21.
Killed another girlfriend in 1998. Oberhansley's criminal history is significant: In 1998, while in Utah, he shot and killed his 17-year-old girlfriend and shot his mother in the back before turning the gun on himself and firing a bullet into his head. He was only 17 at the time and high on meth. Two years later, he pled guilty to manslaughter and received a sentenced of no more than 15 years.

In 2012, he was released from prison and relocated to Indiana. In 2013, he was arrested for choking a man in Jeffersonville and released on $1,000 bond. He was charged with strangulation and resisting arrest and his Utah parole officer was informed.
In the spring of 2014, Oberhansley began dating Tammy Jo Blanton, who was 13 years his senior.
In July of 2014, he led police on a slow-speed pursuit through two states and Utah authorities were again advised of a parole violation, but his parole expired the same day. His bond was reduced from $25,000 to $5,000 and Blanton paid the $500 to a bale bondsman for his release.
A month later, Blanton ended their relationship and shortly thereafter, Oberhansley broke into her home and killed her.
PETA Intervenes.
Shortly after Oberhansley's arrest in 2014, PETA (People for the Ethical Treatment of Animals) wrote a letter to Brian Meyer, acting sheriff of Clark County, requesting the prisoner be restricted to an all-vegan diet. Lindsay Rajt, associate director, wrote: "Only vegan food could diminish that bloodlust and might even help protect staff and neighboring inmates."
Meyer was livid. "It's bad enough when you lose someone to natural causes, let alone dealing with a loss this violent," he told WHAS. "That they [PETA] would do this is unfathomable to me. It's insult added to injury. It's unforgivable and they've lost all credibility with me!" Meyer initially dismissed the letter as a "cruel joke," but upon closer inspection, realized it was genuine. "When I realized it was real, my first thought was to not even respond because it's ridiculous."
The letter isn't PETA's first such request. The organization made a similar request in a murder case in Tennessee and felt that doing so in the Jeffersonville case was acceptable given the cannibalistic nature of the crime. "We really want to take a situation that's a tragedy and make it into something positive – to reduce the total violence in the world," PETA spokesman Kenneth Montville told the
Jeffersonville News & Tribune
. It is his contention that everyone is "rightfully horrified" by Oberhansley's alleged act and switching to a vegan diet would reduce violence and jail costs.
Meyer, however, said the sensitive nature of the case made the letter inappropriate. "I can't believe they would be so insensitive to the victim and her family."
Sources:
Matthew Glowicki,
The Louisville Courier-Journal
, August 13, 2018, and August 9, 2018; Travis Fedschun, Fox News, August 12, 2018; Claire Galofaro and Baylee Pulliam,
The Louisville Courier-Journa
l, September 20, 2014; John Fisher, Medical Daily, September 12, 2014; :and The Associated Press.