Post by Graveyardbride on Dec 27, 2013 15:00:51 GMT -5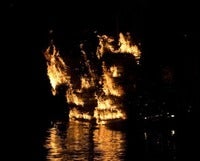 December 27, 1738: The Palatine Light
For still, on many a moonless night,
From Kingston Head and from Montauk light
The spectre kindles and burns in sight.

Now low and dim, now clear and higher,
Leaps up the terrible Ghost of Fire,
Then, slowly sinking, the flames expire.

And the wise Sound skippers, though skies be fine,
Reef their sails when they see the sign
Of the blazing wreck of the Palatine!

– "The Wreck of the Palatine" by John Greenleaf Whittier.
Block Island, described by the local Tourism Council as "a startlingly beautiful place," lies 12 miles off the coast of Rhode Island. Famous for its miles of free public beaches, clear waters, dramatic cliffs and open spaces, the island has long been a haven for residents and visitors alike. Life is slower, more simple and carefree and approximately 40% of the 9.7 square-mile island is set aside for conservation. Is it any wonder the Nature Conservancy has designated Block Island one of the "12 last great places in the Western Hemisphere"?
During the summer months, some 12,000 people flock to Block Island's many points of interest, swim, dine, dance, cycle ... and the numerous hotels and bed and breakfast inns are filled to capacity. But come September, the tourists dwindle and by late fall, the 900 permanent residents have their island to themselves again.
Block Island in winter is beautiful, but isolated and lonely, and when people are outdoors, or look out their windows on cold, dark, moonless nights, occasionally they catch a glimpse of a flaming spectral ship that has plied the waters to the north for almost 300 years. And the following day, they tell their neighbors they saw the Palatine Light.
In Samuel T. Livermore's
History of Block Island
, he includes a letter written by Dr. Aaron C. Willey, an inhabitant of the island in the early 19th century, who saw the mysterious light and in 1811, wrote a friend and fellow physician, Dr. Samuel Mitchell of New York City, concerning his strange sightings. At the time, he had seen the light twice, first in February 1810 and again the following December 20. Following is a portion of his account:
This curious irradiative rises from the ocean near the northern point of the Island. Its appearance is nothing different from a blaze of fire. Whether it actually touches the water, or merely hovers over it, is uncertain, for I am informed that no person has been near enough to decide accurately. It beams with various magnitudes, and appears to bear no more analogy to the ignis fatuus than it does to the aurora borealis. Sometimes it is small, resembling the light through a distant window, at others expanding to the highness of a ship with all her canvas spread. When large it displays a pyramidical form, or three constant streams. In the latter case the streams are somewhat blended together at the bottom, but separate and distinct at the top, while the middle one rises higher than the other two. It may have the same appearance when small, but owing to distance and surrounding vapors cannot be clearly perceived. The light often seems to be in a constant state of insulation, descending by degrees until it becomes invisible, or resembles a lurid point, then shining anew, sometimes with a sudden blaze, at others by a gradual increasement to its former size. Often the instability regards the luster only, becoming less and less bright until it disappears, or nothing but a pale outline can be discerned of its full size, then returning its former splendor in the manner before related ....

It is seen at all seasons of the year, and for the most part in the calm weather which precedes an easterly or southerly storm. It has, however, been noticed during a severe northwestern gale, and when no storm immediately followed. Its continuance is sometimes but transient, at others throughout the night, and it has been known to appear several nights in succession. This blaze actually emits luminous rays. A gentleman whose house is situated near the sea, informs me that he has known it to illuminate considerably the walls of his room through the windows. This happens only when the light is within a half a mile of the shore, for it is often seen blazing at six or seven miles distant, and strangers suppose it to be a vessel on fire.
According to one legend and Whittier's poem, looters used false lights to lure the ship onto the rocky shore, plundered it, then torched the vessel and pushed it out to sea. However, there is no evidence a ship called
Palatine
ever wrecked in the area and locals insist that on an island where wood was always a precious commodity, no one would have burned a wooden ship.
Nevertheless, there is evidence the British ship
Princess Augusta
, laden with passengers from the territory that would become Germany, ran aground on Block Island December 27, 1738. Survivors told of a voyage in which provisions were scarce and half the crew and passengers died of hunger and/or extreme cold. In the document, crew members recounted how a heavy snowstorm drove the ship aground and Captain Andrew Brook encouraged those on board to save what they could of it and its cargo
"both before and after She broke to Pieces ...."

Livermore refuted the account in Whittier's poem and included in his
History
, an 1876 letter from Whittier in which the poet responded to islanders' criticisms claiming he "did not intend to misrepresent the facts of history," but wrote the poem after hearing the story from a Rhode Islander. Whittier acknowledged it was quite possible his source "followed the current tradition on the main-land."
In another version, islanders did everything they could to assist the foundering ship and were able to get all the German passengers, save one, a woman who had gone mad from hunger and thirst, off the vessel. While attempting to rescue the lady, someone accidently knocked over a lantern, causing a fire, and as the tide came in, the flaming ship floated out to sea as the unhinged woman's screams pierced the night.

According to one local scholar, the ship came ashore at Sandy Point and once the tide rose, was floated again and islanders towed it into Breach Cove. All the passengers were rescued, except one who refused to leave the ship. Many, however, were ill and later died and their bodies were buried on the island's southwest side. This version of the tale is borne out by a marker (above), erected at the site in 1947, which reads: "Palatine Graves - 1738." This is the only physical evidence of the disaster.

Charlotte Taylor of the Rhode Island Historical Preservation and Heritage Commission reports no wreckage has ever been found that could be positively linked to the ship. There is also evidence Princess Augusta recovered and the vessel and its surviving passengers ultimately reached Philadelphia, its destination.

But whatever the name of the ship that came ashore, the Palatine Light remains Block Island's best-known and most often told ghost story. Fran Migliaccio, author of Ghosts of Block Island, contends the tale was common during her parents' generation, with at least one man claiming to have seen the ghostly light.

Martha Ball, lifelong resident and former first warden of Block Island, says "the previous generation of people here ... were still bitter about John Greenleaf Whittier's poem 'The Palatine.' When I was growing up, they used to say of the Palatine Light that no two people saw it at the same time. And everyone had a story about the Palatine Light." Ball, who admits she has little tolerance for ghost stories, says an uncle who died before she was born was the only member of her family who claimed to have seen the light, a man, whom she alleges, also claimed to have felled six ducks with a single shot. She believes the legend has hung on as long as it has primarily because of Whittier's work. "I'm not really sure what would be floating around were it not for that poem," she insists.

But not only has the story of the Palatine Light continued into the 21st century, there have been some fairly recent sightings. For example, in 2009, a visitor to the island in 1980 wrote the following account:
"In September 1980, my wife and I stayed at the 1661 Inn at Old Harbor for a week celebrating our honeymoon. We enjoyed the off-season, almost totally bereft of tourists from the mainland and looked on as islanders geared down from summer and closed up in preparation for the coming winter. Only a few bird watcher clubs frequented the island then and the weather was windy, cold, blustery and rainy, which added to our desire to remain close to the inn.

"One stormy and windy evening about 10 o'clock, I went out to the backyard of the inn, tacitly to watch the whitecaps on Old Harbor and to socialize with a pair of goats that roamed freely on the property.

"Out on the harbor, about a quarter of a mile from shore among the rolling whitecaps, I saw a flickering blue triangular light that vanished and then reappeared a short distance from where it had been. At first glance, it looked like the angular sail and mast of a mid-sized sailing craft, a craft in distress that struggled to make headway in the stormy waters – except that the sail radiated a surreal phosphorescent light and glow that ebbed and waned like a dying flame. The bluish sail color glowed and turned to a purplish light and then vanished completely, only to reappear a distance from where it had been.

"I watched in wonder as its shifting movements seemed to make it jump from one location to another location every few seconds; its odd flickering flame, in triangular form, was something I'd never seen before. After a few minutes, it vanished completely among the stormy waves as though it had sunk.

"The image of that strange vessel has haunted my memory for many years. Not until recently, some 29 years later, after having read Livermore's History of Block Island, did I realize the book's description of an oddly lit and shifting Palatine Ghost Ship off Block Island was similar to what I had observed that windy, white-capped and rain-swept evening."

Robert Ellis Cahill, author of numerous books on New England folklore, reports an even more recent sighting. A friend of his who lived on Block Island year-round saw the flaming specter in late December 1987 and watched for several minutes before it suddenly vanished. The witness apparently did not share his experience with his neighbors and related it to Cahill in strict confidence.

Although Dr. Willey, in his 1811 letter, said the light is seen in "all seasons" and the 1980 witness saw the phenomenon in September, on what he described as a "rain-swept evening," the Palatine Light is most often spotted on winter nights during the dark of the moon, or when the moon is obscured by clouds. So, if you happen to be on Block Island during winter – a few hotels and inns remain open year-round – and find yourself outside on a cold, moonless night, glance to the north occasionally and you may catch a glimpse of the Palatine Light.
Author:
Graveyardbride.
Sources:
History of Block Island
by Samuel T. Livermore; Elizabeth Zuckerman, The Associated Press;
Yankee Magazine
; Tim Appenzeller,
Discovery Travel
; "The Wreck of the Palatine" by John Greenleaf Whittier;
Ghosts of Block Island
by Fran Migliaccio; and Robert Ellis Cahill.