Post by Graveyardbride on Aug 5, 2017 12:38:28 GMT -5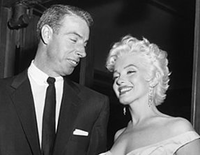 Marilyn Monroe's Death Still a Mystery 55 Years Later
Fifty-five years ago, the world lost a luminous legend of the screen when Marilyn Monroe died at the age of 36 on Aug. 5, 1962, of a barbiturate overdose. Although Monroe's death was officially ruled a "probable suicide" by the Los Angeles County coroner's office, mystery has surrounded her untimely passing, with some speculating that her alleged affairs with President John F. Kennedy and his brother, Attorney General Robert F. Kennedy, may have played a role.
Before she died, Monroe's personal life was a shambles: Thrice divorced, she wasn't a mother (her fondest wish), and many believe she'd had, or was still having, affairs with both the Kennedy brothers. It was reported that she had been threatening to hold a press conference divulging her relationships with them.
Rumors about Monroe's alleged affair with JFK were spurred in part by her sultry "Happy Birthday" performance for the commander-in-chief at his 45th birthday celebration at Madison Square Garden May 19, 1962, just weeks before the film star's death. A rare photo taken after the performance during a party at the home of movie executive Arthur Krim is reportedly the only known image of either Kennedy with Monroe. White House photographer Cecil Stoughton, who took the photo, kept it a secret for decades before releasing it in 2010.
"What happened to Marilyn Monroe is one of the great mysteries of the 20th century," her biographer James Spada told
People
in 2012, ahead of the 50th anniversary of the star's death. Though Spada doesn't believe there's any proof that the Kennedys were responsible for Monroe's death, he said, "It was pretty clear that Marilyn had had sexual relations with both Bobby and Jack." According to Spada, actor Peter Lawford introduced Monroe to JFK in 1954. But when Kennedy tired of her, he passed her off to his brother. This happened, according to Spada, in the spring of 1962. And witnesses claim to have heard a disturbing tape from the bugged Monroe home the night of her death on which the voices of Lawford, an angry Bobby Kennedy and a screaming Monroe are audible.
During a 1983 BBC interview that Monroe biographer Anthony Summers conducted with the star's former live-in housekeeper, Eunice Murray, he said there was a "moment where she put her head in her hands and said words to the effect of, 'Oh, why do I have to keep covering this up?' I said, 'Covering what up, Mrs. Murray?' She answered, 'Well of course Bobby Kennedy was there [on Aug. 4], and of course there was an affair with Bobby Kennedy.'"
A so-called suicide squad was formed to investigate Monroe's death. But according to Donald Wolfe, author of
The Last Days of Marilyn Monroe
, this squad never interviewed Murray, publicist Pat Newcomb, Lawford or any of the Kennedys. According to biographer Summers, "Both the forensic work and the police investigations were hopelessly flawed."
Further fueling the theory that the Kennedys were involved in Marilyn's death is the fact that a couple people close to the investigation were later given high-profile new jobs. Publicist Pat Newcomb (who has never definitively spoken about Monroe's death) "was spirited off to [the Kennedy compound in] Hyannis Port," Michael Selsman, who worked for Monroe's publicist, told
People
in 2012. "Six months later she was awarded a job in the U.S. Information Agency in Washington, D.C."
Spada said, "There had to have been" a Kennedy-related cover-up, though not necessarily of murder. "The Kennedys could not risk this coming out, because it could have brought down the President. But the cover-up that was designed to prevent anyone from finding out that Marilyn was involved intimately with the Kennedy family has been misinterpreted as a cover-up of their having murdered her," he said.
In his 1997 book
The Dark Side of Camelot
, journalist Seymour Hersh wrote about the rumored affair between Monroe and JFK, saying the actress' "instability posed a constant threat" to the president before she mysteriously overdosed.
Jerry Blaine, a former Secret Service agent in the Kennedy detail, told People that he was with JFK during two known encounters the president had with Monroe – one at Lawford's Santa Monica home in 1961, and another at the party in New York following the "Happy Birthday" performance. "He probably thanked her for singing. But they weren't alone," said Blaine, who added that he "never saw any evidence of an affair … but I don't know what happened behind closed doors."
Dinner with DiMaggio: Memories of an American Hero
Marilyn's second husband, baseball great Joe DiMaggio, blamed the Kennedys for her death, according to Dr. Rock Positano, who, along with brother John Positano, wrote the 2017 biography
Dinner with
DiMaggio: Memories of an American Hero
. "The whole lot of Kennedys were lady-killers," DiMaggio told Positano, according to the book, "and they always got away with it. They'll be getting away with it a hundred years from now." The baseball star added, "I always knew who killed her, but I didn't want to start a revolution in this country. She told me someone would do her in, but I kept quiet. They [the Kennedys] did in my poor Marilyn. She didn't know what hit her." According to Positano, "The understanding was that her involvement with … the Kennedy clan put her in a position where maybe it wasn't good for her mental health or her emotional health. He didn't think they were good people for her to be around."
DiMaggio's love for actress Marilyn is well catalogued, but the new biography reveals the qualities he loved most about her, why they divorced, and whom he blamed for her death. "Joe was very honored and privileged to have Marilyn Monroe as his wife, which is why he was so fiercely protective of her," Positano writes. "He felt that she was very vulnerable and very sweet and that it was very easy for people to take advantage of her."
In the book, Dr. Positano recounts what he learned over the course of his ten-year friendship with the centerfielder who was 40 years his senior. They met after Positano helped DiMaggio with an old heel spur injury and most of their deep conversations occurred in restaurants throughout New York City. In one of their more intimate chats, Positano learned that DiMaggio loved his sexual connection with Marilyn. Both divorcees, Monroe and DiMaggio married in 1954, but split just nine months later. "When we got together in the bedroom, it was like the gods were fighting; there were thunderclouds and lightning above us," Positano says DiMaggio told him. But he loved Marilyn for more than her body: "He thought [Monroe] was highly intelligent."
In the book, he paints a portrait of DiMaggio (who died in 1999) as a multi-talented, whip-smart "Renaissance man," who was drawn to the actress because of her talent. "He had an unbelievable eye for movies … He had a tremendous amount of respect for Marilyn because she was a really great actress," Positano added.
While Monroe's vulnerability ultimately entranced DiMaggio, Positano says she was drawn to his caring personality. "The love he had with Marilyn – he was this gentleman [type]," he continued. "That's why American women would be in love with Joe DiMaggio today. He had a nurturing, caring way about him."
Despite their connection, not everyone approved of their relationship. In
Dinner with DiMaggio
, Positano writes about the time Archbishop Fulton Sheen (the first "televangelical leader") called DiMaggio into his office. The Archbishop allegedly told baseball hero that he should never have married Marilyn, explaining "this isn't the type of woman who gives people moral values." Allegedly, DiMaggio told Shee, "No one is going to tell me who to love and who to marry!" and stormed out of the office.
While he repeatedly defended his short marriage to Monroe, the book reveals that DiMaggio did have some issues with the iconic star. For one, he complained that she "wouldn't take a bath for days." However, according to the book, his main issue with his wife was her inability to get pregnant. "From Joe's point of view, they didn't stay married because Marilyn was not able to have children," Positano explained, "It was as simple as that. It was not about the published reports of jealousy and not wanting to take a back seat to her fame. Joe wanted kids with Marilyn, and she wanted to reward him with a family. In Italian terms, sex meant kids. Great sex meant great kids. Marilyn gave goddess sex, but no kids." (Monroe cited "mental cruelty" as the reason for the split.) DiMaggio was estranged from his only child, Joe Jr., from his first marriage to actress Dorothy Arnold. According to Positano, that didn't stop DiMaggio's loving his son and the idea of family.
Although Marilyn went on to wed playwright Arthur Miller, she sought affection from DiMaggio after that union ended in divorce in 1961. Though The Yankee Clipper's pride seemingly prevented his rekindling their romance, he continued caring for his former wife – so much so that his friendship with Frank Sinatra was ruined after the singer introduced her to the Kennedy family. At one of his dinners with Positano, DiMaggio allegedly said, "They did in my poor Marilyn. She didn't know what hit her."
Unfortunately, DiMaggio's fierce protectiveness and love for Monroe weren't enough to save her. "I'll go to the grave regretting and blaming myself for what happened to her," DiMaggio lamented. "Sinatra told me later that 'Marilyn loved me anyway, to the end.'" To clarify DiMaggio's harsh statements, Positano writes: "The understanding was that her involvement with Mr. Sinatra and the Kennedy clan put her in a position where maybe it wasn't good for her mental health or her emotional health. He didn't think they were good people for her to be around."
Sources:
Tierney McAfee,
People
, August 4, 2017, and Sam Gillette,
People
, May 9, 2017.
See also
"Fans Gather in Westwood to Remember":
whatliesbeyond.boards.net/thread/2162/fans-gather-westwood-remember-marilyn
"Marilyn Monroe Death Conspiracy Theories: Who or What Killed Marilyn?":
whatliesbeyond.boards.net/thread/edit/2171