Post by Joanna on Jun 25, 2017 2:56:14 GMT -5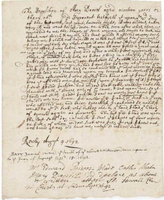 Salem Witch Document Brings $137,500 at Auction
On June 15, a rare original piece of evidence from the 17th century saga sold at Christie's auction house in its sale of books and manuscripts from the single-owner collection of Eric C. Caren. The deposition of Mary Daniel, one of several girls who claimed she'd experience fits and strange bodily sensations as the result of witchcraft, sold for $137,500 — a world record price for any artifact from the Salem trials.
The document features detailed descriptions of Daniel's possession, which she credits to sorcery by the elderly widow Margaret Scott. Daniel's account, dated August 4, 1692, was ultimately convincing to Salem's judges, who condemned Scott to death, along with seven others, on Gallows Hill on September 22.
"Original material from the Salem Witch Trials is very rare in private hands," Christie's senior specialist in books and manuscripts Christina Geiger said in a statement. "It is a chilling experience to read this document aloud, just as it would have been read aloud at Salem Court during Margaret Scott's trial over 300 years ago."
Daniel describes her symptoms in the deposition by saying:
I was taken very ill again all over & felt a great pricking in ye soles of my feet, and after a while I saw apparently the shape of Margret Scott, who, as I was sitting in a chair by ye fire pulled me with ye chair, down backward to ye ground, and tormented and pinched me very much, and I saw her go away at ye door, in which fit I was dumb and so continued till ye next morning, finding a great load and heaviness upon my tongue …

There appeared to me the shape of some woman, who seemed to look and speak most fiercely and angrily, and beat, pinch'd and afflicted me very sorely telling me I should not have said so, or told such things & to yt purpose … In some of ye fits yt I had afterwards, I was senseless and knew not yt I saw who it was yt afflicted me. In one fitt (upon ye beginning it) I thought I saw Goodw Jackson, and widow Scott come walking into the chamber with yr staves, one of ym came & sat upon me so yt I could not stir … In another fitt I saw ye appearance of sd Scott in ye room who afflicted me, and being speechless, I continued so, untill I went to ye sd Scott, who taking me by ye hand, I had ye liberty of speech again as formerly. The last fitt I had was upon ye last Sabbth day, in which I saw ye shapes of four women or five, of whom widow Scott was one, ye rest I knew not, nor knew yt any did hurt me, unless sd widow Scott.


Daniel converted to Puritanism in 1691, and is believed to have been a servant to Rowley, Massachusetts minister Edward Payson, according to Christie's. Meanwhile, Scott, who is the only person Daniel definitively names among her tormentors, had already been the subject of gossip within the community for being left widowed, childless and poor.
The sale also features a selection of other rare first-hand account, such as a description from a 7th Cavalry chief, who claims to have discovered George Armstrong Custer's body at the scene of Custer's Last Stand on June 28, 1876; that item sold for $40,000. And a rare public notice, or handbill, distributed by London police in 1888 after two murders in Whitechapel during the height of the Jack the Ripper scare that sold for $35,000.
The University of Virginia has an online Salem Witch Trials Documentary Archive that brings together court records from institutions such as the Boston Public Library and the Massachusetts Historical Society. It shows how Daniel's sworn testimony combined with other accusations to doom Scott to death. Another woman named Sarah Coleman claimed she was tormented three to four times by Scott
"by pricking, pinching, and choaking of me, and I do verily believe that she is a witch."
Two men named John Burbank and Daniel Wycomb recounted how Scott magically stopped their oxen from moving; one named Thomas Nelson stated she killed one of his cows,
"his neck under a plank at the barn side as if he were chok'd."
Sources:
Allison Meier, Hyperallergic, June 13, 2017, and Alanna Martinez,
The Observer
, June 15, 2017.