Post by Joanna on May 11, 2017 6:43:22 GMT -5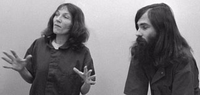 The San Francisco Witch Killers
When Suzan Barnes, 37, met James Carson, 28, things got bizarre – fast. Both were dissatisfied divorcees. Carson, who had a master's degree in Chinese studies, had been dumped by his wife, who took their child and left after he started acting weird. Suzan and her husband had two teenage sons, but this hadn't stopped her embracing the 70s culture of free love and hallucinogens. After taking mescaline in 1974, she had a vision that she would meet the man of her dreams. Three years later, when she saw Barnes at a party, she said, "This is the man I've been searching for." Indeed, James' daughter, Jenn Carson, says when the pair met "It was almost like two magnets just shooting across the room and joining. I think they had great sexual attraction." It didn't take long for the new couple to descend into a life of sex and hallucinogenic drugs. But it wasn't all fun and games. The two would end up starting their own twisted religion, which would incite them into killing three people they deemed witches.
Later, Jenn Carson would say of her father: "If he had fallen in love with a televangelist, he would become one. If she had joined ISIS, he would have. He was that much of a follower. He was drawn to extremists, people he found really exciting." And Suzan certainly wasn't boring. Shortly after they met, Suzan told James she'd had a vision and that his name was really Michael, after the angel who fought the devil. James was spellbound and changed his name to Michael. In another vision, Suzan said she saw that they should both change their last name to Bear, which they also did. But perhaps the most dangerous vision of all was one in which Suzan saw they should become Muslims and kill witches. Unfortunately, Suzan and Michael missed the part of Islam that prohibits the taking of mind-altering drugs and murder and created their own sick cult-like religion.
In 1978, after they had been together a year, the duo traveled to Europe, preaching their religion. They also had a marriage ceremony (though not legally binding) in the moonlight at Stonehenge. Eventually they ran out of money and were forced to return to the US, specifically to San Francisco, where they moved into an apartment with Keryn Barnes, a 23-year-old wannabe starlet who made her way to California to find fame, but settled instead for the the hippie lifestyle of Haight-Ashbury. But Michael and Suzan wanted more from Keryn than just cohabitation. They wanted her to become Michael's second wife and enter into a polyamorous relationship with them. When Keryn balked at the idea, Suzan had another vision: Keryn was a witch and she and Michael began plotting to kill her.
On March 6, 1981, when Keryn got home from work, Suzan told Michael to kill her. Michael followed their young roommate into the kitchen, where he beat her over the head with a cast iron frying pan and then stabbed her 13 times in the face and neck to finish her off. The couple then wrapped the body in a blanket, placed her head on a pillow, and drew a series of bizarre, childlike images on the wall before leaving.
Police found Keryn's body on March 7, in her apartment with her skull bashed in and 13 stab wounds to the face, neck and mouth. Curiously, the drawings on the wall included the name "Suzan" written around the pictures. (Suzan had actually been born "Susan" – and changed the spelling of her name to after a drug trip.) One of Keryn's friends rushed to the scene of the crime as word spread and told police about Keryn's new roommates and their strange beliefs. It wasn't until police questioned Keryn's mother two days later that they got a full name: Suzan Carson, and her husband, Michael. Unfortunately, because Suzan and Michael Carson weren't the couple's real names, police weren't able to locate them.
After a year of searching for the killer roommates, the investigation stagnated. The Carsons hitchhiked north to Oregon and for a year, lived in a secluded cabin – which they believed was a refuge provided to them by Allah – in the wilderness. Finally, they got bored and decided to head back to southern California and landed a job as caretakers on a marijuana farm. Things seemed to ge going well the two began having problems with a friend of the farm owner, 26-year-old Clark Stephens. Clark was loud and drank a lot and the Carsons saw this as an affront to Allah. Suzan attempted to block Clark from entering the farm one day and Stephens cussed her out. So Suzan declared Clark a witch and Michael was tasked as executioner. He shot the man in the face.
On the lam again, the again Carsons headed to Northern California to hide out in the wilderness and ventured into civilization only for food and supplies. To get to town, the pair would hitchhike. Two years after the murder of Keryn Barnes, in January 1983, they caught a ride with a man named John Hillyer in his pickup truck. Suzan sat in the middle, and while driving, John's leg touched Suzan's leg. Suzan claimed she felt threatened, but more importantly, that she'd had a premonition about the 30-year-old driver – John was a witch. Michael was task with another witch-killing. But Hillyer fought back and what ensued was a wrestling match for the gun with which Michael was trying to kill him.
Santa Rosa law enforcement received a call from a a witness at a roadside fruit stand who saw a pickup truck stop and two men and a woman emerged. The three began fighting until one man finally got hold of the gun and shot the other. Hillyer later died at the hospital. Michael and Suzan drove away in Hillyer's truck and a high-speed chase ensued. It ended when the truck spun out of control and landed in a ditch.
The killers were taken in for questioning, but instead of talking about what led them to shoot John, they went on about about ESP, witches and their DIY religion. In a jailhouse interview, Michael and Suzan described themselves as "religious warriors involved in a holy war against witches."
In a bizarre twist, Michael penned a letter in which he wrote that no one cared that he and Suzan had killed the biggest witch in San Francisco. Investigators were quick to link the confession in with the murder of Keryn Barnes. But when police tried to get an on-the-record confession from the Carsons, they said they would do it only in a press conference. So on March 10, a press conference was held, during which Suzan and Michael ranted about everything from George Orwell's 1984 to President Reagan's being the devil to the reason witches needed to be killed. The two claimed they had the power to identify witches, via visions Suzan received directly from Allah – which is how they realized they had to kill Keryn. So while Suzan made it her job to identify witches, Michael killed them. They also admitted to killing Clark Stephens and after six hours, were charged with multiple crimes, including three counts of first degree murder.
The Carsons' trials began in May 1984 and despite having confessed to everything during the press conference, both entered pleas of "not guilty." But after three days in court, which Michael's daughter described as a "zoo," the two witch killers were found guilty and sentenced to 25 years to life. Later they were convicted of two other murders and for which they received another 50 years to life each, for a total of 75 years to life.
When Carson's daughter learned she was the father of a mad killer, she visited him in prison and said seeing him was "like looking into the eyes of someone with no soul." She considers him pure evil. "The definition of evil is hurting someone else for pleasure," she told KTVK. "And I think that once you've crossed that line there is no going back."
Sources:
Kat George, Martinis & Murder, May 8, 2017, and Carey Peña, KTVK TV.