Post by Graveyardbride on Apr 22, 2017 11:16:55 GMT -5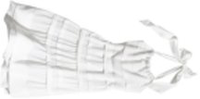 St. George's Fertility Spell
Saint George's Eve (April 22) is an extremely potent night for fertility rites. Crusaders encountered Saint George in Semitic West Asia and brought him home to Europe, where he is most famous for killing the dragon. Or did he? And why is he so helpful to women who wish to conceive? Some believe Saint George is the god Baal in disguise. Baal, Semitic weather deity and bane of the Biblical prophets, exemplifies male thunder gods who rain down fertility on a parched region. The image of the dragon or great snake is often used to represent menstruation, the monthly heartache of women wishing but failing to conceive.
Women once flocked to a Syrian shrine devoted to Saint George. Its attendant priests developed such a reputation for working miracles of conception that suspicious husbands soon forbade their wives to go, preferring no children at all to the "miracle" children.
There's no need to search for the ruins of this shrine, St. George can assist your quest in the privacy and comfort of your own home. Here's how:
Take a new white nightgown and wear it for at least a few minutes so that it soaks up your essence. On St. George's Eve (i.e., tonight), hang it from a fruitful tree and leave it overnight. Inspect the garment on the morning of St. George's Day, April 23, and if any living creature is found on or within it, you can expect to conceive before next St. George's Day. To activate the spell, put on the nightgown immediately and have sex while wearing it as soon as possible. The most common forms of life discovered on the nightgown are bugs and worms.
Should you discover a snake in your this conveys a powerful blessing and promise. A variation of the spell from Kurdistan actively seeks the snake's blessings as follows: Lay your nightgown at the foot of a tree or in its branches in an area known to be infested with snakes. Leave it overnight. The following morning, if a snake is lying on, or is in any way touching your garment, you should be pregnant within the year. Take the article of clothing, but not the snake, home, put it on and make love wearing the gown before you launder it.
Source:
The Element Encyclopedia of 5000 Spells: The Ultimate Reference Book for the Magical Arts
by Judika Illes, and Fertility Spells of the Past.