Post by Graveyardbride on Feb 14, 2017 17:26:13 GMT -5
Valentine's Day Murders
Valentine's Day is for lovers, but sometimes love turns to hate and someone ends up dead as happened in all but one of the following cases:
Kidnaped, tortured and murdered.
Valentine's Day 1971 was the last holiday 19-year-old Jesse McBane and 20-year-old Patricia Mann (pictured above), both of Durham, North Carolina, spent together – or spent alive, for that matter. The young lovebirds went to a Valentine's Day dance at a local hospital, but neither returned to their beds that night. Police initially ignored the case, assuming the couple had just run off or eloped, and it was a few days before they began an investigation that yielded no results. A few weeks later, a local surveyor found two bodies, lying lovingly together. It was Jesse and Patricia. Marks on their necks indicated a rope was tightened and slackened multiple times, indicating some sort of sick torture. Because they were kidnaped in Durham County and killed in Orange County, multiple law enforcement agencies were involved, but eventually, the case went cold. In 2013, a person of interest was identified, but there have been no arrests.
Orchids and a crushed head.
On Valentine's Day 2001, Dr. John Hamilton of Oklahoma City, Oklahoma, ordered an expensive bouquet of orchids for his wife, Susan, but she didn't live to see them. When he came home between surgeries, Hamilton allegedly found his wife lying dead in a pool of blood. She had been strangled with two of his own neckties and her skull was beaten so badly that portions of her brain were exposed.
Friends claimed Susan and John Hamilton had a happy marriage, but as investigators dug deeper, they discovered clues that made the doctor their prime suspect. First, there was the note that his wife wrote on the Valentine's Day card she had given him:
I bought my cards two weeks ago, so I guess maybe they don't seem as appropriate now. But I do love you. Have a good day. – Susan.
Some members of Susan's family confirmed she was considering divorce after discovering her husband engaging in sordid phone calls with a stripper. Then, to complicate the matter further, the police found traces of blood and flesh in Hamilton's car. They also found Mrs. Hamilton's jewelry hidden in an underwear drawer, suggesting someone had wanted the police to think a robbery had taken place. Hamilton was charged and arrested and after an expert witness testified at trial that the blood spatters on his sleeve were consistent with someone viciously beating another person, the jury convicted Dr. Hamilton of murder in less than two hours.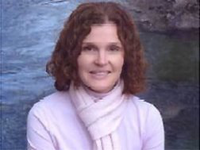 Killed, dismembered and stuffed in garbage bags.
In Washington Township, Michigan, Stephen Grant reported his wife, Tara Lynn Grant (above), missing on Valentine's Day 2007. Police soon discovered there was a five-day gap between the time his wife went "missing" and when he reported her disappearance. Grant, realizing he was a suspect, went to the media and appeared on numerous TV shows accusing police of harassing him instead of trying to find his wife. In early March, police executed a search warrant on the Grant home and discovered mangled pieces of Tara's corpse on the floor of the garage. Apparently, Grant had initially dumped his wife's body in a local park, but retrieved it and brought it back to the garage after learning police would be searching the park.
Stephen Grant had, by the time of the search, fled, but was traced through a telephone call he made to his sister. He was found in another park suffering from frostbite and hypothermia. He confessed, admitting he strangled his wife after she slapped and belittled him. He was sentenced to 50 years in prison.
Stabbed by stalker.
Tiana Notice of Plainville, Connecticut, broke up with her boyfriend, James Carter, because of his frequent volatile, and sometimes violent, behavior. Carter, however, wasn't willing to give her up, even after she obtained multiple restraining orders. He continued texting, calling and emailing Tiana, culminating with these threats:
"trust me baby girl, ... you are go ... to lose everthing!"
"as God is my witness. Punishment is on the way so be prepared ..."
"You will have nothing but bad luck you hear me? Remember this email when KARMA bites you in the ass!"
"... but you will have to answer to GOD first for screwing James' family over because of all the things they did for you."
Despite frequent police interventions, Carter continued his attempts to visit Tiana at her home and workplace and sent her many e-mails. His behavior alternated between extreme hostility and abject apology:
"God told me to write so please don't tell the cops ... I'm going through a life or death situation right now and you are the only one I can talk to ... You ever been close to death or thought you were going to die ... If I am lying may the Lord strike me down and kill me tomorrow . ...
"my dad said he had a dream that our neighbors gave us t tomb stones at our house ...
"in dire straits situation T ... please help me."
"Get rid of the restraining order"
When Tiana reported the above e-mail to the police, they finally agreed to take Carter in for violating the restraining order. But they didn't act quickly enough. On the evening of Valentine's Day 2009, Tiana died of more than 20 stab wounds inflicted by her ex-boyfriend. Carter was sentenced to 60 year in prison.

Murder-for-hire. By 2010, Stacey Schoeck (above) of Atlanta, Georgia, knew she wanted her fifth husband dead, but wasn't sure how to execute a plan ... or her husband. She decided to hire a gym instructor, known as "Mr. Results," – who did some moonlighting as a hit man – to take out her unsuspecting, hot air balloon-enthusiast husband. She told her husband she wanted to exchange Valentine's Day cards in a public park and there, Mr. Results shot him. She paid the hit man $10,000 for his service and immediately claimed her husband's $500,000 life insurance policy. Unfortunately, she had arranged almost the entirety of the crime via phone calls and the police obtained recordings of those calls. Stacey will be spending the rest of her Valentine's Days in federal prison, along with Mr. Results and a work colleague who helped them plot the senseless murder.

Shot through the bathroom door. Oscar Pistorius of Pretoria, South Africa, rose to worldwide fame following his victory in the 2004 Paralympics. After Valentine's Day 2013, however, he became known for something very different: the savage murder of Reeva Steenkamp. While Pistorius admitted he fired the gun that killed his lover, he denied it was murder. He claimed he thought he heard an intruder and was acting in self defense. Text messengers were recovered from Steenkamp's phone indicating she was afraid of Pistorius and that he was capable of "snapping" aggressively at her. Eventually he was found him guilty of murder and sentenced to six years in prison.

Roses and a bullet. On Valentine's Day 2013 in Peoria, Illinois, Nathan Leuthold, a Baptist missionary, gave his children Valentine's Day cards before school; his wife got roses and a bullet in the head. It took a jury only 90 minutes to find him guilty of murdering his wife, Denise. Leuthold had lain in wait for his wife to return home so he could kill her. On his computer, investigators discovered he made hundreds of internet searches about how to kill someone; he had Googled how much poison a human body could withstand and how to quietly fire a .40-caliber Glock handgun (the weapon he used to murder his wife). Additionally, he had spent his children's college fund to pay his mistress hush money so she wouldn't reveal their affair. For a time, the mistress had actually worked in the Leuthold home as a nanny. Leuthold was sentenced to 80 years.

Sources: Jacob Geers, Thought Catalog, February 9, 2016; Murderpedia; and The Durham County News.

See also: "Accused Valentine's Day Killer Mourns Dead Girlfriend": whatliesbeyond.boards.net/thread/1155/accused-valentines-killer-mourns-girlfriend

"Mrs. Lovelace Died on Valentine's Day": whatliesbeyond.boards.net/thread/5034/lovelace-died-valentine-day-murder

"Roses and a Bullet for Valentine's Day": whatliesbeyond.boards.net/thread/3307/roses-bullet-valentine-day