Post by Joanna on Oct 31, 2016 2:19:20 GMT -5

Creepy, Unsolved Halloween Murders and Disappearances
Halloween is the one night of the year on which being scared is supposed to be good fun. However, amid all the harmless activities like trick-or-treating, sometimes genuinely frightening and disturbing things happen. October 31 has been the date of some horrific murders and unexplained disappearances which are far more terrifying than any ghosts, goblins or witches. Because they happened to take place on Halloween, the following mysteries have an extra aura of creepiness and they remain unsolved to this day.
Baby in the Trash.
On the morning of October 31, 2004, a housekeeper at the Hilton Resort and Marina in Key West, Florida, found something in the garbage bin of the ladies' room in the hotel lobby. She may have initially assumed it was a Halloween prank, but the situation became truly horrific once she realized she had found the body of a newborn infant girl. The child still had the umbilical cord and placenta attached to her body, an indication that a woman recently gave birth to the girl and decided to just toss her into the trash. It did not take authorities long to figure out who was responsible.
Hours earlier, a young pregnant woman and three male companions were observed walking through the hotel lobby. She entered the ladies' room while the men waited outside. At one point, a female witness went into the washroom and heard the woman moaning inside a stall. When the witness asked the three men if they knew the woman, one of them claimed to be her boyfriend. He even called out her name at one point, which sounded like "Samantha" or "Sonia."
The pregnant woman remained in the bathroom approximately 40 minutes and a security guard saw her clutching her stomach when she exited. When the guard asked if she was all right, he was told she had gotten sick by partying too much at nearby Fantasy Fest. The four individuals were escorted out of the hotel, but the child was not discovered until morning. Fingerprints, blood samples and DNA evidence were taken from the restroom and compared to several suspects, including Casey Anthony. Neither the mother nor the three men have been identified and, thus, no one has been charged with child's death.
Death by Drowning.
Chris Jenkins (pictured above) was a 21-year-old student at the University of Minnesota who visited a downtown Minneapolis bar on Halloween night in 2002. After leaving the bar around midnight, Chris vanished without a trace. He remained a missing person for four months until his body was discovered in the Mississippi River. Because he was still wearing his Halloween costume, all indications were that he died shortly after his disappearance. Jenkins was heavily intoxicated that night and because his cause of death was determined to be drowning, authorities initially believed they were dealing with an accident or suicide. His parents refused to accept this explanation and pressed for a more thorough investigation. Finally, in 2006, their son's death was reclassified as a homicide.
While the authorities have withheld specific details, it was claimed an incarcerated suspect told authorities he was present when Jenkins was murdered and thrown off a bridge into the river. Though police believed the man's story was credible, no charges have been filed. One possible theory is that Jenkins could have been one of the victims in the mysterious "Smiley Face Murders." During this time period, approximately 40 male college students in the United States were victims in a bizarre series of drowning deaths. In some of the cases, unexplained "smiley face" graffiti was discovered near the body of water where the victim drowned. This had led some to theorize the deaths were connected and that the victims were drugged before being thrown into the water to make their murder look like an accidental drowning. While no "smiley face" graffiti was ever found in connection to Chris Jenkins' death, investigators have not overlooked its similarities to the other unsolved cases.
Bunny Ears.
Hyun Jong "Cindy" Song was a 21-year-old South Korean student attending Pennsylvania State University. For Halloween in 2001, she dressed up in a bunny costume and attended a party at a nightclub in State College. After leaving the club, Cindy spent the next few hours hanging out with friends before she was dropped off at her apartment at 4 a.m. This was the last anyone ever saw of her. After Cindy was reported missing, her apartment was searched. There was no sign of a struggle, but many of her belongings, including the false eyelashes from her costume, were there, indicating she had gone inside after being dropped off. But what happened to her afterward?
Shortly thereafter, a witness reported seeing a woman resembling Cindy in the Chinatown district of Philadelphia. The woman, the witness said, was inside a vehicle with an unidentified male and crying out for help. A bizarre lead came about in 2003 when a Luzerne County man named Hugo Marcus Selenski was arrested after the remains of five individuals were found buried in his backyard.
Even though none of the remains were those of Cindy, an informant told police that Selenski and an accomplice named Michael Jason Kerkowski Jr. had abducted her. After Cindy was raped and murdered, the two men allegedly buried her body at another location. Kerkowski's remains were found in Selenski's backyard, and the informant claimed Kerkowski was murdered for keeping Cindy's bunny ears as a souvenir. Thus far, no evidence has been found to tie Selenski to Cindy's disappearance, but in January 2014, the burned remains of a dozen more people were found buried on his property. It remains to be seen if any of them will be identified as Cindy Song.

Murder in the Dorm.
Chaim Weiss (above) was a 15-year-old Orthodox Jewish boy attending the Mesivta of Long Beach, a yeshiva high school in New York. The morning after Halloween in 1986, the entire school was horrified when Chaim was found dead on his dorm room floor. He had been bludgeoned to death after a sharp blow to the skull and was repeatedly stabbed in the head. No murder was found. Because there was no evidence of a struggle, it seemed likely that Chaim was killed in bed while he slept and then his body was moved to the floor. By all accounts, Chaim was a well-liked boy, so no one could figure out a possible motive for the crime.
There were signs that the killer was familiar with the religious customs of Orthodox Judaism. Even though it had been a chilly night, the window in Chaim's room was open and it is customary to open a window to allow the spirit to escape. After the murder, one of the school's rabbis left a memorial candle to burn in Chaim's room. Two days later, a second candle appeared, but no one ever admitted placing it there. There were no signs of forced entry anywhere, an indication the killer was probably familiar with the dormitory. During the night, another student on Chaim's floor remembered being momentarily awakened when the door to his room was opened and immediately shut again. Could the killer have initially entered the wrong room by mistake? Authorities have never named a suspect or determined why Chaim Weiss was murdered in such a brutal manner.

The Man in the Mask.
In 1982, 69-year-old Marvin Brandland lived with his wife Ethel in Fort Dodge, Iowa. On Halloween that year, the Brandlands were handing out candy to trick-or-treaters when they answered the door and were surprised to see a man wearing a mask. He said, "Trick-or-treat. Give me your money or I'll shoot." The Brandlands thought someone was playing a Halloween prank and attempted to remove the mask, but he wouldn't allow them to do so. Instead, the masked man entered the house, pulled a gun and demanded the couple take him to the basement and give him the money they had stashed in their safe.
The Brandlands were suspicious because very few people knew they had a safe in their basement. For this reason, Marvin was still convinced that a friend or family member was simply playing a Halloween trick on them. When the man led the Brandlands through the kitchen toward the basement, Marvin made a grab for the gun. The intruder ended up shooting Marvin in the throat before fleeing the house and inexplicably leaving his mask behind. Ethel was so traumatized by her husband's death that she died a few months later. Over the years, an acquaintance of the Brandland family had allegedly bragged about committing the murder and DNA testing was performed on the mask, but there wasn't enough usable material for an adequate analysis. There is still no evidence to charge this particular suspect and Marvin Brandland's murder is officially unsolved.
Murder in Greenwich Village.
Sometime during the early morning hours of Halloween 1981, Ronald Sisman and Elizabeth Platzman, a Manhattan couple, were murdered in their apartment in Greenwich Village. The couple was severely beaten before being shot in the head, execution-style, and the apartment was completely ransacked. Sisman was rumored to be involved in drugs, so authorities initially believed that to be the motive for the killings. However, the case took a bizarre turn when a prison informant claimed that one of his fellow inmates had somehow predicted the crime weeks before it actually happened. That inmate turned out to be none other than the notorious "Son of Sam" killer, David Berkowitz.
In 1977, Berkowitz was convicted of a series of shootings which took the lives of six victims and left seven others wounded. There has always been speculation that Berkowitz was involved in a satanic cult and did not commit all the "Son of Sam" murders on his own. According to the informant, Berkowitz told him that his cult was planning to enter a residence near Greenwich Village on Halloween. They would perform a ritual murder by shooting a couple in the head before ransacking the place to remove incriminating evidence. When questioned, Berkowitz claimed that Sisman possessed snuff footage of one of the "Son of Sam" shootings and was planning to hand it over to the authorities to avoid some drug charges. While no evidence was found to support Berkowitz's claims, he did provide an eerily accurate description of Sisman's apartment. No one knows if the murders of Sisman and Platzman had anything to do with the "Son of Sam" case, but they are still unsolved.
Murder in Walker County.
On the morning of November 1, 1980, a truck driver discovered the nude body of a teenage girl next to Interstate 45 just outside Huntsville in Walker County, Texas. The victim had been sexually assaulted before she was beaten and strangled to death. Because the young female was never identified, she was simply to became the "Walker County Jane Doe." It was estimated that she was killed several hours prior to her discovery and a potentially interesting back story began to emerge when witnesses came forward to report their interactions with the young woman on Halloween night.
After being let out of a vehicle by an unidentified male at a nearby South End Gulf station, Jane Doe had reportedly asked numerous people for directions to the Ellis Unit Prison, claiming she was planning to visit a friend there. (However, when her photograph was circulated among the inmates at Ellis, no one would admit knowing her.) Later that night, a truck stop waitress had a similar conversation with Jane Doe. The girl claimed she was 19-years-old, hailed from the Aransas Pass area and seemed to imply that her parents did not care about her. Jane Doe was killed exactly one year after the "Orange Socks" murder and there were numerous similarities between the two crimes and because of this, Henry Lee Lucas was considered a possible suspect. However, there was never any evidence to connect Lucas to the murder and the Walker County Jane Doe remains unidentified.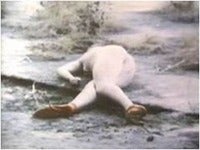 'Orange Socks.'
On Halloween in 1979, the unidentified body (above) of a young woman was discovered in a concrete culvert near Interstate 35 just outside Georgetown, Texas. The victim appeared to be in her 20s and had been sexually assaulted before she was strangled to death. It seemed likely she was murdered the same day and the only unique clue to her identity was a silver, oval-shaped ring she was wearing. The victim was nude and the only garment of clothing she was wear was a pair of orange socks. Because the young woman was never identified, she was nicknamed "Orange Socks."
Later, serial killer Henry Lee Lucas confessed to the murder of "Orange Socks." He even claimed to have had sex with her corpse. However, Lucas did not know the woman's identity. He allegedly picked her up while hitchhiking and remembered only that her name was "Joanie" or "Judy." After he was sentenced to death for the woman's murder in 1984, Lucas recanted his confession in order to have his sentence commuted. Indeed, further investigation showed that Lucas was likely working in Florida on the day of the murder. Lucas was notorious for confessing to murders he did not commit, and no one is sure how many people he actually killed. Henry Lee Lucas died in prison in 2001, but "Orange Socks" is not the only unidentified murder victim to which he has been connected.

Crib Abduction.
On Halloween night in 1977, the parents of 19-month-old Nima Louise Carter placed their child inside her crib at their home in Lawton, Oklahoma. The next morning, Nima's parents were shocked to discover there child was missing. Because the windows in Nima's bedroom were locked, it was theorized that her abductor had been hiding in the closet and sneaked the child out of the house while her parents were sleeping in the livingroom. A month later, a group of children were playing in an abandoned house four blocks away from the Carter home and when they opened the refrigerator, they were horrified when the decomposed body of an infant came tumbling out. The child was identified as Nima Louise Carter and the cause of death was suffocation.
A similar crime had occurred in Lawton in April 1976 when a pair of three-year-old twin sisters, Mary and Tina Carpitcher, were lured out of their home by a young woman and forcibly confined inside a refrigerator at another abandoned house. When the sisters were found two days later, Mary had suffocated, but Tina had managed to survive. Tina identified her abductor as a local teenage babysitter named Jacqueline Roubideaux. However, the child's age made her testimony unreliable and there wasn't enough corroborating evidence to file charges at that time. Jacqueline Roubideaux eventually became a babysitter for Nima Louise Carter. She was an obvious suspect following Nima's murder, but once again, there was no evidence to implicating her. Years later, Roubideaux was finally charged with Mary Carpitcher's murder and received a life sentence. She died in prison of liver cancer in 2005, but never admitted to the still-unsolved murder of Nima Louise Carter.
The Baby Carriage.
On Halloween in 1955, Marilyn Damman took her two-year-old son, Steven, and seven-month-old daughter, Pamela, to a supermarket in East Meadow, New York. While she shopped, Mrs. Damman allowed Steven to wait outside the store with his sister, who was in a carriage. Ten minutes later, the mother exited the store and was shocked to discover that both Steven and the carriage were gone. Shortly thereafter, the carriage was discovered about a block-and-a-half away. But even though Pamela was still in the carriage, Steven was nowhere to be found and has not been seen since.
In many cases in which infants are abducted, it is believed the perpetrator wanted a child of his/her own and decided to raise the missing infant under a new name. Over the years, DNA testing has been utilized in an attempt to determine if Steven Damman was ever given a new identity. At one point, investigators noticed that Steven bore a resemblance to the infamous "Boy in the Box," an unidentified child who was found dead inside a cardboard box in Philadelphia in 1957. However, DNA testing would eventually confirm that Steven and the "Boy in the Box" were not the same person. In 2009, a Michigan man named John Barnes came forward believing he might be Steven, but DNA testing also ruled him out. It is possible that an adult Steven Damman might be living another life somewhere under a different identity, unaware that he was taken from his real family.
Source:
Robin Warder, ListVerse, October 31, 2014.