Post by Graveyardbride on Oct 30, 2016 15:29:28 GMT -5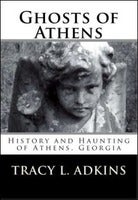 Ghosts of Athens: History and Haunting of Athens, Georgia
Every city has that holiday it does best: Mardi Gras in New Orleans, New Year's in New York, Halloween in Athens.
Yet for all the wild rumpusing we do, is Athens spooky enough to warrant our fervor for the sinister? Tracy Adkins, author of
Ghosts of Athens: History and Haunting of Athens, Georgia
, thinks so, and has compiled all the creepy tales of the Classic City into a historically rich collection of stories ranging from the mysterious to the downright hair-raising. Adkins, a Florida native, moved to Athens in 1990 to attend the University of Georgia and wound up remaining in Athens for 25 years. Although she recently relocated to Asheville, N.C., to be closer to family, she still has a place in her heart for Athens. The 46-year-old, whose birthday falls just three days short of Halloween, has an odd traveling tradition. In each place she visits, she seeks out a local bookstore to purchase a book of ghost stories from the area. While compiling a collection of creepy tales from other places, she wanted one from home. "It never appeared," she says, "so I ended up having to write it!" Reading on the subject turned out to be a lot different than writing about it, she says, "It was so much fun for me, and I love to sit down and read these ghost stories, but it's an entirely different experience to actually sit down with these people and talk to them one-on-one about their experiences and what they had seen," she says. "That was really a lot of fun for me." The two-year process resulted in a 284-page book chronicling local folklore of the eerie kind. Adkins says she worked with several archivists at UGA's Hargrett Rare Book and Manuscript Library during her research and they expressed gratitude that someone is documenting these local stories. It might seem like a daunting task for one woman to locate and reach out to all the people who know something about the supernatural in Athens, but Adkins says once she got started, there was a snowball effect and people were "really enthusiastic and helpful."
In the beginning of the book, she sends a clear message to readers: "My intention isn't to convince anyone or change anyone's mind," she explains. "It's really about storytelling." And the stories are told with chilling effect. A few tales you might encounter include the tragic end of a romance that still haunts the "Wedding Cake House" on the corner of Baxter Street and Milledge Avenue: the stairway to nowhere that's actually to somewhere quite creepy, swinging chandeliers, spontaneous fires, mysterious singing and more.
Adkins says her favorite type stories are the ones where the same thing happens to numerous people over time. As an example, she points to the story of the Ware-Lyndon House, where an expectant father killed by a carriage on the night of his child's birth can still be spotted, pacing the house, looking at his pocket watch. "Another one that really freaks me out is a story at Memorial Park," says Adkins, "where something unseen speaks to one of the employees and calls them by name. And that really makes the hairs on the back of my neck stand up."
Each section – the University of Georgia, Historic Athens, Around Athens and Nearby Neighborhoods and Small Spooks – has a handful of tales that will leave you wanting to visit the places mentioned and try to lure out the old man in overalls and the spectral children in the Morton Theatre, or find Capt. Peeler in Firehouse 1, blowing smoke in people's eyes and rattling chains.
Although she didn't have to break the news to anyone that their house was haunted, she says, "It's definitely an odd thing to have this person on your doorstep asking about ghosts."
Ghosts of Athens
is available at Amazon for $9.27 to $12.95.
Source:
Kat Khoury, Flagpole, October 18, 2016.