Post by Joanna on Sept 25, 2016 1:49:53 GMT -5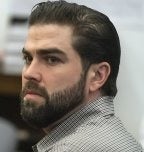 Death for Man Who Killed to Finance Fancy Wedding, Honeymoon
SANTA ANA, Calif. – In 2010, Daniel Wozniak (above), a local community actor, was desperate for money to cover his rent and fund his upcoming wedding and honeymoon and hatched a plot to kill Samuel Herr, his neighbor in the Camden Martinique apartment complex at 2855 Pinecreek Drive in Costa Mesa. Herr, a combat veteran, had saved $62,000 from his service in Afghanistan.
According to prosecutors, on May 21, 2010, Wozniak lured Herr, an Orange Coast College student, to an attic in the Los Alamitos Joint Forces Training Base under the guise of needing help moving furniture. In a recorded police interview presented at trial, Wozniak described shooting Herr in the back of the head as he knelt. After he had been shot, Herr asked for Wozniak's help, not realizing what had happened. "Something hit me," Herr said, according to Wozniak. "It felt like an electric shock." Realizing the man was still alive, Wozniak told detectives that he reloaded and fired at him again. Later, the community theater actor – who at the time of the murders was performing as the lead in the musical
Nine
at the Hunger Artists Theatre Company in Fullerton – used an ax and saw to remove Herr's head, hands and a tattooed forearm before dumping the parts in a Long Beach park, an act Judge John Conley called a "cold-blooded execution." Before his arrest, Wozniak had acquired only $2,000 of Herr's savings.
As part of his plan, Wozniak then used Herr's phone to send messages to Juri "Julie" Kibuishi, a woman who was tutoring Herr. Shortly after midnight on May 22, hours after killing Herr, Wozniak was able to lure the young woman to Herr's Costa Mesa apartment, where he shot her twice in the head. He then removed some of her clothing and staged her body so that it would appear Herr had sexually assaulted her and fled. Wozniak even had the presence of mind to take the veteran's passport so investigators would conclude Herr had left the United States. When Kibuishi body was found, the young woman was still wearing a tiara her brother had given her just hours before her death.
Wozinak was scheduled to marry Rachel Buffett on May 28, 2010, but two before the ceremony – alerted by local ATM activity on Herr's debit card– police arrested Wozinak at his bachelor party in Huntington Beach. Wozniak's ex-fiancée was arrested in 2012 and charged with accessory after the fact for allegedly lying to police. She has pled not guilty and her case is ongoing.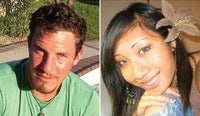 The trial was delayed until 2015 as Wozinak's public defender, Scott Sanders, alleged misconduct by Orange County prosecutors and investigators for relying on jailhouse informants. When he finally went to trial in December, the jury found him guilty of first-degree murder in the killings of both Herr and Kibuishi (pictured above). In January 2016, the jury recommended death. It was expected he would be sentenced in March, but Conley granted Sanders additional time to file a brief in support of his request for a new penalty phase of the trial. Conley later ruled against Sanders' motion for a new trial and his motion to dismiss the death penalty.
On Friday, Sept. 23, Wozinak, devoid of emotion, looking toward the front of the court room, as Judge Conley affirmed the jury's recommendation. The courtroom fell silent. The victims' families and friends wiped away tears as the judge sentenced the former actor, now 32, to death. The judge noted that instead of an inexpensive wedding and postponing the honeymoon, Wozniak researched and carried out the two gruesome killings. "He wanted to do both with style and was willing to kill two young friends to accomplish this selfish goal," Conley declared. Had jurors or Conley chosen to spare Wozniak's life, the alternative would have been life in prison without parole. Wozniak will be transported to San Quentin State Prison, where he will remain until his execution date.
Herr's father, Steve Herr, in his victim impact statement, addressed Wozniak, saying, "You, Dan, are a coward and a poster boy for the need for an effective death penalty in California." Mr. Herr attended every single court hearing – 192, by his count – concerning his son's killer. "I've been keeping track since day one," he revealed.
June Kibuishi, Julie's mother, in her address to the court, looked at Wozniak, declaring, "For six years and four months I have sat behind you every time I came to court, watching you come out and smile for the cameras and the audience, enjoying being the center of attention. You show no remorse and no guilt for taking my beautiful, loving daughter away from us." She also spoke of the painful reality that her daughter, whom she called "the sunshine of our family," saying she was nothing more than a decoy for Wozniak.
Kibuishi and Herr's families embraced one another as they exited the courtroom following the sentencing. Conley's decision provided some resolution, they said, after six years and four months of court hearings and delays. However, they added, the pain of having their children ripped from them will never cease to haunt them. "This will never heal and go away," Kibuishi's mother, June Kibuishi, said. "Julie will never come back to us. All our family can do is try to move forward one step at a time. We have waited six years for this day. At least we can close this most horrible chapter of our lives."
Source:
Hannah Fry,
The Los Angeles Times
, September 23, 2016.