Post by Joanna on Aug 27, 2016 2:55:39 GMT -5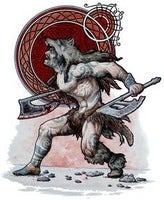 The Wolf-Man
From the folklore of medieval Europe to the Universal Monsters, right up to
Twilight
and
True Blood
, werewolves have been an integral part of pop culture for as long as there's been pop culture. The resiliency and enduring popularity of the creatures in fiction is intrinsically linked to the fact they are an apt metaphor for the savagery and bestial urges that lurk inside all mankind. It's not shocking then that the origins of werewolves as a concept are tied up with that same fear of, and reverence for, savagery.
Like most things in the overwhelmingly Eurocentric culture of which we're a part, werewolves evolved from of European folklore, which included old wives' tales and myths of men and women who, for one reason or the other, by some path, were capable of transforming into wolves. But, like most indigenous European religions, customs, and practices, the idea of the werewolf was appropriated by Christianity as it spread across the continent. When missionaries and proponents of Christianity couldn't outright stomp out local beliefs they considered at odds h their religion, they did something far more damaging: they absorbed them. And just as local deities morphed into saints, female magical practitioners became witches, shapeshifters became werewolves and both, as something decidedly outside the accepted Christian cosmology, became instruments of Satan. And just as the pursuit of witches became an excuse to punish, torture and kill women during the Middle Ages, so too were people – typically men – persecuted as werewolves.
Though never as widespread as witch trials, werewolf trials commenced in 15th century Switzerland and crept across the continent before eventually dying out some 300 years later. The most infamous werewolf trial is likely that of Peter Stumpp, who, after being subjected to torture on the rack, admitted to making a deal with the devil for a magical belt that could turn him into a wolf. He also admitted to numerous acts of murder and cannibalism before he was broken on the wheel.
Considering the grisly nature of the acts attributed to werewolves and the equally gruesome punishment meted out to the accused, it should come as no surprise that the werewolf – like the vampire and other folkloric monsters – was picked up by the Gothic horror genre. This led directly to the proto-novels and chapbooks that eventually evolved into the myriad forms of fiction that we enjoy today. But to fully understand what werewolves are and, more importantly, what they mean, we must do some more digging. First, let's look at the word itself. It's an Old English term which, unsurprisingly, translates to "man-wolf." Pretty straightforward. An associated term is more interesting. "Lycanthropy" is a Greek word which literally means "wolf-man," but what makes it so fascinating is that in Ancient Greece, it wasn't actually used to refer to what we know as werewolves today. Rather, lycanthropy was used only in a clinical sense, as a diagnosis in reference to a patient who had taken on qualities of a wolf – not someone who actually turns into one. This is not to say that tales of werewolves didn't exist in antiquity because there are plenty of references to our present-day definition of lycanthropy in numerous classical Greek and Roman sources. By and large, however, lycanthropy, in those cases, was a punishment meted out by the gods. The view of werewolves as humans cursed for some type savage behavior is likely related to the spread of Christianity because initially, European stories of lycanthropy were not generally considered outright evil.
Not only were werewolves in pre-Christian Europe not branded evil, their abilities were, in some cultures, coveted. In many Indo-European and Germanic pagan societies, the concept of a man turning into an animal – or at the very least, assuming its aspect, talents, and proclivities – was intrinsically linked to a warrior class and their initiations. The clearest example of werewolves as warriors occurs in Norse mythology, which is also home to the very similar "berserker," a word that translates to "bear coat" and refers to the heavy animal skins worn by certain warriors in battle. The most fierce of these were said to take on the savage, bestial nature of the animals whose skins they wore. While this was most often a bear, it wasn't exclusively so, specifically in the case of the Úlfhéðnar (above), who wore the skins of – you guessed it – wolves. Another notable example is Kveldulf Bjalfason, the grandfather of the Icelandic hero Egil. Bjalfason, was said to be a lycanthrope with his first name literally meaning "evening wolf." These early European cultures recognized there was a certain strength and power that came with savagery and bestial tendencies and as such, it was something into which they willingly tapped. The question of whether they actually believed they were able to summon and embody the spirit of wolves and bears, or if it was simply a means of frightening their opponents into submission, is far less important than their resorting to wild savagery as a tool to protect and defend their civilizations.
But as Mediterranean civilization crept northward, carrying with it the Christian faith, civilization established itself on a much firmer foundation, one that no longer required totemic savagery to keep the barbarians from the gates. In fact, this savagery, rather than a safeguard against the wilderness, soon came to be seen as one of the more vicious sides of nature, one to be condemned, punished and driven out, as Christianity drove out the werewolves.
Source:
Aubrey Sitterson, Geek, August 8, 2016.