Post by Graveyardbride on Jul 21, 2016 0:20:38 GMT -5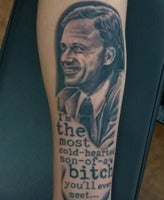 Ted Bundy, Other Serial Killer Tattoos Latest Craze
When considering a tattoo, most would choose an etching that carries a positive, emotional meaning – unless one is drunk and on holiday. But in a bizarre new craze, Brits are getting tattoos of serial killers such as Moors Murderer Myra Hindley and US serial killer Ted Bundy. These chilling inkings may be stunning works of art, but reveal a very sinister obsession with some of the world's most notorious criminals. The big question is why would one want the face of someone who committed such awful atrocities permanently inked on one's skin?
Daniel Lee Dyer of Portsmouth has a tattoo of American serial killer Ted Bundy (above) on his right forearm. The 26-year-old aerospace engineer told
The Sun
: "I was on Facebook one day and it was coming up to Halloween. I saw this tattoo artist had a special offer; she said she'd do serial killer portraits for 50 quid, so I thought, why not?"
Theodore "Ted" Bundy was an American serial killer who assaulted and murdered numerous young women during the 1970s. After more than a decade of denials, he confessed not long before his execution to 30 murders committed in seven states between 1974 and 1978, though the true total remains unknown and could be higher.
"Originally I was going to get Jeffrey Dahmer (also known as the 'Milwaukee Cannibal'), but my mum begged me not to, so Bundy was a compromise. My sister is not very impressed with the idea either," Dyer admitted. "People usually ask why did I do it, what's the story, and I say I've always been interested in the idea of serial killers and what motivates people to do that. I'm going to turn it into an art piece as well as a tattoo. There will be other killers on there." Daniel said he has around 12 tattoos in total, including a full sleeve on his left arm. He intends to add Richard Ramírez, the "Night Stalker," and Troy Kell (a killer on death row in Utah), to his collection.
But one Brit has already beaten Dyer to it when it comes to Ramírez. The woman, who wished to remain anonymous as she feared death threats, told the
Daily Star
Online: "It's very controversial and the majority of people will never understand why I would get such a horrible, nasty person tattooed on me. People will probably still struggle to understand even after I explain my reasons why. But it takes a very particular mind." She claimed she had always been fascinated by psychology – that of serial killers in particular.
Ricardo Leyva "Richard" Muñoz Ramírez was a notorious American serial killer, rapist and burglar. He terrorized the residents of Los Angeles and San Francisco from June 1984 until August 1985, killing and mutilating 13 people. He was dubbed the Night Stalker by the media prior to his capture, and famously pledged allegiance to Satan on his day in court by raising his palm, revealing a pentagon tattoo. The recipient of the Night Stalker etching said she loves the "beautiful" inking, adding: "I chose to get the tattoo of Richard Ramirez because I find him very mysterious."
Others who opted for a killer tattoo as revealed on an imgur post, chose child rapist and cannibal Albert Fish and Soviet serial killer Andrei Romanovich Chikatilo, nicknamed "the Butcher of Rostov." Chikatilo committed the sexual assault, murder and mutilation of a minimum of 52 women and children between 1978 and 1990 in the former Soviet Union.
Another choice was Charles Manson, an American musician and criminal who led what became known as the Manson Family. In 1971, Manson was found guilty of conspiracy to commit the murders of seven people, including those of actress Sharon Tate and four others on the night of August 9, 1969, and Leno and Rosemary LaBianca, the following night. All the murders were carried out by members of the group at Manson's instruction.
Other popular tattoos include John Wayne Gacy, Jr. (the "Killer Clown"), and H. H. Holmes, one of the first documented American serial killers."
Source:
Hayley Richardson,
The Sun
, June 29, 2016.