Post by Graveyardbride on Jun 1, 2016 22:55:41 GMT -5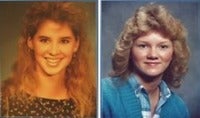 Female Suspect in 1989 and 1994 Murders of Kansas/Missouri Women
KANSAS CITY, Kan. – Police indicate they are close to solving a mysterious murder from almost 30 years ago.
The Kansas City Star
reports that detectives have possibly discovered a link between the 1989 killing of Sarah Jo DeLeon, 19 (above left), the unsolved 1994 slaying of Diana Marie Ault (right), 26, in Independence, Missouri, and an abduction in 1987. Detective Scott Howard announced at a press conference this week that police have identified a suspect in the murder of DeLeon and they're "coming to a conclusion." The female suspect's name has not yet been released, but police believe this suspect also has connections to at least two other unsolved crimes. Howard indicates the investigation has revealed the suspect and an accomplice have been implicated in other incidents involving the harassment and intimidation of romantic rivals. Another detective, Mike Warczakoski, says he hopes to present the case in the coming weeks to Wyandotte County prosecutors.
Found Dead after Leaving Boyfriend's House.
On December 29, 1989, Sarah DeLeon was found dead after leaving her boyfriend's house around 1:00 a.m. Her body was discovered on railroad tracks in Kansas City and she had sustained multiple stab wounds in addition to a head injury. The young woman's car was discovered about a mile away from her house, but there was no blood in the vehicle, no sign of a struggle in the area, nor were there any signs of sexual assault. Kansas City Police were not able to solve the murder at the time, but say the case was reopened in July 2014 as a result of advancements in DNA testing.
Connections to Ault Murder.
Police believe the unsolved case of Ms. DeLeon may be related to the murder of Diana Ault, which took place January 31, 1994. Mrs. Ault was shot and killed in front of her young children in Independence. She had arrived home after watching the Superbowl and was shot in the chest as she entered the kitchen. According to KMBC News, the killer ransacked the house but the only thing missing was her husband's gun, which was discovered in Mrs. Ault's car. The gun turned out to be the murder weapon.
At the time, police had a suspect but there wasn't enough evidence for an arrest. Details have not yet been released, but Kansas City Police say they are able to demonstrate a link between the murders of the two women. "We believe that we can show a pattern of behavior that links this to the DeLeon homicide and other crimes," Howard reports.

Murders May Be Connected to Abduction.
In addition to the Ault case, investigators believe they can link the DeLeon murder to yet another unsolved crime. In February 1987, two years before Ms. DeLeon's death, a young woman was tricked into leaving her home in a limousine and taken to a hotel in Kansas City. Police refer to this as an "abduction by deception" case and believe there is a link to the aforementioned murders. "We are asking for tips regarding the February 13, 1987, incident, as we believe the circumstances are relevant to a possible prosecution in Sarah DeLeon's death," Howard indicates.
Romantic Rivalry.
How could all three of these cases possibly be connected? Well, Kansas City police say they believe their suspect and an accomplice have repeatedly harassed and intimidated romantic rivals and, presumably, Sarah DeLeon, Diana Ault and the 1987 Kansas City abduction victim all fall into this category.
In an interview with KMBC, Matt DeLeon, Sarah's brother, says he believes the person who murdered his sister was vying for the attention of her boyfriend.
KMBC also reports police speculate the killer was having a relationship with the husband of Diana Ault. Indeed, a KMBC report from 2004 indicates Ault's husband admitted he had an affair with another woman before his wife's death. This woman, a US Postal employee, had also dated Ms. DeLeon's boyfriend at one time. Police have not yet confirmed such, but it seems likely this female is the suspect in question.
Both Women Harassed.
Another connection between the cases of DeLeon and Ault is that both women were reportedly being harassed by a female suspect in the weeks prior to their deaths. Matt DeLeo confirms his sister was, indeed, the victim of harassment. "We knew Sarah was harassed and a little bit bullied and we feel like that also ties into the connection with the Ault case, too," he explains. Additionally, before her murder, Ault and her husband reported they were receiving threatening phone calls from a woman.
Sources:
Brendan Morrow, Heavy, May 31, 2016, and KIDI News.