Post by Joanna on May 7, 2016 4:54:15 GMT -5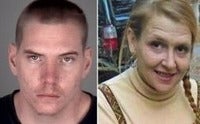 Florida Killer of Maine Woman Charged with Necrophilia
Police say a man who is charged with killing a 52-year-old grandmother and having sex with her corpse had been released from jail three weeks prior to the crime. Timothy Johnson, 25, was arrested in connection with the murder of Judith Therianos of Alfred, Maine, who was visiting friends in Florida. Police say Johnson killed Therianos, a mother-of-two and a grandmother, while they were having sex, according to WTSP. Officials believe Therianos may have wanted Johnson to stop and that's when he killed her. An autopsy revealed that Therianos, who stood 5'1" and weighed approximately 110 pounds, died of blunt force trauma.
According to the
Portland Press-Herald
, Johnson had been out of jail for 23 days when police say he killed Therianos in March. He was free because prosecutors failed to file charges within 30 days of his arrest stemming from an alleged assault. Johnson was arrested January 17 on two counts of aggravated assault for "climbing through the window of a home and allegedly threatening two people inside with a large kitchen knife," according to the newspaper. Court documents indicate no one was physically harmed. Chris LaBruzzo, Pasco County assistant state attorney, told the
Herald
the Florida criminal procedure requires sworn statements from witnesses to formalize some types of charges, but the victims in this case did not come forward. "We have a responsibility to file charges in cases we can prove and in cases where witnesses are cooperative," LaBruzzo told the
Herald
. "We can't hold people indefinitely." Even though Johnson was unable to post bail in the January assault case, he was released February 19 from the Land o'Lakes Detention Center 33 days after his initial arrest. The witnesses in the assault case came forward a few days after Johnson was released.
The aggravated assault charges were officially filed February 25, but Johnson remained free for roughly a month. It's during that time he crossed paths with Therianos, although it is unclear as to how the two met March 13, but police believe they met at a liquor store.
The woman's son, Shawn Therianos, told the
Herald
his mother was in Florida visiting an ailing friend and taking a vacation.
According to an arrest affidavit, Johnson stole a credit card from Therianos and went to Waffle House and ate before returning to have sex with her corpse. Police say Johnson had sex with the dead woman's body "for a while," after killing her. When Therianos' body was found, both her genitals and breasts were exposed . She was discovered off US Highway 19 near Port Richey a little less than a month after she disappeared. She had been missing since March 14.
Sheriff Chris Nocco said he believes Johnson may have committed other crimes. He was re-arrested March 23 for violating the conditions of his probation related to a June 2015 misdemeanor battery charge. In addition, he had been also formally arraigned on the aggravated assault charges that led to his arrest in January, LaBruzzo told the
Herald
.
Police say that while Johnson was in jail, he admitted his role in Therianos' death to another inmate and also told another acquaintance, the
Herald
reported. Johnson said while they were having consensual sex in the wooded area, Therianos told him to stop, at which time he panicked and choked her until she stopped breathing. Johnson proceeded to pull her dress over her head and then "bashed her brains in," according to a witness who heard him confess to her murder.
Therianos' friend said she last saw Therianos picking up her clothes from the sick friend's home, according to a Facebook page dedicated to finding the missing woman setup by her family and friends. The post indicated Therianos was "riding in a newer SUV with an older man," who was described as having long white hair and a long white beard and mustache. "He was very skinny and went by the name Charlie," according to the post. At that time, Therianos had a black eye, the post continued and her friend asked her how she got it. Therianos replied she "had fell, but hinted to her with eyes and body language that he [Charlie] had something to do with it." The friend attempted to convince Therianos to stay with her, but she declined. She told the friend things with Charlie were "cool now" and that he had a boat.
Shawn Therianos told the
Herald
his mother struggled with a drinking problem. He said he last spoke with her the day before she was killed and said they "didn't talk a whole lot."
Source:
Regina F. Graham, Alexander Klauser and Valerie Edwards,
The Daily Mail
, May 3, 2016.