Post by Joanna on May 2, 2016 21:09:37 GMT -5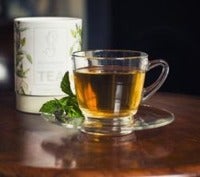 Memory-Improving and Other Beneficial Herbs
Researchers at Northumbria University recently revealed that the key to improving memory function as we age could lie in two common herbs – peppermint and rosemary. Studies found that peppermint tea significantly improved long-term memory, working memory and alertness in the healthy adults who took part. Meanwhile, inhaling the scent of rosemary was shown to help older adults remember certain tasks such as taking medication. As part of the same project, the team also found that drinking camomile tea or smelling lavender has the reverse effect, i.e., they slow down memory and bring a calming effect, which could be beneficial before bedtime. The findings were presented at the British Psychological Society's annual conference in Nottingham. Although peppermint and rosemary have previously been found to enhance cognitive function in healthy adults, this is the first time that similar effects have been noted specifically in healthy people over age 65.
Following are some other herbs from Mother Nature's medicine cupboard that have also been shown to have health benefits.

St. John's Wort.
At least 30 studies on more than 1,700 patients have revealed this herb can be an effective remedy for mild to moderate depression without the side effects of more conventional antidepressants. Although it is not clear precisely how St, John's Wort works, it is believed it helps to prolong the action of serotonin, a brain neurotransmitter which, when deficient, can result in depression. It is also recommended as an alternative treatment for sleep problems, SAD (seasonal affective disorder) and premenstrual discomfort. However, St. John's Wort can compromise prescription medication, so check before taking it.
Sage
isn't just a delicious ingredient for stuffing poultry, according to Katherine Bellchambers-Wilson, director of the National Institute of Medical Herbalists, it has also been proven to be extremely effective at relieving symptoms of menopause. "It has an estrogenic effect, which means it helps to balance the fluctuating levels of estrogen that lead to hot flushes and headaches during the menopause," she explains. "It is best taken as a cold tea. Simply infuse a handful of sage leaves in boiling water and leave until cool. Drink it three or four times a day. Sage is also fantastically antiseptic. So if you're suffering from an infection of any kind, it can be very effective at warding it off."
Camomile.
This herb can be found growing all over Britain and is fantastic for calming an upset stomach while the flavonoids it contains also help to induce restful sleep. Its gentle taste also makes it palatable to children. Simply pick the camomile flower heads and pop them into hot water to infuse and create a mild tea.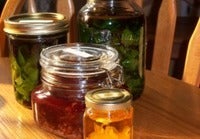 Comfrey.
The old country name for comfrey is knitbone, which is appropriate given that it has been proved to have anti-inflammatory and pain-relieving effects on back pain and arthritis. A study at the University of Pittsburgh concluded that applying comfrey root extract cream to a sprained ankle helped significantly in reducing healing time compared to a placebo. Other studies found that comfrey relieved pain and swelling in osteoarthritis of the knee and shortened healing time in those with fresh skin abrasions.

Passionflower
is a climbing shrub with large purple, pink and white blooms that has long been lauded by herbal practitioners for its calming and sedative properties. It is used to treat anxiety, nervous tension, fatigue and insomnia and is also gaining credibility as an alternative to hormone replacement therapy as a treatment for menopause. A clinical study on two groups of menopausal women in America concluded that passionflower can help ease menopausal symptoms such as insomnia, depression, irritability and headaches.
Rosemary.
According to Bellchambers-Wilson, in addition to improving memory, rosemary can ease headaches. "Lots of students use it during revision when they may suffer from headaches," she says. "Simply pick it from the garden, pop it in a cup of hot water and put a plate over the top to stop the oils from evaporating until it's cool enough to drink." This same infusion of rosemary reduces dandruff if you apply it as a final rinse when washing your hair.
Thyme.
Did you know this common garden herb, which packs a punch in casseroles and soups, also has proven antiseptic properties? "Thyme is particularly good for treating respiratory and sinus infections by reducing inflammation of the airways," Bellchambers-Wilson says. Historically, thyme is also known as a hard hitter when it comes to preventing colds and flu, thanks to its antibacterial and antiseptic properties. Combine it with sage and boiling water to make an infusion that boosts the immune system against colds.
Black Cohosh.
This flowering herb is native to North America and increasingly recommended to in the treatment of stomach troubles as well as menopausal symptoms. "It helps to balance estrogen and progesterone, which can fluctuate greatly in menopausal women, boosting and leveling their mood and diminishing hot flushes," Bellchambers-Wilson explains. "Studies have also shown it to have anti-inflammatory and antispasmodic properties, which can help soothe digestive troubles such as irritable bowel syndrome relieving discomfort."
Source:
Sadie Nicholas,
The Express
, April 28, 2016.