Post by Joanna on Apr 5, 2016 2:33:08 GMT -5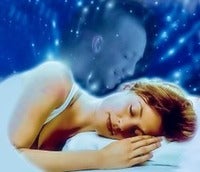 When Dead Loved Ones Come to Call
Proof of life after death. We all want to feel comforted knowing the spirits of our loved ones are still with us once they've passed on. These five common signs can give us comfort and peace of mind. All we need do to receive the signs is open our hearts! Here are the things I've learned (and a few of the stories I've heard) working as a spiritual medium. May you feel the love of spirit. Enjoy!
Visions.
I know there are some skeptics out there who demand concrete proof of life after death. While no one can really provide such proof, visions and images of spirits are pretty remarkable. Following is the incredible after-death visit that my grandmother Mary experienced:
Mary's Story.
Shortly after my grandfather passed away, my grandmother was in church with her eyes closed in prayer. She's always been a woman of faith and relied on her spirituality to carry her through this difficult time in her life. After a few moments in prayer, she opened her eyes. When she did, she saw my grandfather, her deceased husband, standing there smiling at her. She says the vision lasted only a few seconds, but was as real as anything she's ever seen.
Like many others, my grandmother has lost many people in her lifetime and believes in the afterlife, but she explained this particular experience was life changing. When it happened, several people said things like, "I wonder why he visited her at church and not at home." Here are two possible reasons: Church is a sacred place and it is where my grandmother spends her time in prayer. When she is in prayer, she is essentially in a meditative state which would make spirit communication easier. My grandfather knows she attends church services faithfully every Sunday. This could be a factor, too. I agree a vision would be indisputable proof of life after death! I am so glad she had this special moment.
It's almost magical how our loved ones let us know they're okay. I don't know how much energy it takes on their part to contact us, but I'm sure it's quite a bit. I guess it shows much they love us.
Types of Spirit Visions.
Full-on Vision.
A vision like my grandmother had is one of the rarer types of spirit communication. If you have had an experience like this, you may have seen your loved one in solid form or they may have seemed translucent.
Photographs.
Another common way that people see their loved ones after they've passed is in photographs. I've heard many stories of people seeing outlines of their loved ones in photos that are taken after a loved one passes.
If you aren't feeling your loved one around, try spending time in a relaxed state, such as meditation, reading quietly or listening to music. While your loved ones are always around, when you are in a relaxed, higher-vibrational state, it is easier for you to sense their energy.
Invisible Touch.
Have you ever felt a gentle touch on your head, arm or back, but no one was there? Or how about feeling someone stroked your hair? This is another sign that our loved ones are around and many consider "spirit touch" to be evidence of proof of life after death. Those who experience a touch by their dead loved ones, report feeling especially comforted by the phenomenon because it's as if the loved one is reaching out to say, "I'm here. I love you."
Sensing a Presence.
You may not feel any physical sensation at all. Instead, you may suddenly sense or feel the presence of your loved one beside you or in the same room.
Scent.
Smells are a common way in which our loved ones let us know that they are around. Usually, it will be something associated with the person in spirit such as a particular perfume or flower, a favorite food, cigarette or cigar smoke, or any other scent that reminds you of your loved one. You will smell it suddenly, in your home or car, even when the windows and doors are closed.
Maria, Amos and the Soap Connection.
Maria is 80+-years-old, a client who wanted me to share her story. Maria tells me there is one way she knows for certain when her beloved husband, Amos, is around: she smells Dial soap! Apparently, Dial was the only soap her husband would use. They'd have arguments sometimes because Maria would want to try something new or buy a soap that was on sale, but her husband insisted on Dial. Now, when there's an unexpected whiff of Dial soap, she knows Amos is near.
Sweet Dreams.
The proof of life after death comes in many forms, including dreams. This has happened to me and countless others I've spoken with. Have you ever dreamed of a loved one who has passed away? A dream that was so vivid it felt real? Well, the reason it felt real was because it was real. Those in spirit form often use dreams as a means of visiting us. Here are some signs that your dream was actually a visit from the other side: the dream is very vivid, your loved one is happy, smiling and free of illness and worry, communication may have been telepathic – there were no spoken words and the experience is emotional – you may awaken with tears in your eyes.
Moving Objects.
The sky really is the limit when it comes to after-death communications. Moving objects is another way in which our loved ones get our attention. The object can be anything, but is often something that is significant to you: a special photo, piece of jewelry, etc. In the story below, it was a prayer book:
Rosie and the Prayer Book:
When Rosie's husband George died, the family wanted to have the 23rd Psalm (George's favorite) printed on the back of his funeral cards. Unfortunately, the family was not able to contact the printer in time. One day, shortly after the funeral, Rosie was home alone. She was walking down the hall when she saw her prayer book lyiing on the floor opened to – you guessed it – the 23rd Psalm! She had no idea how the prayer book got there because she kept it in a different room and it was never on the floor. She knows this was George's way of letting her know he was still with her.
Avoid This Common Mistake.
When your family members or friends on the other side take the time and energy to present you proof of life after death, cherish it! They are there to visit and comfort you, so enjoy the moment.
I hear so many people asking questions such as: "Do you really think that was my dad?" Don't second guess yourself. Instead, be comforted knowing that your loved one is around.
Source:
Jessica Lee, PsychicReadingsGuide.