Post by Joanna on Feb 5, 2016 1:39:50 GMT -5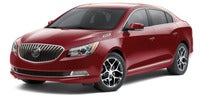 Embarrassingly-Named Vehicles
A lot of thought – by people who are obviously smoking something other than tobacco – goes into the process of naming a motor vehicle and perhaps this is the reason we've ended up with the following gems:
Buick LaCrosse.
Many people think of the sport when asked about Buick Lacrosse (above), that is, unless the individual happens to be from Quebec, where teenagers use the word "lacrosse" as a slang term for "to masturbate."
Ford Probe.
Originally scheduled to be the replacement for the Mustang, the "Probe" was doomed from the start. While the first (and biggest) mistake was replacing Ford's iconic brand, naming the car after an "investigation technique" employed by aliens was an extremely poor choice.
AMC Matador.
Intended as a homage to bullfighting, the word "matador" roughly translates to "killer." It's sort of difficult to entice people in foreign countries to purchase a car with a name meaning "killer."
Jaguar 420.
During the late '60s, the 420 was the height of luxury from Jaguar. Somewhere along the line, however, "420" (April 20) became "weed day." But if you can get past all the snickering stoners every time the name is mentioned, this is an excellent car. And look at the bright side, you can always tell them you bought the car in honor of Adolf Hitler's birthday, which is also April 20.
Diahatsu Scat.
This affordable off-road vehicle got the short end of the stick when it was named. In British English, "scat" is a slang expression for coprophilia.
Nissan Moco.
"Moco" translates to "mucus" in Spanish. Who would want to drive around in the Nissan Mucus?

Chevy Nova.
The Chevy Nova sold so poorly in Latin America, some began to wonder if perhaps the name had something to do with the fact it was so unpopular. "No va" translates to "no go" in Spanish. Prospective Spanish-speaking buyers were reluctant to purchase a vehicle with a name that indicated it was a "no go."

Ford Escort.
Ford started using the name "Escort" for a stripped-down version of a previous model. Now, without going into much detail, "escort," refers to a high-end prostitute.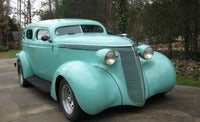 Studebaker Dictator.
Studebaker had no way of knowing what the future would hold when it chose the name "Dictator" for its new model released in 1927. The name was discontinued in 1937.
Mitsubishi Pajero.
The "Pajero" is another car that will have the immature roaring with laughter. "Pajero" is a Spanish adjective meaning "masturbator," which is the reason the name was changed to "Mitsubishi Montero" in England.
Mazda Laputa.
Anyone with even a basic knowledge of Spanish knows that "la puta" translates to "the whore." And even those who aren't conversant in Spanish know many off-color expressions, such as "jijo de la puta" – "son of a whore." Why would anyone name a car "the whore"?

Dodge Dart Swinger.
The Dart Swinger was released in a different era – the '60s – but the name still holds its bearings to this day. Perhaps the car gained, and then subsequently slowly lost, its popularity as it was passed around by some very close "friends."
Opel Ascona.
This one is sort of a stretch, but still deserves to be listed. In Portugese "ascona" sounds very similar to "a xana," which means "pussy," and we don't mean the feline variety.
Nissan Homy Super Long.
There's really no play on words with the "Homy Super Long." In fact, it's very straightforward – unless one has a dirty mind and a "well-endowed homey" comes to mind. Otherwise, the "Homy Super Long" just sounds as though the manufacturers were trying to mash as many words together as possible, something on the order of "Big Extreme Awesome."
Skoda Yeti.
Naming a car for a mythical creature is one thing, but naming it for the abominable snowman is another. As we all know, "abominable" means to "cause moral revulsion" – something one doesn't look for in a car.
Renault Wind.
Not a bad little car, but the awful puns kill any desire to own one – unless a driver likes hearing comments such as "just passed a little Wind."
Hummer.
There's really no need to explain why the Hummer is on this list – but, keep in mind, many Americans (mostly older Americans, we assume) actually purchased this embarrassingly-named vehicle. Obviously, the person who took what was the primary mode of transportation of the army, the High Mobility Multipurpose Wheeled Vehicle (or Humvee for short) and turned it into Hummer wasn't familiar with American slang.
Source:
Odometer.