Post by Graveyardbride on Oct 26, 2015 12:46:05 GMT -5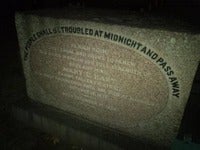 Hauntings in Connecticut
NEW HAVEN, Conn. – With Halloween upon us, we decided to visit some of Connecticut's most haunted places. Are you ready to be scared?
The first part of our Haunted Connecticut tour takes us to Evergreen Cemetery in New Haven and the grave of Midnight Mary with its enigmatic epitaph:
THE PEOPLE SHALL BE TROUBLED AT MIDNIGHT AND PASS AWAY

AT HIGH NOON JUST FROM
AND ABOUT TO RENEW
HER DAILY WORK, IN HER FULL STRENGTH OF
BODY AND MIND
MARY E. HART
HAVING FALLEN PROSTRATE: REMAINED UNCONSCIOUS, UNTIL SHE DIED AT MIDNIGHT,
OCTOBER 15, 1872
_____________

BORN DECEMBER 16, 1824


Legend has it that in 1872, Mary Hart was buried alive and her restless spirit still haunts the graveyard. People have seen Mary wandering near her former home on Winthrop Avenue. She's also been known to hitch a ride from good Samaritan and ask to be taken to the Evergreen Cemetery.
Next, off to Easton to visit a 400-year-old graveyard that's popular with ghost hunters. Home to the White Lady, Union Cemetery is said to be one of the most haunted cemeteries in the United States. Visitors say they have seen the lady in her long white dress and white bonnet float among the gravestones. She has also been seen at Stepney Cemetery in Monroe, which dates back to the 1700s. Her identity remains a mystery.
Our tour takes us back to New Haven, where we met with Psychic and Ghost Tours of New Haven's Chrystyne McGrath. She tells us that New Haven's upper Green was a mass graveyard from 1639 to the late 1790s and we asked if there were ghosts or spirits on the Green. "You have both, and both energies going on here. More ghosts than spirits here because spirits are from the other side and they are visiting and they go back. The energy here, they are ghosts," said McGrath. "This is the main energy center. There are still 10,000 bodies buried here."
McGrath says the vortex of energy on the Green is at the spot where a Lincoln Oak was planted in 1909. It fell in 2012 during Superstorm Sandy, unearthing skeletons dating to the 18th century. She uses dowsing rods to test the energy. "You can see where they push out," said McGrath.
The Yale Information Center, which was J. P. Morgan's great grandfather's home, has a lot of paranormal activity. "It was built in the 1700s and it stayed in the Pierpont family for 200 years. In the late 1700s, the British invaded New Haven and they kicked the Pierpont family out, and it became a makeshift British hospital and you can imagine the blood that poured in this house," McGrath told us. There's a bride who hangs out at the house and she has lots of company. "There's also a six-year-old girl who looks out the left-hand top corner window and she is in a white Muslim dress," McGrath added.
Our next adventure took us to the New Haven Free Public Library (above), where a woman was murdered in the 1970s. "She was murdered downstairs by a man who used to follow her from afar and he killed himself three days later. His energy is very dark," said McGrath. "She is stuck inside as a ghost. We've tried to cross her many times, she thinks it was just yesterday."
A few feet away, on the corner of Elm and Church Streets is one of the most haunted commercial buildings in America. "The Union was built in 1927 and one of the first bank tellers, Eli Wilson, died in the vault of asphyxiation. What he does in this building is flushes the toilets in only the ladies rooms, and wraps on the vault door," McGrath related. But he's not the only one haunting the place. Countless paranormal activities have been witnessed. The site has history dating to the 1700s. "This used to be an orphan site right here. There was an orphanage and it burned and it's the property that's haunted, it's not the building, it's the location of it," McGrath explained. "We could plow down this building today and we could put up any structure, they are still going to be here. We've tried to cross them many times, but because they are orphans, it is very hard." According to McGrath, if you dare go inside, they'll follow you. They'll laugh, they'll hide, and go from floor to floor and follow you.
On to City Hall. If you venture inside, you may be followed around by a worker who never left the building. Legend has it that in the 1800s, a 19-year-old Italian immigrant used to clean the staircase. One of the clerks found her attractive and when he made a pass at her, she pulled away, tumbled down the stairs and died. She haunts the staircase to this day. If you bring your camera, you might capture her image. "A lot of them want to be seen," McGrath insisted. "They want to tell their story. That's why they are still around."
Source:
Noelle Gardner and Macy Corica, WTNH, October 23, 2015.