Post by Joanna on Oct 6, 2015 21:42:27 GMT -5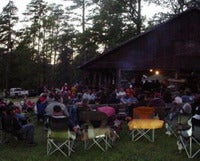 'Killing Bigfoot' Discussion Gets 'Hairy'
HONOBIA, Okla. – Whether or not Bigfoot exists – he can cause a lively argument. Three cast members of the
Killing Bigfoot
television show received some support, but more open hostility Saturday at the Honobia Bigfoot Festival and conference. Some were shouted at by audience members, called a liar, and asked to take a polygraph test.
Pro-life Bigfoot attendees spoke up for not killing him. "I know a lot of people hear 'Killing Bigfoot,' it's bad, and everybody hates us and we get a lot of hate mail," said Barry Schockemoehl,
Killing Bigfoot
cast member from Owasso, Oklahoma. He told the conference they are researchers who do not go out with a gun every time.
The festival, which ended Sunday, raises money for scholarships for graduating high school seniors in some of the poorest parts of Oklahoma, said Tom Hefner, head of the Bigfoot Scholarship fund.
More than 2,200 visitors were counted at the gate Saturday, said Artie Carnes, director of the Kiamichi Mountains Christian Mission, the rural woodland where the festival occurs each year. They enjoyed the free festival in tall pine woods with live music, bouncy houses for children and appearances by "Bigfoot," who posed for photos with young and old alike.
Jim Lancaster, a
Killing Bigfoot
cast member from Louisiana, said a "voucher specimen" – a dead Bigfoot – is needed to prove the creature exists. Lancaster has been hunting Bigfoot for 25 years. "We go to areas that people have had problems with these Bigfoot(s) coming around their homes," he said.
According to The Bigfoot Field Research Organization, there have been 90 instances of bigfoot sightings in Oklahoma. Of these, 23 are said to have been in La Flore County, where Honobia sits.
Michael Humphreys, a
Killing Bigfoot
cast member from rural Talihina, Oklahoma, said, "These things can get extremely aggressive. I don't like them scaring the kids." He said his daughter, his niece and nephews were terrorized.
Producers from
Killing Bigfoot
videotaped while the cast took questions.
Some audience members agreed Lancaster could defend against an aggressive Bigfoot. Others peppered him with questions about why killing is necessary with a rare, elusive species and why they hunt with bullets instead of cameras, or tranquilizer darts. Some asked questions about illegal animal abuse and killing a part-human. "Who made you God, to kill an animal like that?" shouted one man in the audience. "You're not God."
When asked how close he'd come to killing a Bigfoot, Lancaster replied, "Close."
"Just fear based on nothing is not a reason to kill," one audience member called. "You have to have a basis."
Some verbal fireworks may have been for the television cameras, but the hostility level became intense as audience questions continued.
Lancaster dismissed efforts by other conference researchers to prove Bigfoot's existence with sightings, photos, language analysis or DNA. Lancaster and Dr. Samuel Webb Sentell, a conference speaker, got into a heated exchange over whether Lancaster hunted and shot a Bigfoot who escaped. Both accused the other of lying and making up stories.
Harvey Pratt, a sketch artist for the Oklahoma State Bureau of Investigators, told the conference of his interviews with Bigfoot witnesses. "There's definitely one," said Pratt. "There's a species. I don't know why we don't know more, why we can't prove more. There's a lot of history and sightings. It's all over the world."
Pratt, an honored Cheyenne artist, and his wife Gina began their Bigfoot adventures when Pratt was hired by Dave Paulides to interview people who claimed to have seen Bigfoot, and to draw sketches based on witness' descriptions. Pratt's illustrations are in two books by Paulides,
Hoopa Project
and
Tribal Bigfoot
. Pratt interviewed people in California, Oregon, Washington, Oklahoma, Arkansas, Utah, Minnesota and Texas. He showed the conference his Bigfoot drawings from interviews. Pratt also showed a rock art painting of Bigfoot which was several hundred years old. He told of tribes who called Bigfoot "the hairy man," "the boss of the woods," and "the medicine man" who showed them herbs which were medicine.
At night, Bigfoot fans (above) listened to first-hand accounts of sightings around a campfire under starry Kiamichi Mountain skies. Professor Marvin Leeper of Murray State College told a tale of the disappearance of nine children in 1850s in the Choctaw Nation, which was attributed to Bigfoot kidnapings.
Source:
Teresa Black Bradway,
The Effingham Daily News
, October 6, 2015.