Post by Graveyardbride on Sept 12, 2015 8:42:05 GMT -5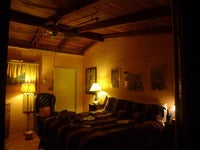 Room 8 at the Joshua Tree Inn
Through the curves of the Morongo Valley pass in San Bernardino County, Calif., and across a desert that shifts from a sandy void to a land dotted with Seussian plants, there's the Joshua Tree Inn. It's a normal motel on the side of a highway, albeit one washed in a buzzing ochre light that comes in by sundown. It is also haunted, some say, by the ghost of Gram Parsons. The Country Music legend died in Room 8 of the Joshua Tree Inn September 19, 1973, succumbing to a stupendous amount of drugs and alcohol curdling inside his broken system. The room where he died rents just like any other single-bed unit in any other motel, for $109 a night. (This sort of necro-tourism is common: One can rent Bungalow No. 3 at the Chateau Marmont, where John Belushi lost his battle with speedballs, or stay in Room 16 of L'Hotel in Paris, where Oscar Wilde lost his battle with the wallpaper.) "It's definitely our most popular room," said the man at the front desk, walking to Room 8 on an evening last month. "It's amazing how much it means to people – people of all ages, really. Some of the people weren't even born when Gram died here."
Parsons was only 26 when he died and not yet widely known, as didn't become the godfather of alt-country until after his death. He was, however, Country's greatest emissary to Rock's louche titans: His friendship with Keith Richards led to the band's embrace of Country and Western style (see: "Honky Tonk Woman," "Dead Flowers," "Sweet Virginia"). He was with the band during the
Exile on Main Street
sessions, those famously lush days in a chateau in the South of France, until Anita Pallenberg kicked him out because he was constantly drunk and high. He was an integral member of the Byrds, pushing them to go full-outlaw on their greatest album,
Sweetheart of the Rodeo
. He made country-fried jangle pop in the Flying Burrito Brothers and he did the world a favor by discovering Emmylou Harris.
Outside Room 8, there's a small memorial to Parsons, a guitar-shaped stone, the base of which is littered with small tokens, prayer offerings: beer bottles, string tied into bows, candles, incense, guitar picks, metal crucifixes, an animal skull, vinyl records, violin bows, a stone angel, warped bark, cowboy boots, cigarette butts and a big hunk of sage that when lit launches a heady plume into the air, stuck there without wind. The room is small and stuffed everywhere with memorabilia: posters for Byrds gigs, guitar picks with little messages on them, a fan-made painting of Parsons with hair sun-streaked and shoulder-length, stickers on the walls. And there's a big mirror that's been there since Parsons died, in which he saw himself for the last time.
And on one table there's a guest book, where those who have stayed in Room 8 can write a note or share a memory. Some of the notes are brutally gorgeous, not unlike the music. "Gram," read a note from earlier in the month. "It's good to be back in Room 8. Five years ago I almost died here. You kept me company in the early morning hours while I recovered and watched the sunrise & listened to the morning doves."
Source:
Nate Freeman,
The New York Times Style Magazine
, September 10, 2015.