Post by Graveyardbride on Sept 8, 2015 14:05:48 GMT -5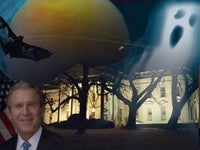 Presidential Superstitions and Phobias
It seems like it takes a bit of luck to attain the most powerful position in the world, so it's little wonder the job of president of the United States comes with a side-order of superstition, from the mundane to the bizarre. Even the election process has its own superstitions including the Redskins rule – a prediction as to who will win based on the last home game of the Washington Redskins. Another superstition has it that the Halloween mask of the candidates running for president that sells the best will be the winner. One has to wonder though – if superstitions work, then why wasn't John McCain elected. McCain is possibly the most superstitious man to ever hit the campaign trail, carrying a lucky feather, compass, penny, nickel, quarter and laminated four-leaf clover in his pocket. He also refuses to pick up any coin that is tails-up. Perhaps he misplaced some of his lucky objects, but whatever happened, he didn't make it to the White House. Nevertheless, the White House has had its share of phobic and superstitious presidents and here's the top 10:
George Washington
commanded forces in numerous battles fighting the British for the freedoms we know today. He seems fearless, right? Wrong! The father of our country had a paralyzing fear of premature burial, which he clearly expressed on his deathbed in 1799, insisting his attendants promise that his body would remain unburied for two days in case he were still alive. This may seem odd for a man such as George Washington, but taphephobia was a common fear of those living in the 16th through the 19th centuries when the dead wasn't embalmed and were buried quickly because there were no means of preventing putrefaction.
William Henry Harrison
wasn't so much a superstitious president as one who started the Curse of Tippecanoe. Harrison's harshness as governor of Indiana angered the Indians there and they are said to have put a curse on him and his successors so that every president elected in a year evenly divisible by 20 would die in office. It was certainly true for Harrison, who took office in 1840 and died the following year. Abraham Lincoln was next, having been elected in 1860 and assassinated five years later. The curse held for every president up to Reagan, who was elected in 1980 and survived an assassination attempt, which, presumably, broke the curse. George W. Bush, elected in 2000, also survived an attempt on his life when he was speaking in Tbilisi, Georgia. Mikheil Saakashvili threw a hand grenade at the president that miraculously failed to detonate.
Abraham Lincoln's
name seems to come up in any discussion of presidents and the supernatural. It was his ghost that appeared to Winston Churchill at the White House and he was the second victim of the Tippecanoe Curse. But it seems Lincoln was in touch with the spirit world. His wife held seances in the White House and had visions of the child they lost. Lincoln also had dreams that he believed revealed the future, including one in which he wandered through the corridors of his home until he came upon a shrouded corpse. He asked a soldier who it was and the soldier replied "The President. He was killed by an assassin." Lincoln began to fear for his life and was proved right when he was killed shortly thereafter. He also had a vision of two versions of himself in a mirror, which he interpreted to mean he would be elected to a second term, but would not survive it. He was right. Lincoln also had a phobic fear of dental treatment.
William McKinley
was a famously superstitious man, with one very specific superstition. His particular quirk was that he always wore a red carnation in his lapel for luck. He would sometimes give them away, especially to children, but would always quickly replace his flower with another. The carnation obsession originated with his political rival and eventual friend, Levi Lamborn, who would give McKinley a red carnation every time they met and for McKinley, it became a talisman against the dangers of the world. The president was wearing his trademark red carnation on September 6, 1901, but took it off and presented it to a pretty little girl, with the intentions of replacing it. Unfortunately, during the interim, Leon Czolgosz, an anarchist, shot McKinley and he died eight days later. Because he was elected in a year ending in zero, he was subject to the Curse of Tippecanoe, but had he been wearing his lucky carnation, would the assassin have missed? Or would McKinley have lived?
Franklin D. Roosevelt
was a popular and much-loved president, but he had a pathological fear of the number 13. He would never sit down at the table with 13 people present and had his secretary on standby in case he needed a 14th for lunch or dinner. He also avoided traveling on Friday if at all possible and traveling on a Friday the 13th was out of the question. FDR was known to reschedule meetings with world leaders to avoid traveling on the 13th and would instead travel on the 12th or 14th. When he arrived in Warm Springs, Georgia, in April 1945, Roosevelt was near death and there was a Friday the 13th approaching. But in keeping with his refusal to "travel" on the 13th, he died Thursday, April 12.
Ironically, President Theodore Roosevelt was a member of "The Thirteen Club" wherein the number 13 was embraced as were other acts that were supposed to bring bad luck such as walking under ladders.
Harry Truman
had a lucky horseshoe, which he hung above the door of the Oval Office. He also had a horseshoe-throwing pitch set up on the White House grounds, which President Dwight D. Eisenhower later replaced with a putting green. In 1950, the Truman family was living in Blair House while the White House was undergoing serious structural repairs and the president was almost assassinated by Puerto Rican nationalists involved in a gunfight. He was saved by a passer-by who yelled "Look out!" as the president watched from the window. We can only assume his horseshoe had traveled to Blair House with him and was keeping him safe. Truman also believed Lincoln's spirit haunted the White House.
Gerald Ford.
There are different degrees of presidential superstition and Gerald Ford instigated one of them – the tradition that the election would be won by whichever candidate's wife won the Family Circle baking contest. Betty Ford was the first to win with her double chocolate cookie recipe, thereby also winning her husband the top job. The tradition carried on with Rosalyn Carter, Nancy Reagan, Barbara Bush, Hilary Clinton and Laura Bush all winning, but Michelle Obama lost to Cindy McCain, yet McCain did not win the election. There was some suggestion that Cindy's recipe was not her own, but the most likely explanation is that the multitude of lucky charms her husband carried around did have the power to win a contest ... but not the one that really mattered.

Jimmy Carter
wasn't the most exciting US president, but he did have a reputation for seeing things. For example, in 1969, he spotted a red and green "orb" that he was convinced was a UFO and filed a report with the International UFO Bureau in Oklahoma. Later, on April 20, 1979, while serving as president, Carter went on a solo fishing trip near his hometown of Plaines, Georgia, and encountered a threatening rabbit. According to Carter, a rabbit being chased by hounds "jumped in the water and swam toward my boat. When he got almost there, I splashed some water with a paddle." When he told his staff what happened, they did not believe him, insisting rabbits could not swim and would never threaten a person. The following morning, the headline on the front page of the
Washington Post
read: "President Attacked by Rabbit." In his memoirs, Carter wrote that the rabbit in question wasn't "one of your cutesy, Easter Bunny-type rabbits, but one of those big splay-footed things that we called swamp rabbits when I was growing up."
Ronald Reagan.
The wife of the president who broke the Tippecanoe Curse attributed her husband's survival to the help of Joan Quigley, an astrologer who was employed by the Reagans following the attempt on his life in 1980. Quigley claimed she could have predicted the assassination attempt had she been studying Reagan's chart at the time, and for the next seven years, she was consulted on the president's schedule to make sure his appointments coincided with the "good" days on his astrological chart. Donald Regan – an ex-Chief of Staff – went public about the White House astrologer in his 1988 book
For the Record
and Quigley was rapidly dismissed. Although Reagan blamed Nancy for the astrological consultations, he was known to knock on wood for good luck and if he spilled salt, threw a pinch over his left shoulder.
George W. Bush
has a sensitive side and openly admitted crying on the job, but it seems he's also sensitive to the paranormal. While his father – who didn't believe in ghosts – was president, George W. was walking past the Lincoln Bedroom one night and saw ghosts coming out of the wall. He described the White House as "creepy" and was convinced it was haunted. While George W. was president, the White House website maintained a page devoted to its ghosts.
Sources:
SmashingLists, Presidential Superstitions, and SodaHead.
Note to Jason:
I chose to inset a photo of George W. Bush because he's so good-looking.
See also:
"FDR's Lifelong Fear of Friday the 13th":
whatliesbeyond.boards.net/thread/5398/fdrs-lifelong-fear-friday-13th
"First Ladies and the Occult in the White House":
whatliesbeyond.boards.net/thread/7166/first-ladies-occult-white-house