Post by Joanna on Jul 16, 2015 21:30:53 GMT -5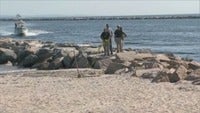 Mysterious Explosion on Rhode Island Beach Stumps Authorities
On Saturday, July 11, 60-year-old Kathleen Danise was sitting in a chair on a Rhode Island beach when she was suddenly thrown from her chair. She was propelled 10 feet into the rock jetty and ended up with a concussion, two fractured ribs and serious bruising. According to Danise's sister: "She was like a human cannon ... smacked on her torso. It was very dramatic. She was unconscious for three minutes." Danise had no idea what happened and investigators are just as puzzled.
Several beach-goers claimed they smelled gas following the explosion, but a spokesperson said the nearest gas service was 200 yards away. State Police Deputy Superintendent Lt. Col. Todd Catlow confirmed that "people on the beach smelled some sort of chemical smell, perhaps sulphur or butane," but claimed there was "no evidence of an incendiary device, there's no residue and there was no smoke."
Boston College geophysics professor John Ebel admitted he was "stumped," explaining that Rhode Island lacks the right "geological environment" to produce an active volcano and he hasn't been able to come up with any alternative explanation.
It's worth noting that in 2012, a woman in California collected some rocks on a beach and they exploded in her pocket.
An environmental consultant informed the
Boston Globe
that decomposing seaweed causes the release of methane and nitrogen and that at a high enough concentration "it's toxic and also flammable."
There were early reports that police were investigating "a potentially suspicious person carrying two red bags that appeared full when he walked in one direction, and then empty," according to the
Providence Journal
. But reporters on the scene said authorities determined the individual in question had been dumping seashells.
Just last month, a jihadist attack on a beach in Tunisia killed 38 people. Also in June, authorities in Massachusetts and Rhode Island indicted two men who had plotted with a third person to behead police officers. That plan, prosecutors allege, was hatched on "a Rhode Island beach."
Authorities, however, say there is no indication this weekend's "ground disturbance" or explosion or whatever you want to call it, was in any way linked to terrorism. Nevertheless, Catlow, in a comment to the
Journal
said, "We are trying to rule things out, but at this point, nothing has been ruled out."
At this time, what happened to Kathleen Danise remains a mystery.
Sources:
Hilary Sargent, Boston.com, July 13, 2015, and Susanna Kim and Emily Shapiro, ABC News.