Post by Graveyardbride on Oct 25, 2013 13:59:22 GMT -5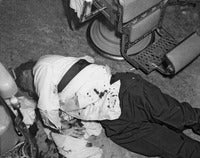 Death in the Barbershop

On the morning of Friday, October 25, 1957, Albert Anastasia was driven by his chauffeur-bodyguard from his estate in Fort Lee, New Jersey, to the Park Sheraton Hotel (now the Park Central) located at 870 7th Avenue in Manhattan. He entered the barbershop around 10:15, hung up his jacket and sat down in his customary chair – Chair No. 4. "Haircut," he instructed barber Joseph Bocchino and, indeed, he did need a haircut for his black hair was shaggy and uneven. Bocchino draped a towel and cloth around Anastasia's neck and began clipping his hair. Suddenly, the door opened and two men with scarves covering their faces, pistols in hand, entered. "Keep your mouth shut if you don't want your head blown off!" one of them barked at Arthur Grasso, the shop owner. Then they quickly moved to Chair No. 4 and opened fire. Anastasia jumped up, but was apparently disoriented because he lunged toward the reflections of the two gunmen in the large mirror. The assassins shot again and this time, he crumpled to the floor.

Umberto Anastasio was born either February 26 or September 26, 1902, in Tropea, Calabria, Italy. There were 12 children in the family and as soon as the boys were old enough, they went to work. Umberto and two of his brothers found jobs on board a ship and around 1919, arrived in New York City where they entered the United States illegally and began working on the docks. Umberto Americanized his name to "Albert" and later changed "Anastasio" to "Anastasia." Though he was less than 20-years-old, by March 1921, Anastasia had already killed a longshoreman during an argument. He was initially convicted, but for reasons unknown, there was a second trial in 1922 in which he was acquitted – probably because the four witnesses for the prosecution who had testified against him in the first trial had disappeared. But he wasn't a free man for long. In June of the following year, he was convicted for illegal possession of a firearm and spent two years in prison.

Following his release, Anastasia quickly established himself as a "tough guy," worked his way up in the International Longshoremen's Association and by the late 1920s, was in control of six local chapters in Brooklyn. During this time, he became connected to Joe "The Boss" Masseria, Joe Adonis, Vito Genovese, Frank Costello and mob boss Charles "Lucky" Luciano. With such powerful connections, Anastasia quickly climbed the crime ladder and became virtually untouchable. In 1928, he was charged with another murder, but, again, witnesses either disappeared or refused to testify.

The 1930s saw the execution deaths of two old-time crime bosses. In April 1931, Masseria, was dining and playing cards with Lucky Luciano. When Luciano excused himself to use the men's room, Anastasia, Genovese, Adonis and Benjamin "Bugsy" Siegel rushed into the restaurant and Masseria ended up dead on the floor – the Ace of Spades clutched in his hand. In September 1931, Luciano's men entered the offices of Salvatore Maranzano – disposed of his bodyguards who weren't armed at the time because of a new policy implemented by Maranzano so if his men were searched by law enforcement, they wouldn't be arrested for "packing heat" – and stabbed and shot Maranzano to death.

The Mafia was then divided into five "Families" and Anastasia was appointed underboss of the Vincent Mangano Family, which survives today as the Gambino Family. Luciano founded the National Crime Syndicate, which consisted of major family bosses from around the country as well as the Five Families of New York, with the aim of regulating lucrative illegal activities such as racketeering, gambling and bootlegging.

The following year found Anastasia in trouble again when he was indicted for murdering a man with an ice pick, but the charges were dismissed after witnesses disappeared. In 1933, he was again charged with murder, but, as usual, there were no witnesses to testify. Anastasia had become an important man to Lucky Luciano and to show his gratitude, Luciano placed him in the "enforcement" branch of the National Crime Syndicate, which came to be known as "Murder Inc." He shared control of Murder Inc with Louis "Lepke" Buchalter, a leading labor racketeer. During his leadership of Murder Inc., Anastasia earned the nicknames "Mad Hatter" and "Lord High Executioner." Until the organization was exposed in the 1940s, it is believed Murder Inc. was responsible for up to a thousand murders and the majority were never solved.

With the 1941 arrest of Abe "Kid Twist" Reles on murder charges, law enforcement finally dismantled Murder Inc. Reles, who was responsible for providing hitmen to Anastasia during the Murder Inc. years, turned rat in order to avoid the death penalty and implicated seven members of the organization. Unfortunately for Reles, one of the men he was about to "rat out" was Anastasia, who retaliated by putting out a $100,000 contract on Reles. During the early morning of November 12, 1941, Reles fell to his death from a window at the Half-Moon Hotel on Coney Island. It was never established whether he was thrown, or pushed, from the window, or if he fell, or jumped, while attempting to escape. The grand jury concluded his death was accidental, but many suspected he was murdered. Because of his status in the mob as a "stool pigeon," following his death, one newspaper described Reles as "The canary who could sing, but couldn't fly." A year later, Anthony Romeo, another mobster who was about to rat out Anastasia, was found beaten and shot to death.

Anastasia was 39-years-old when the US entered World War II – too old to serve, but not too old to realize an opportunity when he saw one. He came up with a plan to win a pardon for Luciano (who was serving 30 to 50 years for "compulsory pandering," i.e., prostitution). The US could benefit from allies in Sicily to advance the invasion of Italy and Anastasia orchestrated a deal in exchange for the Mafia's protecting the waterfront and the assistance of Luciano's associates in Sicily. In 1942, Anastasia became a technical sergeant in the US Army and the following year, he became a US citizen. In 1944, he was honorably discharged and eventually set up home in Fort Lee, New Jersey. Anastasia's wife, a Canadian, always believed – or at least pretended to believe – her husband was a "mattress salesman." Anastasia was summoned before the US Senate in 1951 to answer questions concerning organized crime, but refused to answer any of the questions asked.
During this period, Anastasia was only an underboss to Vincent "The Executioner" Mangano and Mangano didn't like his subordinate's connections to the likes of Luciano and Costello. The two men began to argue and at times their heated encounters became physical. It is believed by some that Mangano decided to "take out" Anastasia, who got wind of the plot and "took out" Mangano first. What is known is that in April 1951, both Mangano and his brother Philip disappeared. Philip's body was found, but Vincent was never seen, or heard of, again. Anastasia was able to convince the heads of the other Families that Mangano was trying to have him killed and the Mangano Family became the Anastasia Family with Albert Anastasia at its head.
In March 1952, it was reported that Anastasia ordered the murder of Arnold Schuster, a young man who had witnessed a bank robbery and fingered Willie Sutton. On evidence provided by Schuster, Sutton was arrested and when Anastasia saw Schuster answering a reporter's questions on television, he shouted, "I can't stand squealers! Hit that guy!" A few days later, Schuster was shot to death on a Brooklyn street.
Vito "Don Vito" Genovese considered Anastasia an unstable killer who was bringing unwanted attention to the Cosa Nostra, and attempted to turn Anastasia's supporters against them. Indeed, he was able to turn Carlo Gambino against Anastasia and promised him leadership of the Anastasia Crime Family.
In 1955, Anastasia was convicted of tax evasion, sentenced to a year in federal prison and ordered to pay a $20,000 fine. He was in danger of losing his citizenship and being deported. Things got worse in 1957 when Genovese moved on Frank Costello, head of the Luciano Family and staunch Anastasia ally. Vincent "The Chin" Gigante attempted to hit Costello, but because he could not resist shouting, "This is for you, Frank!" (or words to that effect), Costello turned and shot at Gigante, the bullet narrowly missing his head and causing a superficial wound. This was enough for Costello, who stepped down as boss and handed over the Luciano Family to Genovese, who renamed it the Genovese Family, the name it retains to this day. On June 15, 1957, a man named Frank Scalice was killed and it was said Anastasia approved the hit.
The end had begun and just four months later, Anastasia himself met his maker at the hands of the two masked gunmen who were never identified. Many believe Anastasia's underboss, Carlo Gambino, orchestrated the hit after convincing the mob Anastasia had become a liability. Another theory is that the hit was carried out by Joe Gallo, hit man for the Profaci Crime Family. According to this theory, Vito Genovese subcontracted the Anastasia murder to Joe Profaci, who then handed it down to Gallo, who was rumored to have later said to an associate: "You can just call the five of us the barbershop quintet!"
The brutal murder of Anastasia made headlines and is still remembered as one of the mob's most gruesome killings. Unlike some mob bosses, Anastasia had a very simple funeral and burial. Only a few friends and family members were on hand October 28, 1957, when he was laid to rest at Green-Wood Cemetery in South Brooklyn.
Author:
Graveyardbride.
Sources:
Facts on File; National Crime Syndicate: MafiaPedia; Michael Buchanan, Esq., ReasonableDoubt; and The American Mafia.