Post by Joanna on Oct 28, 2014 22:27:47 GMT -5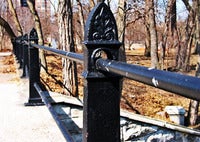 Hyde Park Ghost Tour
HYDE PARK, Ill. – Hyde Park becomes a place where killers scrawl notes in lipstick and a professor with a penchant for the occult is found dead during a spooky walking tour this fall. Greg Fairbanks is leading walking tours at 6:30 p.m. Wednesday through Sunday, telling his favorite Hyde Park ghost stories until the weather turns too cold. "Hyde Park has seven good stories I could think of just off the top of my head," Fairbanks said, adding his neighborhood is more often known for its studious intellectuals than callous killers.
The tour starts with Hyde Park's laziest ghost, the crusading lawyer Clarence Darrow. Spiritualist and magician Claude Noble spent a decade starting in 1940 trying to manifest the spirit of the famously agnostic lawyer after Darrow promised Noble he would appear at the Jackson Park bridge (above) a year after his death to settle the question of an afterlife once and for all.
"I have people meet me under the 57th Street bridge and I lead them through the neighborhood in the dark," Fairbanks said. The tour winds through the neighborhood for two hours, ending with a culminating cupcake at Cafe 53, 1369 E. 53rd St., just steps from former home of the Lipstick Killer. While living at the now-demolished Hyde Park YMCA at 1400 E. 53rd St. in 1945, serial killer William Heirens brutally murdered three people. He was caught in 1946 after investigators tied him to a crime scene note scrawled in lipstick that read, "For heavens sake catch me before I kill more I cannot control myself." Fairbanks claims,"I'm not trying to gross anyone out," adding that he usually glosses over how Heirens surgically dismembered a 6-year-old and hid her body under a sewer grate.
He said he turns the tour up to the University of Chicago campus for a moment of respite at Rockefeller Chapel before launching into the campus' unsolved murder. "After being in the dark for so long, you get to see this beautiful chapel lifted up on a hill above you," Fairbanks said about the pit stop on the way to the bathroom stall where Romanian professor Ioan Culianu was found executed in 1991. Culianu, a defector from Romania who predicted a coming age of magic, was found dead on a toilet in Swift Hall with a .25-caliber bullet wound in the back of his head, according to a history of the incident by DePaul University professor Ted Anton. Police were never able to solve whether Culianu was killed by a secret police operative panicked by the collapse of the Communist regime in Romania, three French witches who objected to his meddling or a jilted lover, according to Anton. "His colleagues were convinced it was a political assassination," Fairbanks said.
Fairbanks said he would keep telling the stories of Hyde Park's haunted history as long as there was interest and said he was optimistically keeping dates open through December 28.
Source:
Sam Cholke, DNAinfo, October 28, 2014.