Post by Graveyardbride on Oct 23, 2014 7:56:27 GMT -5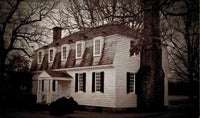 Williamsburg Ghost Excursions
The
Moore House
(above) is part of the Colonial Battlefield National Park in nearby Yorktown. Here, fresh sheets in the master bedroom, have, through the years, been discovered wrinkled, with a deep impression as though someone slept on them. According to legend, it is the spirit of Augustine Moore, Jr., who was shot while working the family fields during the American Revolution. He died of his wounds several days later, presumably in the bedroom where his ghost rumples the sheets.
Scotchtown
in nearby Beavertown is the home of Patrick Henry, remembered for his famous quote: "Give me liberty or give me death." Henry moved into the house in 1771 and his wife, Sarah Shelton Henry, became mentally unstable shortly thereafter. Kept under lock and key in the two basement rooms, she was deprived the liberty her husband so cherished, but soon gained his rhetorical alternative: death. However, according to some, Mrs. Hale's spirit never left the basement. Those entering the cellar alone are often overcome by a feeling of inexplicable dread. Scotchtown, built by Charles Chiswell in 1719, is also haunted by a second ghost. John Chiswell, son of Charles, reputedly took his life in the house after killing a man in a tavern tussle in 1766. His body is buried on the premises and his specter is said to wander the house.
Sherwood Forest Plantation
(above) in Charles City is not only the home of John Tyler, 10th president of the United States, but also a spirit called the Grey Lady. Said to be the ghost of a governess whose charge died in the house, her footsteps are heard on a hidden stairway and she is said to be responsible for what sounds like a rocking chair in the second-floor nursery and what was once a first-floor bedroom. For generations, guests and employees have attributed odd happenings to the Grey Lady. In addition to the main house, built in 1720 and expanded a number of times, the plantation also boasts many of the original outbuildings.
Source:
Eliot Marshall,
Discovery Travel
.